How One Comment About Kate Middleton May Have Prompted William And Harry's Feud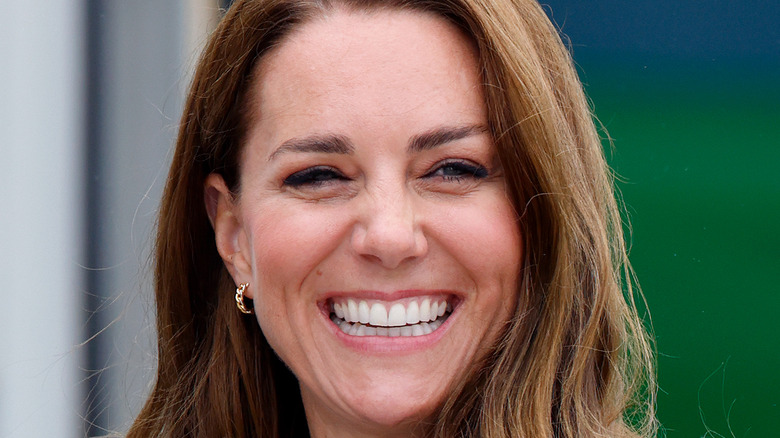 Max Mumby/indigo/Getty Images
Prince William and Prince Harry reportedly continue to have a strained relationship. Tensions apparently began when Harry got serious with Meghan Markle, and William warned him the relationship was moving too fast. The frustrations supposedly came to a head when the Duke and Duchess of Sussex decided to step down from their royal duties in 2020, but some sources have said that issues between William and Harry started long before that. 
Tina Brown, author of "The Palace Papers: Inside the House of Windsor — The Truth and Turmoil," explained that before meeting Meghan, Prince Harry, Duke of Sussex, had grown tired of playing "second banana" to Prince William, Duke of Cambridge. Brown also surmises that Harry wasn't sure about his role in the royal family. "Gradually, that became a major tension between them," the author noted (via Newsweek). "William had this great destiny ahead of him, he knew who he was. For Harry, it's like, 'Who am I going to be?'"
The rift allegedly widened, however, when Meghan, Duchess of Sussex, came into the picture. Not only did William reportedly have concerns about how quickly the couple had decided to wed, but he was also worried about how his future sister-in-law would adjust to royal life. Additionally, a source told Brown that William didn't think his brother was in the right state of mind to help her with the transition into the monarchy, per InStyle.
The final straw, however, may have been a comment Harry reportedly made about William's wife, Catherine Middleton, Duchess of Cambridge.
Prince Harry reportedly thought his sister-in-law could be nicer to Meghan Markle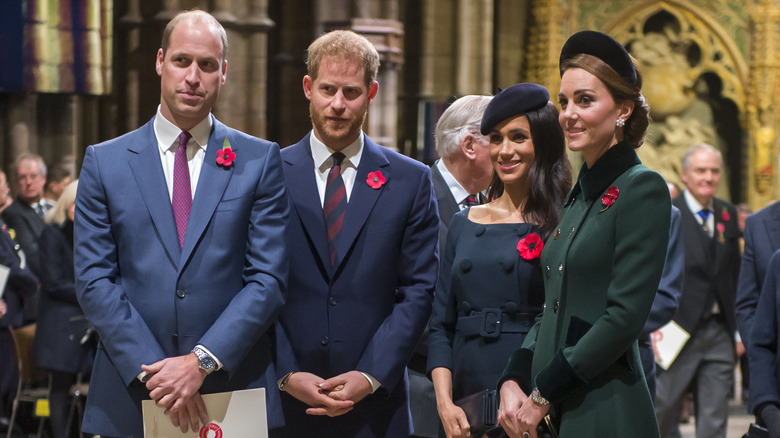 Wpa Pool/Getty Images
Prince William was reportedly infuriated when Prince Harry said that Kate Middleton could be "friendlier" to Meghan Markle. "Members of their family, said Harry, were not showing her sufficient support, respect, and friendship. Meghan, Harry believed, should be just as appreciated as their mother," wrote Tom Bower, author of "Revenge: Meghan, Harry and the War between the Windsors" (via the Mirror). 
According to Bower, William took offense to the comment and his response to Harry was "not sympathetic." To make matters worse, Harry and Meghan went on to make some bombshell revelations to Oprah Winfrey, including the Duchess of Sussex's assertion that Kate made her cry in the lead up to her wedding. While Meghan also revealed that Kate had apologized and sent her flowers, Prince William was apparently infuriated that his wife had been dragged into Harry and Meghan's drama. "William was disgusted about Meghan's attack on Kate, because she can't answer back," royal expert Tina Brown told The Telegraph.
Although the couples didn't appear to have any interaction during Queen Elizabeth's Platinum Jubilee festivities in June (per Daily Beast), all hope is not lost. Royal expert Neil Sean revealed on his YouTube channel that the Duchess of Cambridge has reportedly invited Harry to come back to the U.K. for her and William's joint 40th birthday party. Fans will be anxiously awaiting news as to whether Prince Harry, Duke of Sussex, will accept the invitation.
Meghan will reportedly cover the feud on her upcoming podcast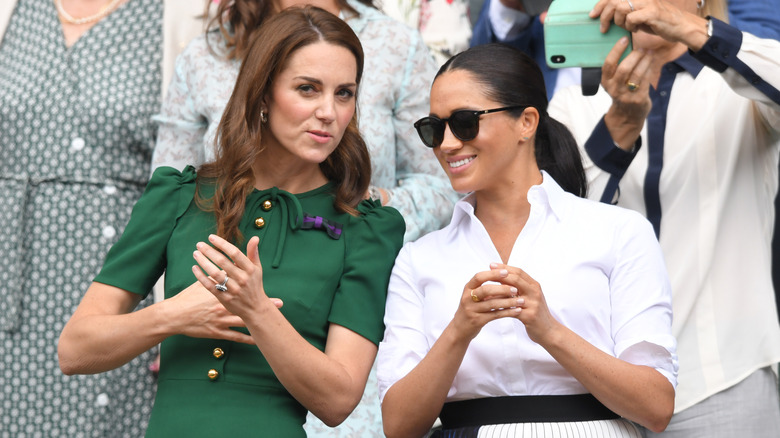 Karwai Tang/Getty Images
It appears that there has been tension between Meghan Markle and Kate Middleton from the beginning of Meghan's relationship with Prince Harry. A source close to Meghan shared with Heat Magazine that the Duchess of Sussex feels hurt and let down by her sister-in-law, with ongoing issues coming to the surface. 
For instance, Meghan and Harry were said to have invited Prince William and Kate to their daughter, Lilibet's, first birthday celebration while they were visiting the U.K. for Queen Elizabeth II's Platinum Jubilee. However, William and Kate denied the invite, and the insider told Heat, "For Meghan, it just strengthened her resolve to not come back." The News UK also reported that Meghan feels the royals see Kate as someone who can do no wrong, and she has felt hurt that her sister-in-law has not been as warm and welcoming as expected.
Meghan is launching a new podcast shortly, and a source claims that will cover her ill-will towards Kate. She is said to not be holding back with how she feels on her "Archetypes" programming.
Despite any resolve that may have come with time, it seems that the rift between William, Kate, Harry, and Meghan is still very much alive.