Expert Explains Why Kate Middleton Always Looks Fabulous In Photos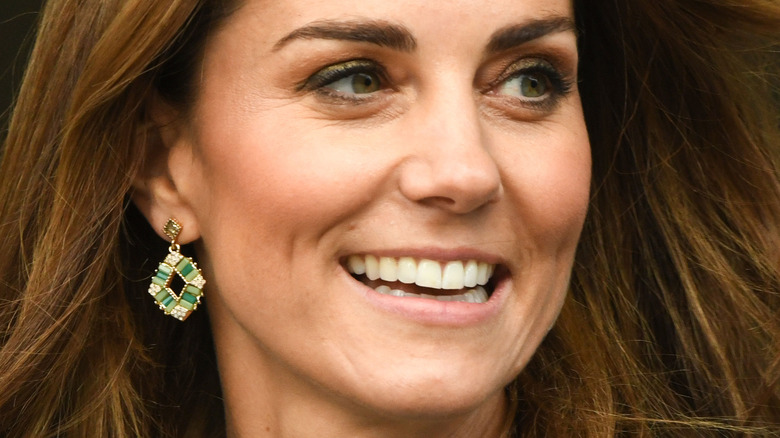 LINGTREN.COM/Shutterstock
It's no secret that the United Kingdom's royal family knows how to take a good picture. Last year, Prince Harry and Meghan Markle were crowned the most photogenic royal couple of all time, according to photography experts (via Geo News).
"They constantly prove life in the spotlight is no match for their priorities of love and happiness. Also, for their commitment to a flourishing family life," said a spokesperson for Printique. This company surveyed royal hashtags to come to the conclusion that Meghan and Harry were the royal couple who outshined their counterparts on-camera. 
However, since Harry and Meghan, the Duke and Duchess of Sussex, have fallen out of favor with the British public following their exit from the United Kingdom and their royal duties, his brother, Prince William, and sister-in-law, Catherine Middleton, have become more popular in the public eye. In fact, a recent study found that the Duchess of Cambridge ranks above her husband in popularity amongst the sizable royal family fanbase (per Express UK).
Fans of Kate might think she is the most photogenic royal, as she constantly looks perfect in photographs. Now, a royal style expert is spilling the tea on how she gets that picture-perfect look and how you can do the same.
Kate's secret to looking picture-perfect has been revealed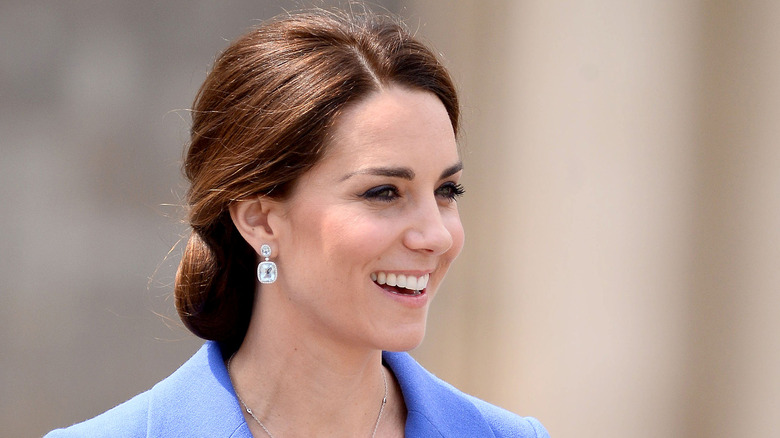 Isaaack/Shutterstock
Catherine Middleton, the Duchess of Cambridge, officially joined the royal family over a decade ago and ever since she has been showcasing her fashion icon status. Fans can't get enough of seeing her looks in photographs and public appearances, often picking apart her fashion statements in great detail. However, it isn't just her style that has fans talking. Kate has impressed the world with her ability to look perfect in every photo. Recently, Miranda Holder, a royal expert based in London, shared tips on how to look as good as Kate does in every snap (via The U.S. Sun).
In a video posted to TikTok, Holder explains how to become as photogenic as the duchess. "Well, the Duchess of Cambridge has had some media training and I'm going to share a cheeky little style hack that she uses," Holder shared. "She has simply be trained to always keep her chin parallel to the ground," Holder continued, "She doesn't tilt it down, she doesn't tilt it up — and that ensures a flattering photograph every single time."
While some fans shot back at Holder, stating that Kate is naturally gorgeous and that is why she photographs well, the royal expert fired back, "That's not true."
She added, "So I can tell you from years of working with supermodels, celebrities and models, that you can be the most gorgeous person in the world and still get a horrific photograph. It really is all about your relationship to the camera and where you place your jaw."