Douglas Booth Shares His Surprising Childhood Connection With Dominic Cooper - Exclusive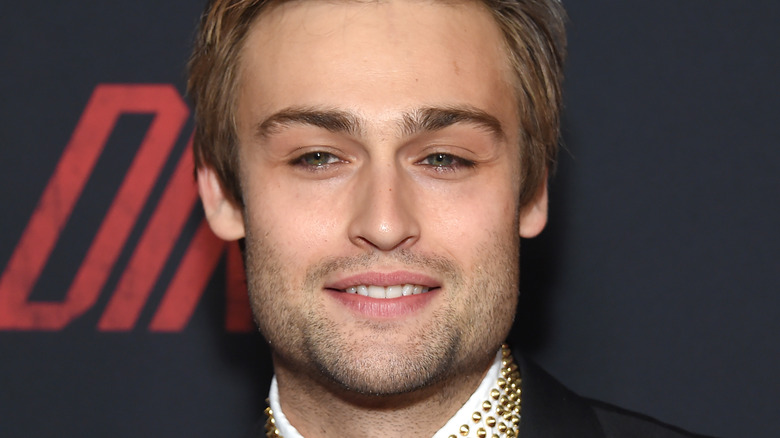 DFree/Shutterstock
Douglas Booth is no stranger to the Western genre, so this longtime fan was thrilled to join the cast of FX's new series "That Dirty Black Bag." When the actor appeared as Romeo in "Romeo and Juliet" opposite Hailee Steinfeld, he cemented his reputation as a heartthrob, which would follow him through the film adaptation of "Pride and Prejudice and Zombies" and leave fans hankering for more. 
Booth's role in "That Dirty Black Bag" is somewhat of a divergence for the actor, since his character, Red Bill, is a rough-and-tumble bounty hunter facing off against the town sheriff in the spaghetti Western series. In his exclusive interview with The List, Douglas Booth shared the major highlights of his new role, one of which is his talented co-star and "Mamma Mia!" leading man Dominic Cooper. The actors not only found their chemistry on set as outlaw versus sheriff, but their shared past made for an unforgettable filming experience.
These British actors have a shared childhood fixture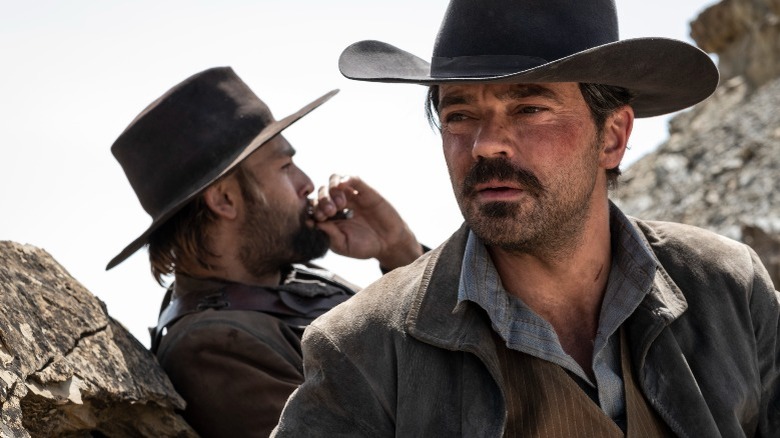 AMC+
Douglas Booth and Dominic Cooper go toe to toe in "That Dirty Black Bag," but in real life, the actors share a special bond. "Dominic and I have been friends for a long time," Booth told The List. "His mother was my nursery school teacher." He acknowledged that this connection is "very random," especially considering he has known Cooper's mother for most of his life. "I've known her actually for longer than Dom, so when we actually met [about] 12 years ago, we bonded over that, and we've been great friends ever since." 
In fact, Booth and Cooper's connection was a crucial factor in his decision to play Red Bill. "That was part of what drew me towards making this job." Booth told us. "[Dom] was on it." Though working with friends might be a challenge for some professionals, Cooper and Booth's relationship lends itself perfectly to their characters' dynamic. "We have great chemistry together," Booth emphasized.
The old friends were ready to square up in opposing roles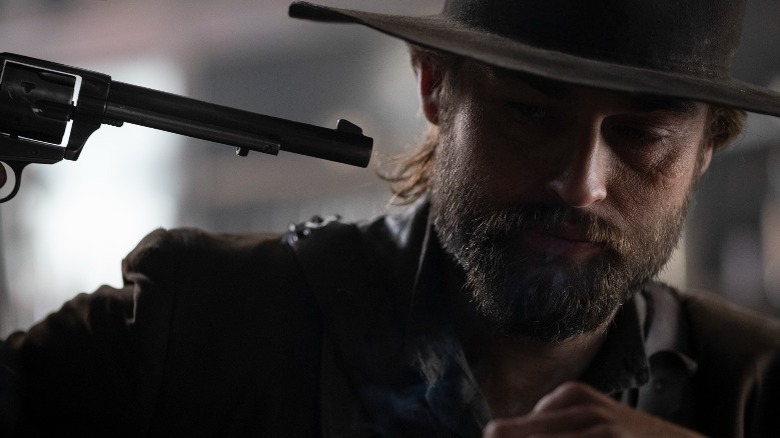 AMC+
In his interview with The List, Douglas Booth shared what "That Dirty Black Bag" has meant to him. On his character Red Bill, he told us, "I can't wait to see him fully square up with these baddies, for want of a better word, but these people that are doing very bad things, these twisted folk that are abusing people left, right, and center."
The series required a good deal of preparation beyond character work and dynamics, including horseback riding. "I definitely had ridden the longest," Booth shared. "Dom was pretty good on a horse, too." The actors clearly enjoyed their time on set together, and it was evident that they challenge each other to perform at their best. "We know how to wind each other up. We have a lot of fun together." He added, "I thought these characters were perfect for us to play opposite each other." Hopefully, fans will get to see more of this dynamic in a potential second season of the series.