Here's What Jennifer Garner Looks Like Going Makeup Free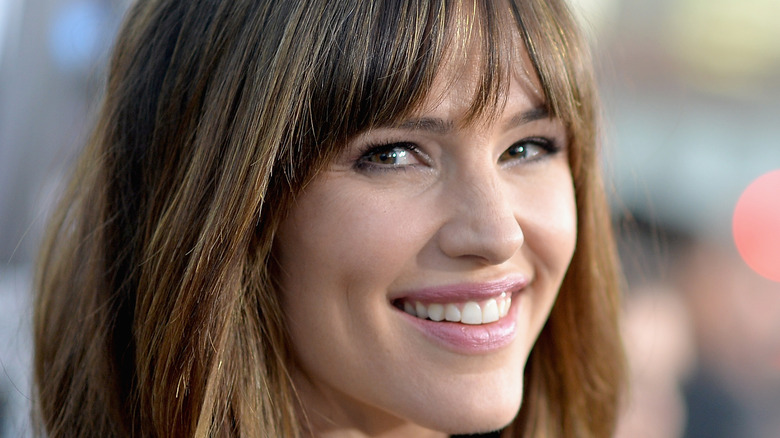 Michael Buckner/Getty Images
Jennifer Garner worked her way into fame, and our hearts, from a bit part in "Spin City" to the lead of "Alias," "Elektra," and "13 Going on 30," to name just a few of the actor's roles. Part of Garner's appeal is that she seems like a regular gal and is refreshingly honest about the perils of celebrity rather than keeping her fans at arm's length. 
In particular, per Hello! magazine, the mother of three regrets the media storm around her relationship with ex-husband Ben Affleck, which negatively affected their children. "It's so crazy what my oldest especially had to go through, and the kids really just shouldn't have to," she told fellow actor David Tennant during a chat in 2019. 
Among other things, Garner is impressively open about aging, refusing to fall victim to oppressive beauty standards like many of her contemporaries. As she revealed to Today, "I want to look normal and I want to normalize looking normal. I always have felt really strongly about that." 
And, when it comes to makeup, she reckons we all need to scale it back a bit. Most days, Garner wears just concealer, blush, mascara, and "a little something on my lips." To that end, the lovable star looks effortlessly beautiful when she skips makeup entirely. 
Jennifer Garner is frequently spotted in public without makeup on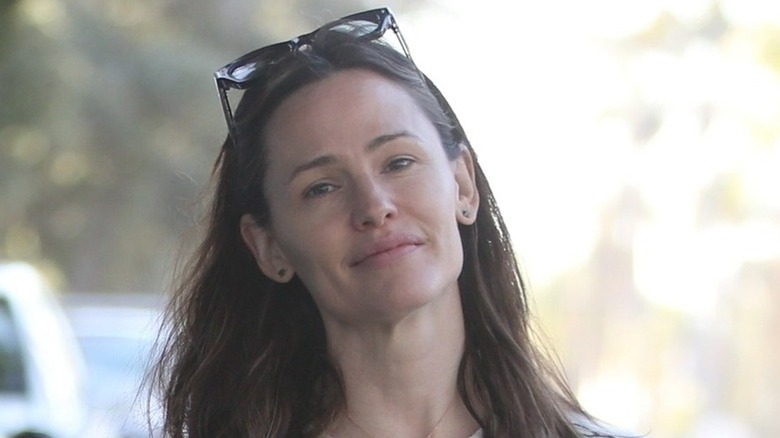 BACKGRID
Aside from looking perfectly happy to be caught by the paparazzi while running errands without makeup on, as in the photo above, Jennifer Garner is also the queen of posting makeup-free selfies, as Us Weekly points out. Whether she's recovering from a sweaty workout, rushing to get her children to school on time, or baking sweet treats for them, Garner has no qualms about how unglamorous her home life truly is. 
As she reasoned to Real Simple, "Whenever I go out, I get photographed." Garner, who's considered one of Hollywood's most down-to-earth celebrities, added, "I breastfed three times and it did a number on my skin — way worse than puberty. Pregnancy into breastfeeding and coming out of it." Nowadays, when she suffers breakouts, Garner usually reasons that she needs more rest and water. But, as she quipped, "when all else fails, wear extra blush." 
Moreover, Garner swore off Botox many years ago, admitting she didn't like being unable to move her facial muscles. The busy working mom is no fan of fillers, either.
She warned against relying on cosmetic procedures
Clearly, when it comes to beauty and skincare, Jennifer Garner likes to keep things simple. In fact, when Harper's Bazaar asked for her best advice for her own children, the actor replied, "Be cautious when it comes to injecting anything into your face. Be very, very incredibly judicious and wait as absolutely long as possible to add anything."
As for how we can stop convincing ourselves that we have to get work done, she suggested, "Look in the mirror less, obsess less, and look at the rest of the world to see what you could be using your time for instead." Garner opined, "We all look at our faces more than people used to, and it doesn't do you any good." 
Elsewhere, her biggest skincare tip is relatively easy, too, with the "Alias" star telling 29 Secrets that wearing sunscreen every single day is absolutely imperative. She shared, "It has to be like brushing your teeth." Considering how incredible Garner looks going au naturel, she definitely knows her stuff.