General Hospital Star Tabyana Ali Addresses Social Media Hate With A Huge Request For Trina Fans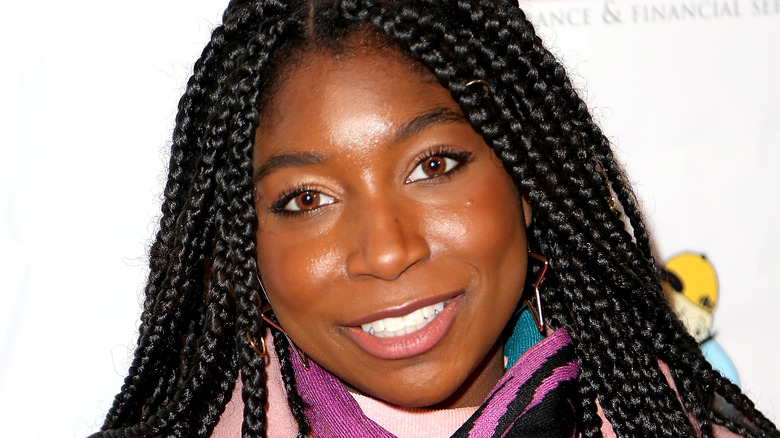 Maury Phillips/Getty Images
The recasting of a beloved soap opera character can often be a good thing, with nothing negative said about the previous actor, as TV Fanatic points out. Kassie DePaiva, Roger Howarth, and Jason Thompson are just a few names who have taken over roles previously played by other actors. Good writing aside, it takes a successful actor to fill an existing character's presence and endear themselves to the audience.
On "General Hospital," Tabyana Ali took over the role of Trina Robinson after actress Sydney Mikayla left the part to pursue higher learning at UCLA. Trina's been a major part of Port Charles not only as the daughter of Dr. Portia Robinson (Brook Kerr), but also as a friend to Josslyn Jacks (Eden McCoy), Cameron Webber (William Lipton) and possible love interest to both Spencer Cassadine (Nicholas Chavez) and officer Rory Cabrera (Michael Kruse).
Trina was framed for a crime by the evil Esme Prince (Avery Pohl). Esme used an illegal burner phone to secretly record Joss and Cam's first intimate encounter when the group — including Spencer Cassadine — were on a vacation at a remote cabin. Esme sent the video to the entire town, humiliating Cam and Joss. She also planted the illegal phone in Trina's purse, incriminating her. Now, Trina is on trial and could possibly see jail time if those in her corner can't prove her innocence (via Soaps She Knows).
Ali took to social media to respond to the fandom.
Tabyana Ali's attitude is supremely positive
Soaps She Knows reported that Ali had to jump into a role where the character was in dire straits, and that the actress handled positive and negative fan feedback well. In a Twitter post, Tabyana Ali not only told each and every fan how much she loved and appreciated them but also said, "I ask if you see any rude comments toward me/Trina and you feel like replying, do it with kindness. With all that is going on in the world, we need more kindness"
One fan replied to the tweet with, "You stepped into a role that was hard to imagine taking over. I couldn't imagine that I would take to anyone as Trina. But you came in and hit a home run!! Bravo to you. Amazing acting skills. Bravo!!" Another said, "Right on Tabyana/Trina, you're doing great as the new Trina Robert's. I'm a super fan of GH. I have watched it over 40 years, What!!!, yes 40 years. Take it from a super fan that knows you're doing Awesome! Keep up the good work..[sic]."
No matter the outcome of Trina's trial, the fans will be there to support Tabyana Ali.