How Nicole Kidman Was Really Able To Transform Into Lucille Ball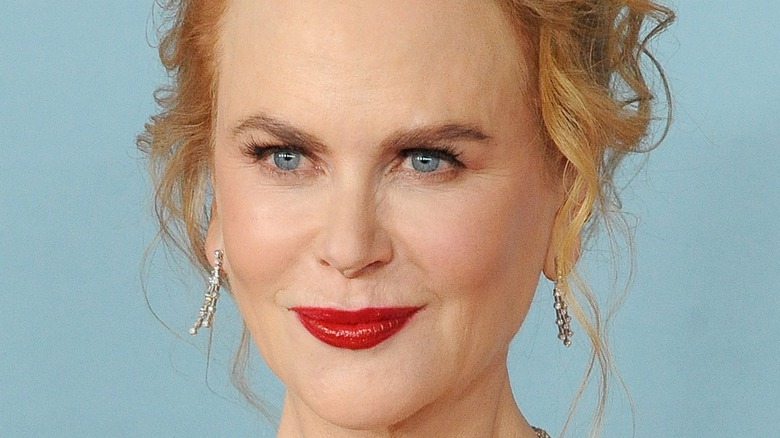 Tinseltown/Shutterstock
There's no doubt about it, Lucille Ball was an absolute trailblazer. You can thank her — and her husband, Desi Arnaz — for creating the template of the modern sitcom with "I Love Lucy." Their story behind the scenes has been told many times in film and television, but one of the most memorable portrayals of the couple — especially Ball — was during an episode of the "Will & Grace" revival. Debra Messing gave an uncanny performance as the comedienne, recreating some of the show's most iconic moments, including the Vitameatavegamin skit (via YouTube).
After that episode, fans of Messing were eager to see her play Ball outside of "Will & Grace" (via Newsweek). So when Cate Blanchett dropped out of Aaron Sorkin's biopic "Being the Ricardos," many expected Messing to take her place. However, much to their disappointment, Nicole Kidman was cast (via Deadline). But as Ball and Arnaz's daughter Lucie Arnaz explained on Facebook, they weren't remaking the sitcom. "No one has to impersonate Lucy Ricardo nor do ... any of the silly things. It's the story of Lucille Ball, my actual mother — not Lucy Ricardo — and her husband, Desi Arnaz, my dad — not Ricky Ricardo."
Once the film premiered, Lucie shared her feelings about Kidman's portrayal on Instagram, saying she "became my mother's soul" and "crawled into her head." But how did Kidman do it?
Nicole Kidman connected to Lucille Ball on many levels
Despite not having a deep connection to "I Love Lucy" growing up, Nicole Kidman identified with Lucille Ball on many levels while she prepped for the film (via The New York Times). First, Kidman focused on bringing her comedic side out as a primarily dramatic actress. "I've got to be funny, and funny is hard," she said, echoing what Ball once said: "You cannot teach someone comedy, either they have it or they don't" (via the National Women's Hall of Fame). Kidman certainly had it; she just needed the confidence to bring it out. She soon realized that "the way she moves and falls, every part of her physicality, you go, oh, I can be an absolute doofus playing her."
Still, Kidman was apprehensive about perfecting Aaron Sorkin's dialogue. "I need to be pushed and cheer-leaded in that area," she said. But, thanks to her uncanny ability to mimic Ball's cadence and mannerisms, she had no issue nailing the comedy in "Being the Ricardos."
Kidman took lessons to speak like Lucille Ball
Even though Nicole Kidman's portrayal of Lucille Ball looked as though it came naturally to her, the actress got to that point with the help of dialect coach Thom Jones. "We wanted [Kidman] to grab at the essence of Lucille and get that across," he told The New York Times. "If you're doing an impersonation, you're going to be too aware of your outside and not be able to fill your inside as an actor." For Kidman, learning to talk like Ball "was terrifying!" as she told Vanity Fair at the premiere of "Being The Ricardos."
Aside from dialect lessons, Kidman took advantage of listening to recordings of Ball, as well as "sitting in my living room watching I Love Lucy shows," she told Vanity Fair. "After a lot of practicing, it just kind of happened physically and emotionally." She also worked with a movement coach to help recreate scenes from "I Love Lucy" (via YouTube).
As for hair and makeup, Kidman's transformation was pretty minimal. "She had bright red hair, so they dyed mine," the actress told the New York Post. "I figured prosthetics would change my nose and mouth but the problem was eyebrows. I worried mine would be gone forever but they're starting to come back."