Liz Cheney Is Receiving Support From An Unexpected A-Lister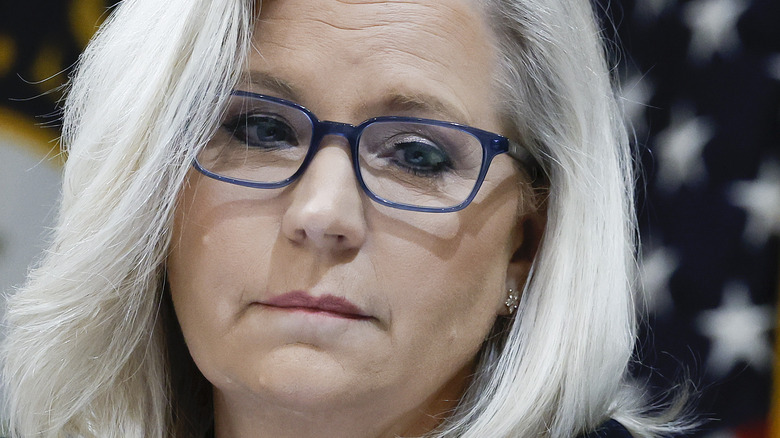 Anna Moneymaker/Getty Images
In Hollywood, it may be considered taboo to be a Republican, but conservative Liz Cheney just got a big boost from a major A-list actor. The endorsement has a complicated backstory, however. First, consider that Congresswoman Cheney, the daughter of former Vice President Cheney, is running for re-election in Wyoming, which is a historically red state (via ABC News and Wonderwall). Her odds of winning the seat are not looking good, with challenger Harriet Hageman being favored to win (via Newsweek).
Hageman has been endorsed by former President Donald Trump, in large part due to her opposition to Cheney (via CNN). Why? Because Cheney is one of the few Republicans who has voiced her strong opposition to the controversial past commander-in-chief, voting to impeach him after the insurrection at the Capitol on January 6.
Indeed, Cheney has not minced words about the GOP leader, calling the would-be 2024 presidential candidate a "domestic threat" (via NPR). Cheney also contended in a June 2022 speech that "Republicans cannot both be loyal to Donald Trump and loyal to the Constitution."
Given her outspoken criticism of Trump, Cheney has won support among Democrats, including former Republican-turned-Democrat and movie star Kevin Costner.
Kevin Costner's endorsement of Liz Cheney is met with skepticism
According to Newsweek, Kevin Costner voted Republican prior to 1990. But more recently, the "Yellowstone" star has endorsed Democrats, including Pete Buttegieg. He previously supported Barack Obama and called out Donald Trump's policies for being "dangerous" (via Esquire).
Now, the longtime Hollywood staple has stepped up to bolster the anti-Trump Wyoming Republican's congressional bid, donning a tee-shirt that declares, "I'm for Liz Cheney" in a new photo. Cheney tweeted the image of the actor, the setting of which appears to be the Dutton Ranch, along with the caption, "Real men put country over party."
Not surprisingly, her tweet was met with mixed reactions, with one Harriet Hageman supporter commenting, "I don't think Wyoming men will take kindly to a woman saying they aren't real men if they don't vote for you." Someone else blasted the representative by tweeting about Costner, "But he's not a real man, he's just playing one on television. Just like you're not a real Republican."
Another popular response was to tweet a photo of Costner meeting Fidel Castro during a 2001 trip to promote his movie "Thirteen Days" (via ABC News).