How CBD Can Help Treat Your Dog's Anxiety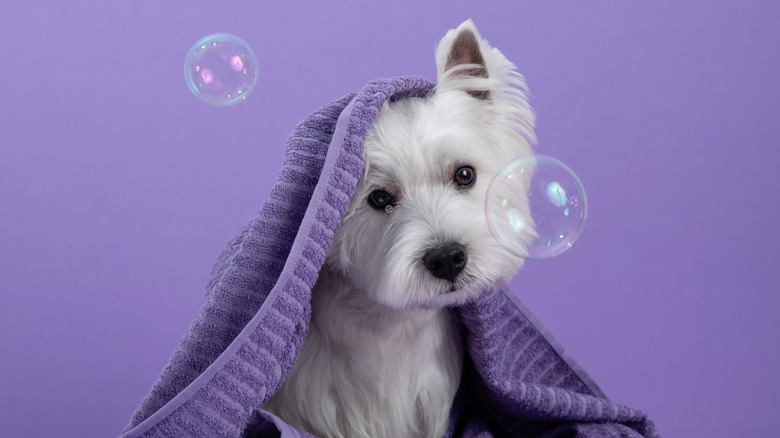 RavenaJuly/Shutterstock
From lattes to gummies, CBD is infused into the fabric of our society and its popularity is projected to reach $47.22 billion by 2028 (via Vantage Market Research). Derived from the Cannabis sativa plant, CBD or cannabidiol is a non-psychoactive that has been associated with reducing anxiety, depression, and a few other medical issues. "CBD probably has anti-inflammatory actions [and may help with] inflammatory bowel diseases such as Crohn's disease or neurological conditions that have some inflammatory component," Igor Grant, director of the center for medicinal cannabis research at the University of California, San Diego, told BBC Capital.
Many pet owners are hoping that this soothing quality of CBD works just as well on their pets with anxiety. "It's exactly the same as what happens with people. They're seeing the world as a much more dangerous place than it actually is," veterinary psychiatrist Jacqui Ley said to ABC Australia. However, there are many factors to take into account before you drop a CBD gummy into your dog's daily diet.
Low doses of CBD can be safe for dogs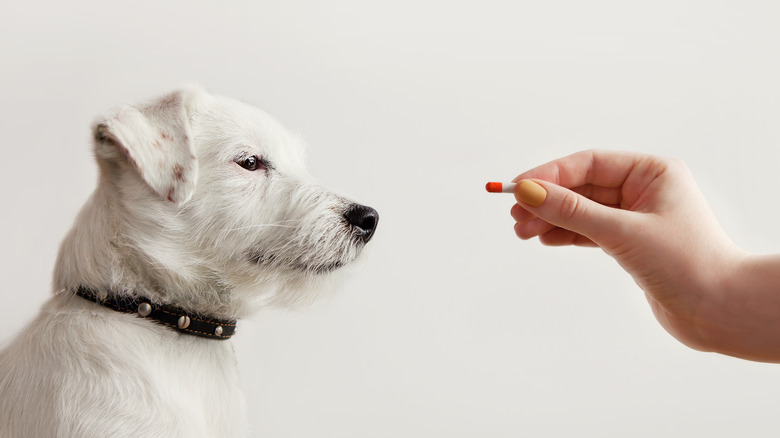 Liudmyla Guniavaia/Shutterstock
Many pets have needed extra care during COVID-19, often due to the added stress from the unpredictability of the ongoing pandemic. "Pets' world just suddenly turned upside down . . . A lot of it is because routines are upended, and pets have no idea how to function in the new world order," Stephanie Borns-Weil from Cummings Veterinary Medical Center told Tufts Now. Your pet may do well with a prescription for patience, behavioral correction, and sticking to a routine. However, many owners look to CBD treats as a quick fix.
According to Grand View Research, the global CBD pet market size was valued at $125 million in 2020 and is expected to grow at an annual rate of 58.9%. And rising diagnoses of anxiety disorders in dogs is a possible factor in this growth. This includes moisturizing CBD pet balms, CBD-infused treats and chews, as well as rinse-less shampoos to provide quick, concentrated relief. Of these, oil-based treats and capsules may work better because "CBD incorporated in a fatty substance demonstrates the most efficient and consistent absorption," professor of veterinary neurology Stephanie McGrath told Insider.
With the limited studies on CBD for pets, low doses have been deemed safe for healthy dogs (via MDPI). However, the benefits of CBD are still mostly anecdotal — in both humans and dogs.
It can reduce your dog's separation anxiety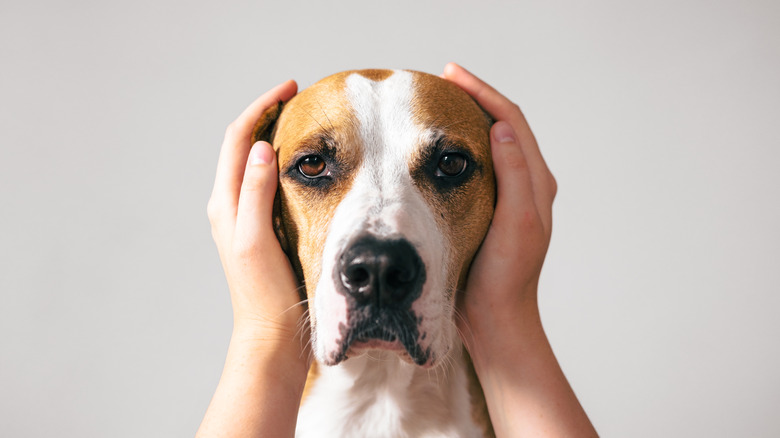 Aleksey Boyko/Shutterstock
The research on the benefits of CBD for humans is limited but it has shown "strong preclinical evidence" as a treatment for generalized anxiety disorder, seasonal affective disorder, and post-traumatic stress disorder (via WebMD). For dogs, there are very few studies to prove that CBD has an actual effect on them. One study tested CBD on osteoarthritic dogs and found that there was an improvement in pain and mobility. Another small study published on PubMed found that dogs with epilepsy had fewer seizures. However, dogs in the placebo group responded similarly.
Nevertheless, certain communities on Reddit swear by CBD for treating their dog's anxiety — especially anxiety from being left alone — and reactiveness. Since CBD isn't dangerous in small doses, pet owners aren't reluctant to try it. The American Kennel Club states that your dog may experience side effects like drowsiness, dry mouth, and low blood pressure but the fact that the CBD industry for pets is still unregulated means that you should be cautious with it.
If you do decide to get CBD for your pet, make sure that it's been extracted with CO2 as opposed to solvent (propane, petroleum, butane) extraction. This is because the latter can have harmful residue (via Dogs Naturally). But ultimately, do your research and speak to your vet about using it.