Fran's Summer Fashion From The Nanny Is Iconic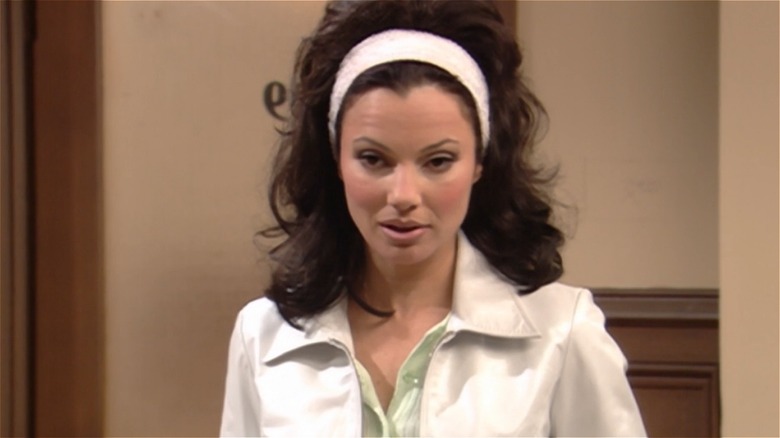 CBS
This content was paid for by Sony and created by The List.
Fran Fine — a fashion icon. The lovable Fran Drescher portrayed Fran on "The Nanny" for six seasons, running from 1993 to 1999. Fran was known for her nasally voice, caring nature, and — most of all — her incredible wardrobe. She wore multiple outfits an episode and elevated loungewear by wearing some of the most stunning robes you've ever seen.
She loved a minidress that hugged her curves and was partial to cheetah print. When she passed on the animal print, Fran opted for the brightest and most colorful ensembles no matter the season. But she was a master of summer looks. Fran had a closet full of color-blocked two-piece outfits and dresses that required everyone around her to wear sunglasses. While most of Fran's time on "The Nanny" saw her in thicker, long-sleeved dresses, she still had an impressive summer wardrobe.
We've compiled her best summer looks from six years which will have you running to the store to restock your closet.
Season 1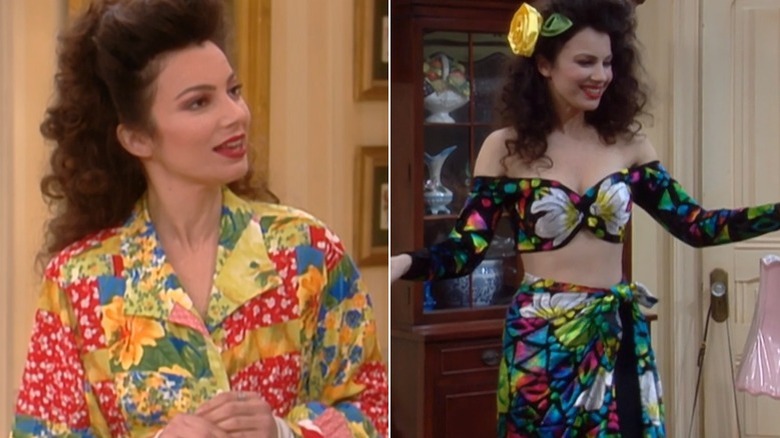 CBS
The world and Mr. Sheffield (Charles Shaughnessy) were introduced to Fran Fine in Season 1 of "The Nanny," which was overloaded with animal print. She gave us a taste of her flair for bright colors in Episode 4 ("The Nuchslep"), where she spots a patchwork button-down blouse with floral prints. As with many of Fran's looks, the shirt showed a bit of her midriff and was tied in a bow at the bottom. Paired with a pair of light wash jeans, the look is airy and fresh and, surprisingly, one of Fran's more conservative picks.
Much later in Episode 16, Fran wears one of her most bold ensembles in the entire series. "Schlepped Away" sees Fran in a daring two-piece you'd see in the Copacabana's early days. Fran's off-the-shoulder top covers just her chest and features long, flowing sleeves featuring lime green, pink, red, and blue shapes on black fabric. Her wrap skirt features the same look paired with a large faux-flower in her hair. It's a stunning vacation look Fran opted to wear inside as their day was getting rained out.
Season 2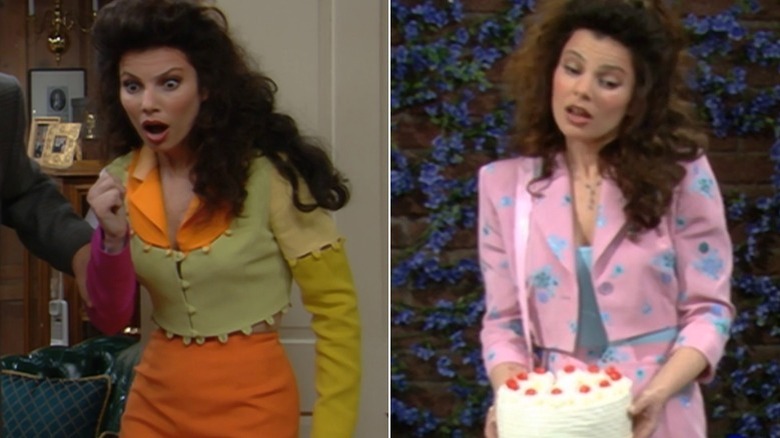 CBS
Season 2 was definitely the year of Fran Fine's two-piece suit. Fran was not one for pants when it came to this kind of look, so every two-piece here is some sort of flashy blazer with a matching miniskirt. In Episode 16 ("The Nanny Behind the Man"), she opts for a color-blocked suit with large buttons which patch together the fabric to form one overall piece. Episode 22 ("Strange Bedfellows") saw Fran in a light pink ensemble with blue floral print detail, which looks like something Margot Robbie world sport on a red carpet today.
In Episode 9 ("Take Back Your Mink"), Fran wears a very busy suit vest over a bright orange blouse paired with a sequined red mini skirt over bright purple tights. It's a lot, but everything we'd expect from the nanny. Episode 6 ("Pinske Business") sees Fran in another neon ensemble. This time she's wearing a thick-striped sweater paired with a hot pink satin miniskirt. Nothing says summer like those neon colors.
Season 3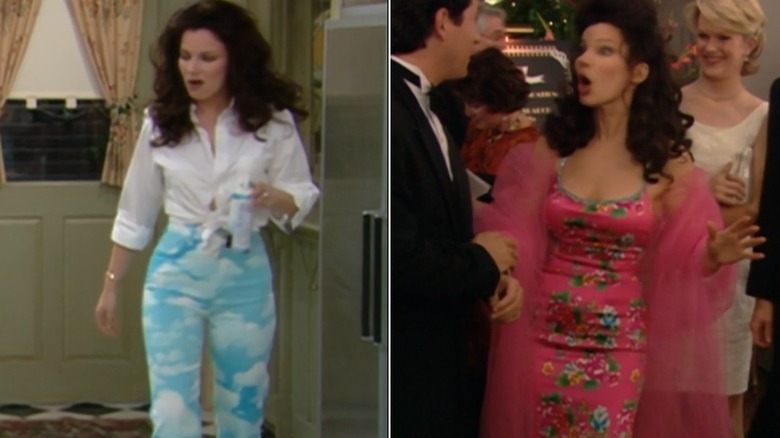 CBS
As if Fran's wardrobe couldn't get any more adventurous, it somehow does in Season 3. Most of the season sees her in more fall and winter gear, but there are two stellar summer looks worth mentioning. In Episode 8 ("The Party's Over"), we see Fran in a pair of cloud-pint satin pants that look straight out of a SHEIN catalog (though we're sure hers cost 100 times as much). Paired with the chic pants is a plain white blouse tied into a simple knot just above her waistline. It's actually a reasonably understated outfit for Fran, but a great summer look.
In Episode 15 ("Fashion Show"), Fran wears an incredible hot pink gown with a tulle sash to a charity event where all eyes are on her. The dress is skintight (of course) and features spaghetti straps and a lot of floral print on the bright pink fabric. It's floor length (another surprise for Fran, but this is a charity event) and works as the perfect summer dress for an occasion considered black tie.
Season 4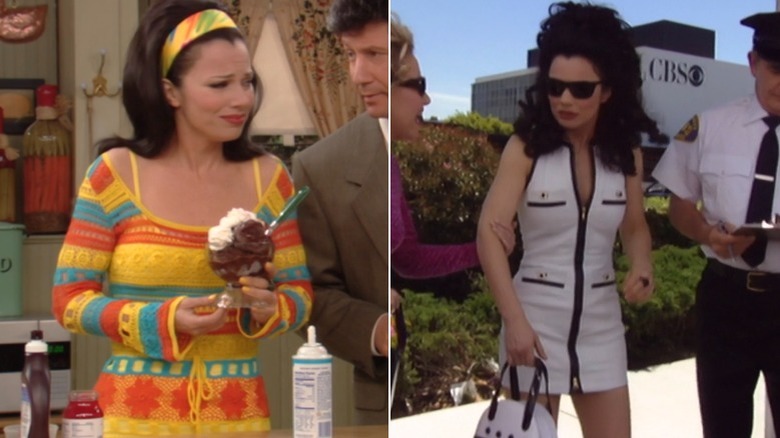 CBS
Season 4 of "The Nanny" is chock full of fantastic summer outfits, and the year we see Fran embrace the season more than ever. The opening episode ("The Tart with a Heart") showcases Fran's love for '60s garb. She wears an incredible minidress with a square multi-colored pattern and bold headband. Later in Episode 2 ("The Bird's Nest"), Fran takes a trip to Gracie's (Madeline Zima) school looking like a Fembot. She sports a sheer green top with a creamy white mini skirt that matches her thick headband. It's an outfit you might see during an MTV red carpet event and is timeless.
In Pamela Anderson's cameo episode ("The Heather Biblow Story"), Fran wears a few fantastic summer outfits — a short white-collared dress with black trim, a polka dot bodycon dress, and a blue sequined v-neck dress. In Episode 21 ("The Passed-Over Story"), Fran brings back her love of dress suits in a robin's egg blue number with oversized yellow buttons.
Episode 25 has Fran in a crocheted dress with yellow, red, and blue stripes. She matched the look with a bold headband. It's definitely a look you'd see at a summer music festival these days, proving Fran was always ahead of the fashion curve.
Season 5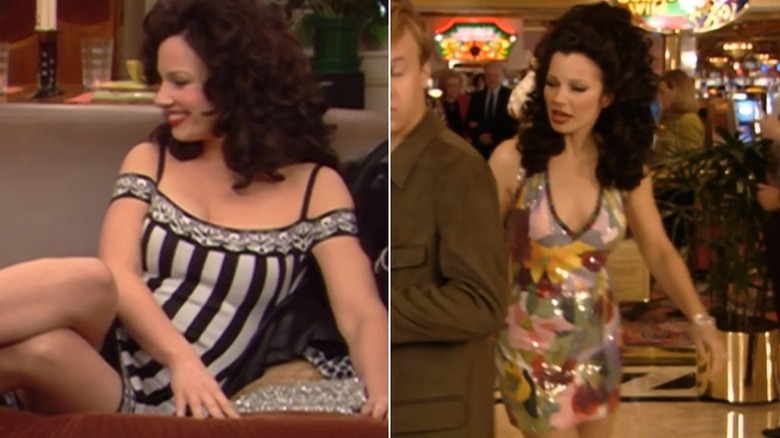 CBS
In Chevy Chase's cameo episode, Fran breaks out some great summer looks ("A Decent Proposal"). Since most of the episode takes place in Atlantic City, Fran's outfits are a little shinier — if you can believe it. She wears a tremendous sequined color-block dress with a deep V, attracting many eyes. Later in the episode, Fran wears a sequined cheetah-print gown with a scoop neck and spaghetti straps.
Fran opts for a pantsuit in Episode 7 ("Mommy and Mai") covered in a bold floral print. Underneath, she wears a sheer yellow top to bring out the petals on the suit's fabric. In the following episode, "Fair Weather Fran," our nanny wears a fabulous lime green leather getup comprised of a jacket and miniskirt.
Harry Hamlin puts the moves on Fran Drescher in Episode 8 ("Educating Fran"), where she wears a referee-looking minidress with a cutout cap sleeve and super short hem.
Season 6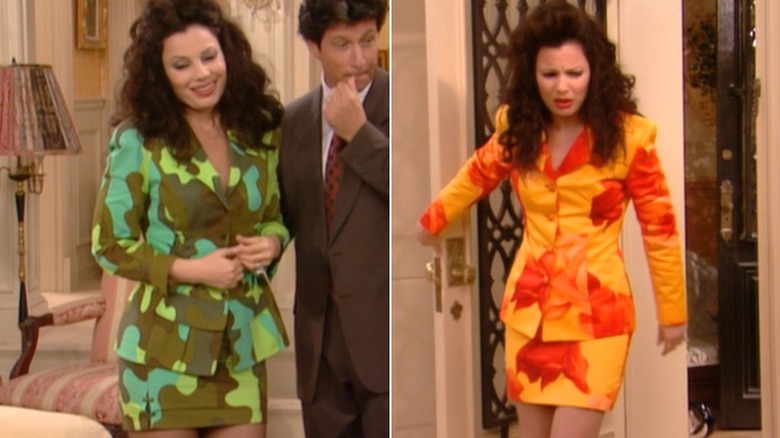 CBS
Season 6 of "The Nanny" was a time for Fran's suit's to shine. From pants to skirts, she rocked them all, but only if they were bright and loud. In Episode 3 ("Once a Secretary, Always a Secretary"), Fran wore two fantastic suits — one with a peach base and gold accents and one with a green camouflage pattern.
In Episode 13 ("The Yummy Mummy"), Fran wore another peach-colored suit with a whole lot more detail. This one had a dramatic black and white symmetrical pattern, giving off mandala vibes. Episode 14 ("California Here We Come") featured Fran's last authentic summer look, where she sported a bright orange and yellow suit with a large flower print. The skirt, of course, was a mini with a long-sleeved blazer.
Fran's summer looks are as great now as they were back in the '90s. We'd love to see what Miss. Fine is wearing all these years later. "The Nanny" reunion, anyone?