Here's The Museum You Should Visit If You Want To See The Garden Of Earthly Delights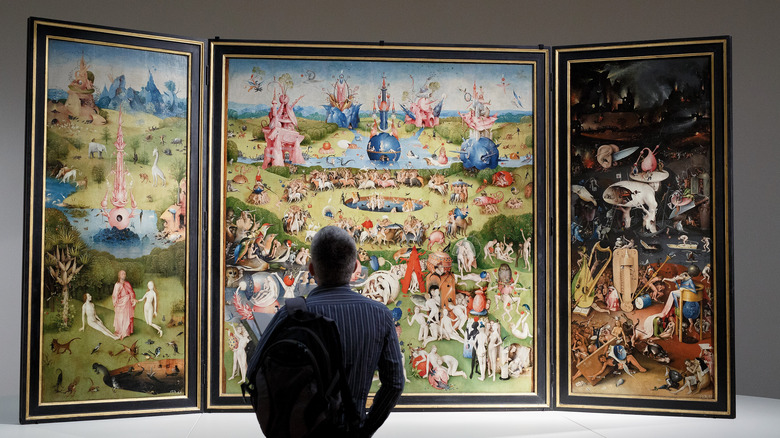 Pablo Blazquez Dominguez/Getty Images
Take a bit of zaniness from the likes of a Dr. Seuss book, toss in a cup or two of floral nightmare fuel from "Midsommar," and you've got something close to the feeling you'll experience from witnessing Hieronymus Bosch's famous artwork "The Garden of Earthly Delights". This surreal triptych — or a trifold piece of singular art – has been the center of art connoisseurs' conversations for over five centuries.
"The Garden of Earthly Delights" has even fascinated Spanish royalty with its strangely fantastic scenery and macabre characters — and for good reason. There's just something so hauntingly beautiful and yet off-putting about the art that will leave you wondering: What in the world did people have running through their heads more than 500 years ago? Is that Jesus Christ standing in one corner having a casual chat with Adam and Eve? And why does that person over there have a blueberry for a head?
It's certainly a bizarre painting with plenty of layers to decipher, but if you're like us and are down with the weird, you'll agree that seeing this painting in person is right up your alley.
The Garden of Earthly Delights is in the Museo del Prado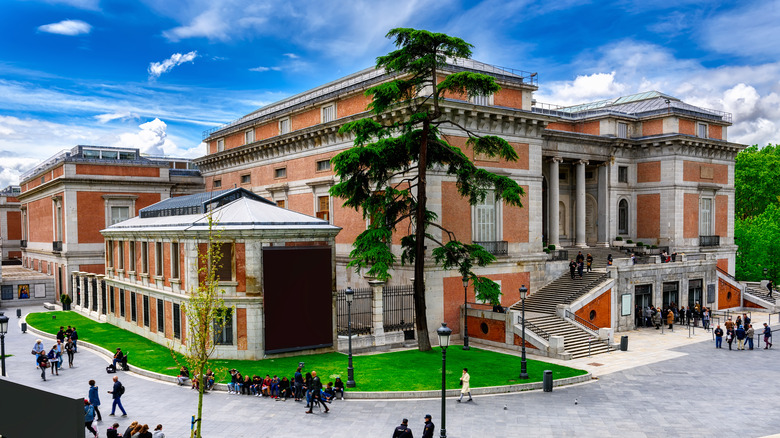 Catarina Belova/Shutterstock
Although sweater weather will be approaching in the next month or two, the summer days aren't over just yet. There's still plenty of time to grab a few pals and set out on an amazing vacation that will finish your summer off with a bang. For art lovers, Spain is one of the best places you can travel to for several reasons. It's also where you'll find Hieronymus Bosch's beautiful yet cryptic painting "The Garden of Earthly Delight."
The Museo del Prado in Madrid, Spain has been the longtime home to much of Bosch's art. In fact, you'll find many of the Dutch native's works placed together in the same room of the museum. On the Museo del Prado's website, it explains that Room 056A hosts such mesmerizing pieces as "Table of the Seven Deadly Sins" and "The Temptations of Saint Anthony Abbot." "The Garden of Earthly Delights" found its way to the Museo del Prado in 1933.
Before the oil painting found its place at the Museo del Prado, the museum states that it belonged to quite a few interesting owners. This includes Phillip II, the reigning king of Spain during the mid-1500s. Phillip II purchased the painting in 1591 after the death of its previous owner, Fernando de Toledo, also known as the Duke of Alba (per Britannica).
The painting's true meaning remains a mystery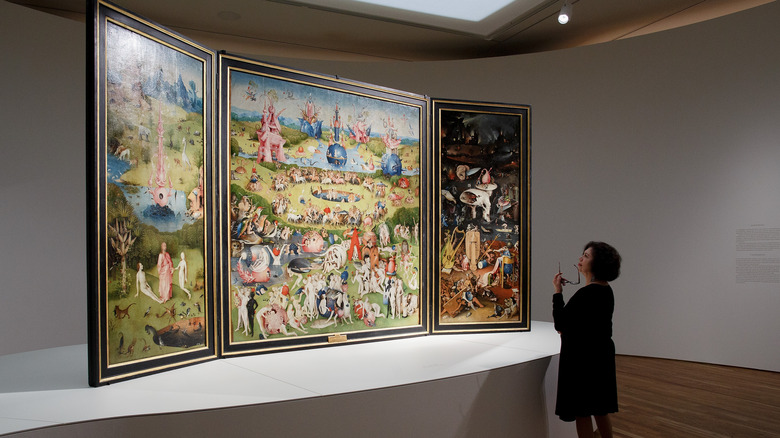 Pablo Blazquez Dominguez/Getty Images
The Museo del Prado has measured Hieronymus Bosch's famous triptych to stand at more than six feet tall and over five feet wide. That's quite a lot to take in! Bosch didn't date any of his paintings, so experts are only able to guess when "The Garden of Earthly Delights" was created. Combine that with the fact that there are three very different scenes taking place in one painting, and it's clear that Bosch has given his curious viewers plenty to chew on.
While the painting itself is a mystery no one seems to have cracked (yet), the artist behind the painting might prove to be even more of an enigma. According to The Art Story, Hieronymus Bosch, or Jheronimus van Aken, was, like many artists, a person that liked to keep to himself. His date of birth and date of death are both unknown, although many believe he was an unfortunate victim of an outbreak that gave infected people cholera-like symptoms around 1516 and 1517.
Why not make an attempt to discover the meaning behind the art and travel to see "The Garden of Earthly Delights" yourself? Viewing Bosch's triptych via Google Images simply can't compare to seeing the fine details and smooth colors in person. With summer still in full swing, there's plenty of time to book a flight to Madrid.