Did The Cast Of Married... With Children Get Along During The Filming Of The Show?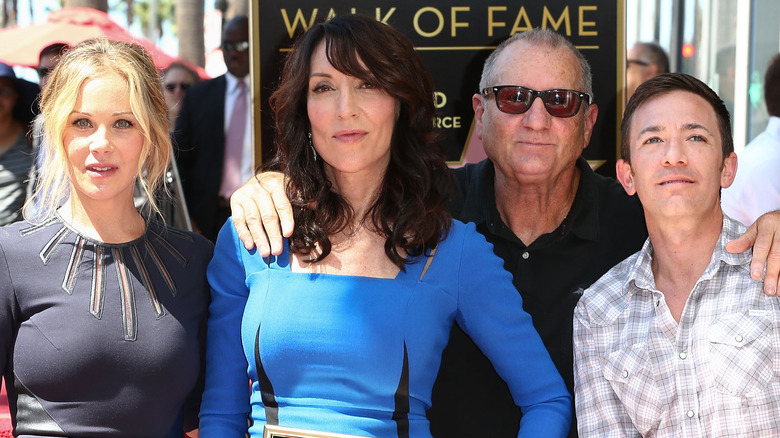 Imeh Akpanudosen/Getty Images
"Married... With Children" was one of TV's most surprising shows. The series followed the Bundy family, who were anything but the classic wholesome sitcom broods like "The Brady Bunch" or "Leave It To Beaver." 
Instead, the Bundys were a middle-class family who showed viewers all of their problems with a comedic spin. The show starred Ed O'Neil as patriarch Al Bundy, a shoe salesman who loved to recall his high-school glory days as a football star while living a resigned existence as a beleaguered family man (via Sony Pictures).
Al's wife, Peggy Bundy (Katey Sagal), was more worried about spending her husband's money on clothes and beauty products than she was about keeping house and raising children. The couple also had two kids, daughter Kelly (Christina Applegate), a rebellious party girl, and son Bud (David Faustino), an egotistical schemer.
The show focused on the family's home life, including their struggles with money, parenting, success, and the lack of intimacy in their marriage (via Rotten Tomatoes). The show lasted for 11 seasons — helping establish Fox as a network — and the four main characters went on to have successful careers in movies and television following the show's end.
O'Neil went on to star in "Modern Family"; Sagal had a hit with "Sons of Anarchy"; Applegate appeared in films like "Bad Moms" and "Anchorman"; while Faustino has lent his voice to animated shows like "Avatar: The Legend of Korra" and "Winx Club" (via Wonderwall).
While the Bundys were a mess on-screen, fans can't help but wonder if the "Married... With Children" actors got along behind the scenes.
Katey Sagal says that four main cast members loved working together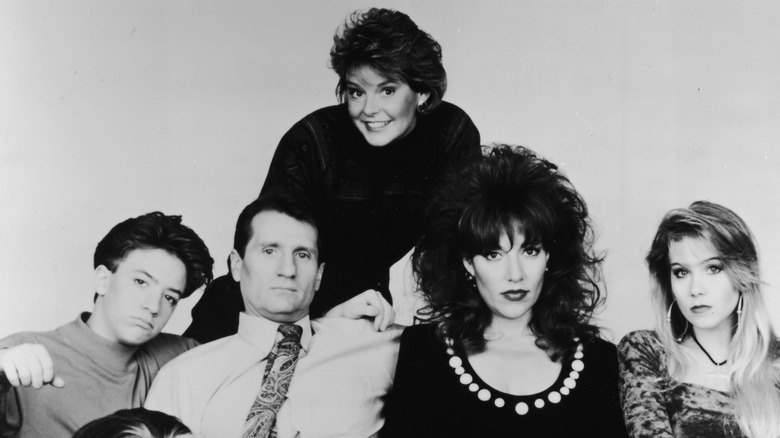 Columbia Tristar/Getty Images
"Married... With Children" fans know that the Bundy family members had a hard time showing love and support for one another in their lives. However, that couldn't be further from the truth for the actors who portrayed the brood. Back in 2021, Katey Sagal gushed over her time working with Ed O'Neill, Christina Applegate, and David Faustino on the sitcom, per ET Online.
"We just got on great, so that was fantastic," Sagal said. "The original pilot had two different kids. Then when we got picked up, they replaced them with Chris and David and that was instant chemistry. The whole thing clicked. We were all kinda a bunch of little outcasts."
According to The Things, O'Neill and Faustino have echoed Sagal's sentiments in the past, revealing that they had tons of fun making the show and that the actors had become like family over the years. There have even been talks of a "Married... With Children" animated revival with the original cast, per Deadline. 
However, it seems that not everyone in the cast got along as well as the Bundy clan off-camera.
Ed O'Neill and Amanda Bearse had a long-running feud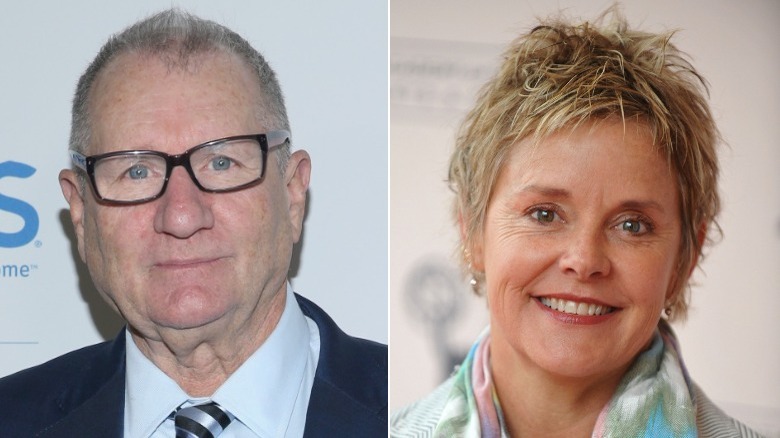 Toby Canham & Phillip Faraone/Getty
Fans who have watched multiple episodes of "Married... With Children" know that Al Bundy's annoying neighbor Marcy D'Arcy was his No. 1 enemy. The two didn't get along and often made hurtful jokes at each other's expense, per Charactour. 
While their relationship was hilarious to watch on screen, it seems that, when the cameras stopped rolling, there was no love lost between actor Ed O'Neill and actress Amanda Bearse (via E! News). The duo reportedly couldn't stand each other and even got into arguments on the set.
In 2014, O'Neill opened up about his feud with Bearse. "We got in a big fight over something stupid in the makeup room. And she said something about you're a bully or something, and I said, 'Well, you're miserable.' It was just bad... In front of everybody, by the way," the actor said during an interview with the Archive of American Television. 
He continued: "And then I said, 'You're not very bright, is your problem.' And she was bright, but in a way she wasn't because I said look... She said, 'I'm not bright?' And I could just see her gearing up, like 'I'm smarter than you.'"
For her part, Bearse has admitted that she didn't consider O'Neill a friend and that she believes he's partially responsible for the show's cancellation (via BestLife). Thankfully, these two actors won't have to work together again, as they don't seem to see eye-to-eye.