Are Kourtney Kardashian And Travis Barker Compatible Based On Their Zodiac Signs?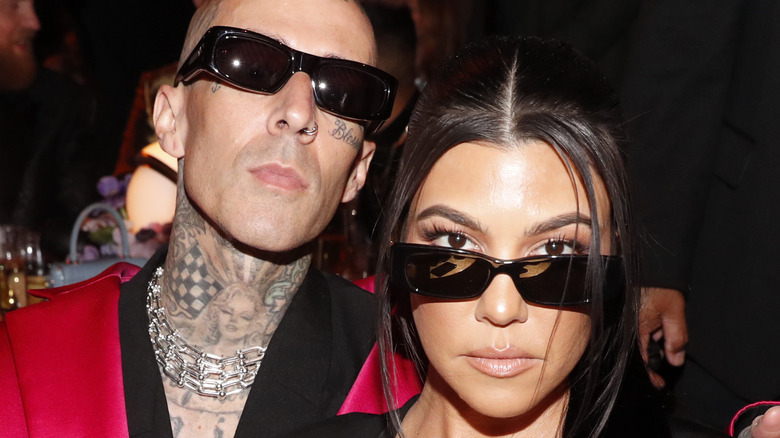 Jerod Harris/Getty Images
Kourtney Kardashian and Travis Barker's relationship has become one of the most talked about couples in Hollywood. The pair had been close friends for years, but officially began dating in early 2021, per People. By February 2021, the couple made their love Instagram official with a photo of themselves holding hands. The Blink-182 drummer went on to solidify his love for the reality star by having her name tattooed across his chest.
The pair became known for their steamy PDA-filled social media snaps (via E! Online) and made no apologies about showing their love for one another. In September 2021, Kardashian and Barker made their first red carpet appearance at the MTV VMAs, where they wore matching black ensembles.
In October 2021, Barker popped the question to Kardashian on the beach and the two began making wedding plans (via Us Weekly). The couple confused fans when they had a wedding ceremony in Las Vegas in April 2022, but later revealed that the nuptials weren't legal. The following month, the duo known as "Kravis" got married in Santa Barbara with just a few close friends and family members at the event. Days later, the pair headed to Italy, where they held a lavish ceremony with their friends and family.
While Kardashian and Barker clearly have intense chemistry but are their zodiac signs compatible?
Kourtney is an Aries and Travis is a Scorpio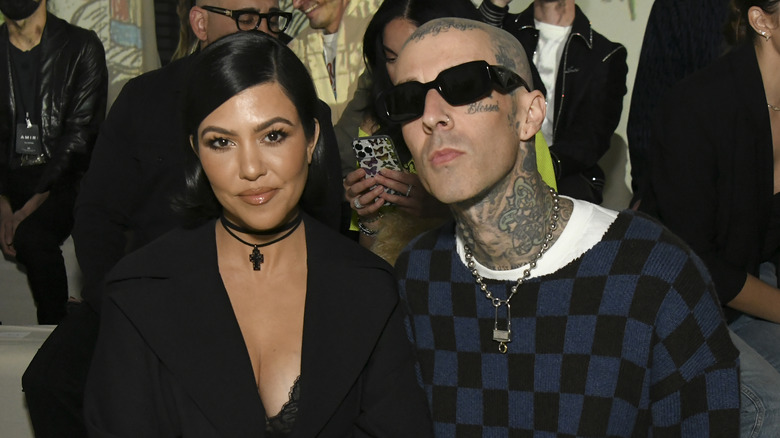 Rodin Eckenroth/Getty Images
Kourtney Kardashian was born on April 18, which makes her an Aries. Travis Barker, on the other hand, is a Scorpio who was born on November 14, per Marie Claire.
Aries women are said to have a great sense of style, which is very evident with Kardashian's best dressed looks (via Glamour UK). However, Aries woman also manage to stay in touch with their inner child, per Everyday Health. The fire sign is described as being fun and spontaneous, as well as very trusting. Female Aries' are also known for being attracted to successful men and like to put their partners on pedestals. Supporting her famous musician husband at concerts is definitely something an Aries like Kardashian loves to do (via People). In marriage, an Aries woman also likes to keep some mystery in her relationship and loves when her partner makes her their number one priority.
As for Barker's zodiac traits, Scorpio men have a way of being confident and ambitious, setting goals for themselves and working hard to achieve them (via Thought Catalog). The water sign can be very honest and serious at times, and although their bluntness can be misconstrued as rudeness, the sign reportedly hates liars and believes it's best to tell the truth. Scorpios are said to be worried about getting their heart broken, which can lead them to be closed off. However, once they get to know someone, they'll open up.
Although Kardashian and Barker seem to be a perfect match, it seems that their zodiac signs are also well suited for each other.
Kourtney and Travis' zodiac signs are a solid match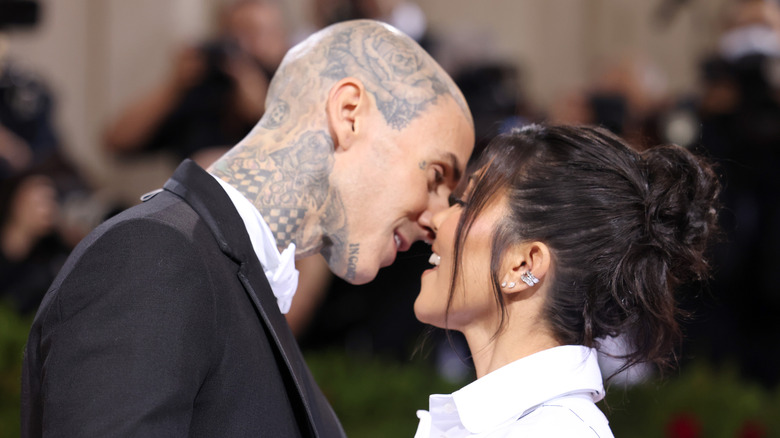 John Shearer/Getty Images
Aries women and Scorpio men like Kourtney Kardashian and Travis Barker are said to be a very fiery match. Both signs are known for their loyalty and commitment and are said to have a strong attraction to each other (via Sun Signs). The two signs can also prove to be soulmates, who are capable of going the distance when it comes to long-lasting love connections.
According to InStyle, Kardashian and Barker also likely have a deep spiritual connection, which is represented in their birth charts. The couple also shares some important traits, including a strong love for their families with a focus on parenting their children. The outlet suggests that the duo are also both deeply sensitive and can be a source of emotional support for one another during good and bad times.
"It's clear to see that Kourtney and Travis have chemistry when you look at their charts. This is a fiery couple with a lot of passion. The intensity of Travis' Scorpio Sun is a match for Kourtney's feisty Aries Sun," astrologer Rachel Lang tells Women's Health. "We can see shared goals and a drive for success with Kourtney's Jupiter in Cancer conjunct Travis' Saturn in early degrees of Leo. The two have a healthy balance between dreams and practical action steps," she added.
With all of the zodiac chemistry between them, it appears that Kardashian and Barker may really be each other's ideal partners.