Are Beyonce And Jay-Z Compatible Based On Their Zodiac Signs?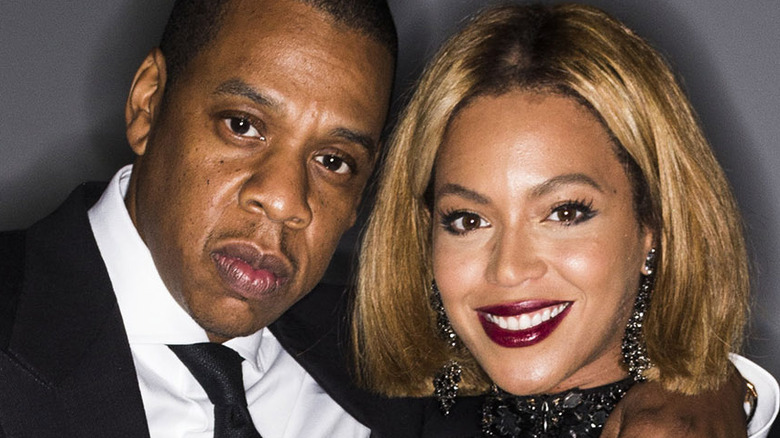 Handout/Getty Images
Beyoncé and Jay-Z are one of the most popular couples in the music business. The pair first met in 2000 (via Brides) and started up a friendship, which eventually led to romance. In 2001, the couple reportedly had their first date at celebrity hotspot Nobu. In 2002, they grabbed the spotlight when they released their first single together titled "'03 Bonnie & Clyde," and a few months later, they tore up the charts with another collaboration, "Crazy In Love," which even won them a Grammy Award.
Beyoncé and Jay-Z never announced that they were engaged. Instead, they dropped a marriage bombshell on fans in April 2008 when they were spotted obtaining their marriage license in New York. Of course, that wasn't the last time that the pair surprised their fans either. In 2011, Beyoncé stunned fans when she revealed that she was pregnant on stage at the MTV VMAs. The couple welcomed their first child together, daughter Blue Ivy, in January 2012, per People.
The famous couple announced a joint tour and headed out on the road together in 2014, and just three years later, the duo announced that the former Destiny's Child singer was pregnant again. This time, the pair welcomed twins, daughter Rumi and son Sir Carter. Now in 2022, the two have celebrated their 14th wedding anniversary. That's a long time for a Hollywood couple to last.
Beyonce is a Virgo and Jay-Z is a Sagittarius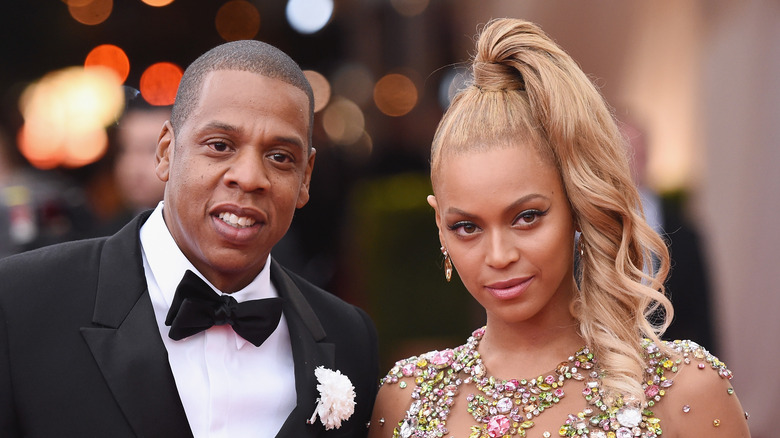 Mike Coppola/Getty Images
With all the ups and downs that Beyoncé and Jay-Z have been through, fans can't help but wonder if they're a compatible match. Beyonce was born on September 4, which makes her a Virgo sun sign, per StyleCaster. Virgo women are described as loyal and reliable. They reportedly set very high standards for themselves and don't like to disappoint. The earth sign is said to be deep thinkers and problem solvers as well, who often call out people's mistakes in hopes of correcting any wrongs (via Thought Catalog). Beyoncé exhibited this quality perfectly when she released her album "Lemonade" in 2016, which tackled Jay-Z's infidelity (via Us Weekly). 
Female Virgos are also said to be patient and ambitious, and won't give up when they set a goal. They are also one of the most independent members of the zodiac, who make kind and devoted partners.
As for Jay-Z, he was born on December 4, making him a Sagittarius, per Showbiz Cheat Sheet. Sagittarius is a fire sign, known for being energetic and cheerful. Sagittarius men are known to love adventure and can often be found enjoying activities such as skiing, hunting, or playing sports (via Astrology.com). These men often like to wander, and can be described as nomadic. Male Sagittarius' are said to have very loyal feelings toward their partners and want a match that will be compatible with their fiery traits.
So, are Beyoncé and Jay-Z a perfect match based on their zodiac signs?
Beyoncé and Jay-Z's zodiac signs could prove to be challenging in a relationship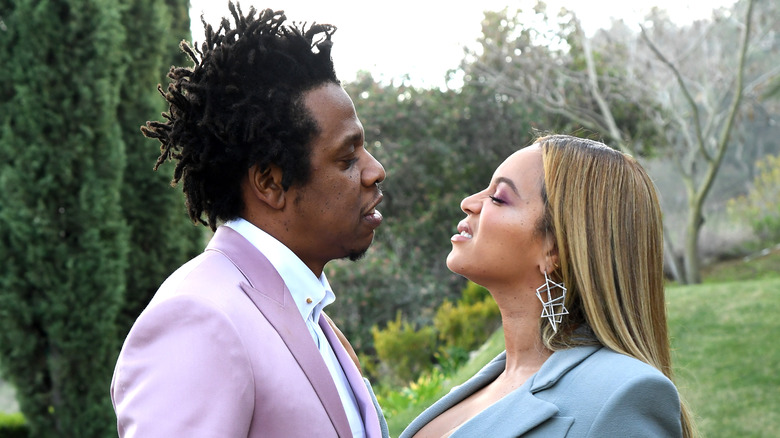 Kevin Mazur/Getty Images
As a Virgo woman, Beyoncé is described as being grounded, while Sagittarius men like Jay-Z are known for being carefree and fun. This can make a pairing between the two zodiac signs a bit difficult (via Sun Signs). Virgo women often like Sagittarius men's fiery spirit playfulness and mind for business, per Popular Astrology. However, they can take issue with their compulsiveness and carelessness with money. Meanwhile, Sagittarius men are said to admire Virgo women's determination and strength, while taking issue with their critical nature and control issues.
According to Women's Health, Beyoncé and Jay-Z share a strong creative connection and spiritual energy that keeps them bonded together. While the famous singers may have a lot of differences in their personalities, astrologer Rachel Lang claims they could go in it for the long haul. "Beyoncé and Jay-Z have the astrological signatures [that] make up a power couple that is in it for the long run," Lang told the outlet. "They have a good balance between attending to the practical matters of life and dreaming big," she added.
Although Beyoncé and Jay-Z's zodiac signs are not the most compatible, it appears they have a deeper connection that keeps them together and allows them to work through their challenges.