Why Sarah Palin's Jewelry At The CPAC Rally Has Twitter Seeing Red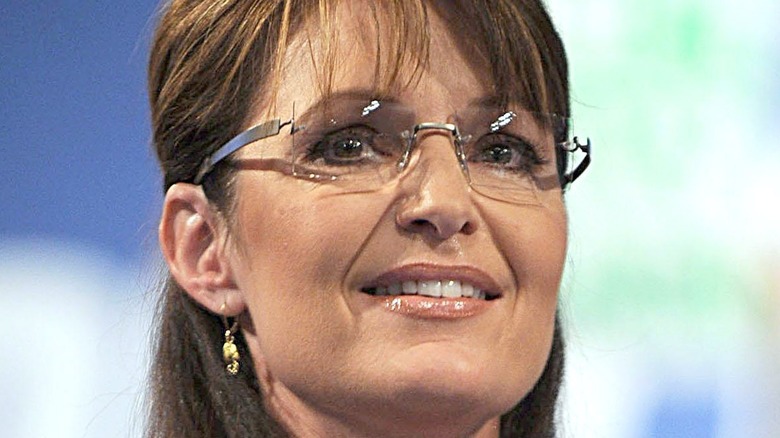 Everett Collection/Shutterstock
The blistering August heat didn't keep crowds away from the 2022 Conservative Political Action Conference (CPAC) in Dallas. The annual event "is the largest and most influential gathering of conservatives in the world," boasts its website, and it lived up to its promise. Among the notable speakers were Texas senator Ted Cruz, Fox News stalwart Sean Hannity, Colorado congresswoman Lauren Boebert, and, of course, former president Donald Trump.
Another guest was a blast from the past. Sarah Palin has transformed herself from a former governor, vice-presidential candidate, and Tina Fey lookalike to a legitimate front-runner in the Alaska Congressional race (via Vanity Fair). In an interview for War Room (as seen in this tweeted clip), Palin promised that if she makes it to the Capitol, her priorities will include reopening the investigation into former secretary of state Hillary Clinton's use of a personal e-mail system while at the White House.
Social media being what it is, it wasn't long before the Twitterverse noticed that during her address to the conservative audience, Sarah Palin wore a necklace with a large Star of David pendant. Palin has worn the same necklace before, notably during a trip to New York that coincided with Jerusalem Day (via The Jerusalem Post). But it still came as a shock to many on the platform.
"Why in the hell is Sarah Palin wearing a giant Star of David?" asked one user. "That's insane." Others wondered whether the ex-governor had converted to Judaism. And many more were simply livid.
Twitter users say Sarah Palin's Star of David necklace was inappropriate for CPAC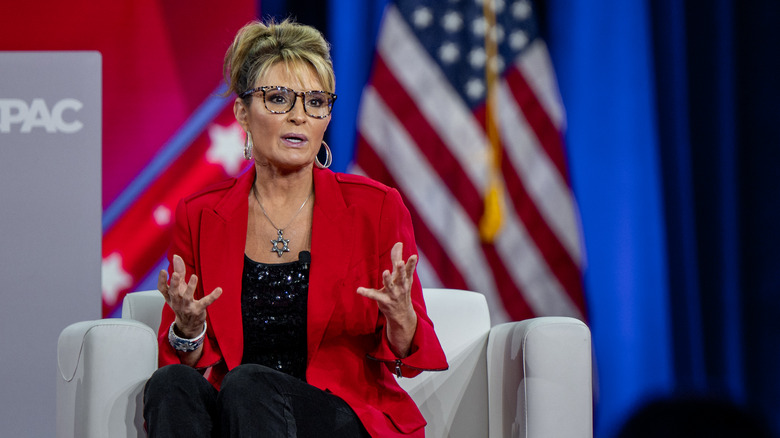 Brandon Bell/Getty Images
The Star of David, also known as a Magen David, has been a symbol of Judaism for centuries, and typically is worn by Jews as a sign of their faith. However, in recent years, evangelical Christians have also been wearing Stars of David, explains The Conversation. They tend to support Israel because they believe the Jewish state is part of the divine plan to bring about the Second Coming of Jesus. 
Sarah Palin's necklace infuriated many Jewish Twitter users who resented her appropriation of another religion, not to mention her wearing it at this particular event. CPAC is noted for its popularity among so-called Christian Nationalists, who want to declare America a Christian nation and establish its laws accordingly (via Slate). 
The outrage was further fueled by the fact that one of the featured speakers at CPAC was Hungarian Prime Minister Viktor Orbán, who has consistently used anti-Semitic imagery in his political advertising (per Politico) and who recently spoke out against "race mixing" (via The Guardian). A Twitter user exclaimed, "Oh my God — Sarah Palin is wearing a Star of David while she speaks at a White Nationalist Event. Obran is pro-Hitler. Is she just ignorant or mean?"
Another commenter was far more blunt: "As a Jew, I want Sarah Palin to take off the Star of David she is wearing," they said. "It makes me sick, and if I could, I would rip it from her neck."