What We Know About Malia Obama's Mystery Man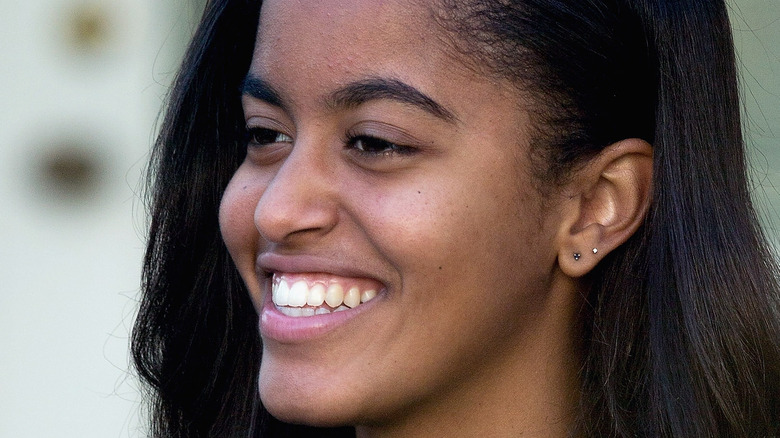 Chip Somodevilla/Getty Images
Malia Obama was only 10 years old when her father, Barack Obama, was elected president of the United States in 2008. Through the years, the public has witnessed Malia blossom into a teenager and graduate from the Sidwell Friends School in Washington, D.C. in 2016, per Biography. Following a gap-year, Malia went on to attend Harvard University, where she majored in visual and environmental Studies. She also met her first serious boyfriend, Rory Farquharson.
A video of her locking lips with Farquharson surfaced before Thanksgiving 2017 at a Harvard-Yale football game. A few months later, the couple were photographed smiling at one another while walking in SoHo, New York City. The relationship seemed to be going strong, with former president Obama even confirming that Farquharson spent time with the family during the COVID-19 lockdown. 
"He's British. Wonderful young man, and he was sort of stuck because there was a whole visa thing and he had a job set up," Barack shared on "The Bill Simmons Podcast." "So we took him in, and I didn't want to like him, but he's a good kid. The only thing you discover ... young men eat! It's weird to watch them consume food. My grocery bill went up about 30%."
But it seems like Malia has now moved on to a new man.
Malia Obama was seen out with record producer Dawit Eklund
Her relationship with Rory Farquharson has seemingly come to an end, because Malia Obama has been spotted with Dawit Eklund, a music producer. The two were snapped in Los Angeles during a visit to the Los Angeles County Museum of Art, according to the Daily Mail. The publication noted that it was the third time they have been seen together in nine days.
Dawit — who also goes by the name David — is the co-founder of the record label 1432 R, which focuses on Ethiopian music. "Ethiopian music is super distinct," Dawit told The Washington Post in 2016. "There are only four or five musical scales that they play in; each has its own meaning and attitude and mood."
One of four children, Dawit's father, Jon Eklund, is a retired State Department officer who worked at multiple embassies in Africa and was a crucial player in helping the refugee crisis that caused thousands of people to flee to Ethiopia while escaping the war in Sudan in the early 2000s. His mother, Yeshi Eklund, hails from Ethiopia. Dawit spent his childhood in Bangladesh, Egypt, Ethiopia, Kenya, and Sudan, among other countries, per The Washington Post. He went to the International Community School in Ethiopia and went on to study international development in Africa at George Washington University.
Malia Obama is also in the entertainment business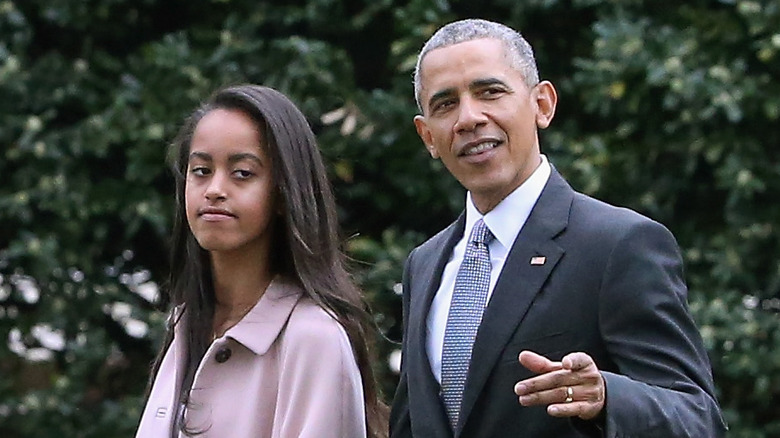 Mark Wilson/Getty Images
Like her new boyfriend, Malia Obama is also pursuing a career in the entertainment business. She interned at The Weinstein Company and worked as a production assistant on the HBO series "Girls" (per Teen Vogue), and is now working as a screenwriter on Donald Glover's upcoming series "Hive," per The Hollywood Reporter.
Donald told Vanity Fair that Malia is "amazingly talented." His brother, Stephen Glover, who is also working on the show, added, "Donald always says perspective is important, and people with different perspectives are important for a writers room. And for sure, she definitely has a unique perspective on everything. So we wanted to hear her stories and have her work with us. Listening to her stories and having her involved really gave us a lot of good ideas."
And Malia isn't the only Obama in Los Angeles. Sister Sasha Obama is studying at the University of Southern California, and has been dating Clifton Powell Jr., the son of actor Clifton Powell, per the Daily Mail.