Does Joanna Gaines Ever Consume Alcohol?
Rob Kim/Getty Images
Joanna Gaines has a busier schedule than most — and that's an understatement. The beloved TV personality and her husband Chip manage a large number of businesses under their Magnolia empire, from their Magnolia Table restaurant and Magnolia Table cookbook to their rental properties in Waco, according to the Magnolia website. And let's not forget about the happy couple's slew of TV shows including "Behind the Design" and the series that started it all "Fixer Upper," shows that are now both featured on the Magnolia Network.
While it may be hard to believe, before Gaines became a household name, the home improvement and design gurus were struggling to make ends meet. "I remember when we first got married the only money we had was what was in Chip's pocket," Joanna shared with People. "If we needed to go grocery shopping it's whatever was in his pocket. That's how we paid the bills." Now, America's sweethearts have cash flowing in from multiple revenue streams, and a stunning net worth to show for it — here's how much Chip and Joanna Gaines are really worth.
Between her various business and raising her five kids, how does Joanna manage it all? While her day-to-day lifestyle seems hectic at best, the mogul still carves out time to prioritize herself and practice self-care. But at the end of a long day, does Joanna drink a glass of wine or sip on a cocktail to unwind? Let's take a closer look.
Every so often, Joanna's husband likes to unwind with a beer or two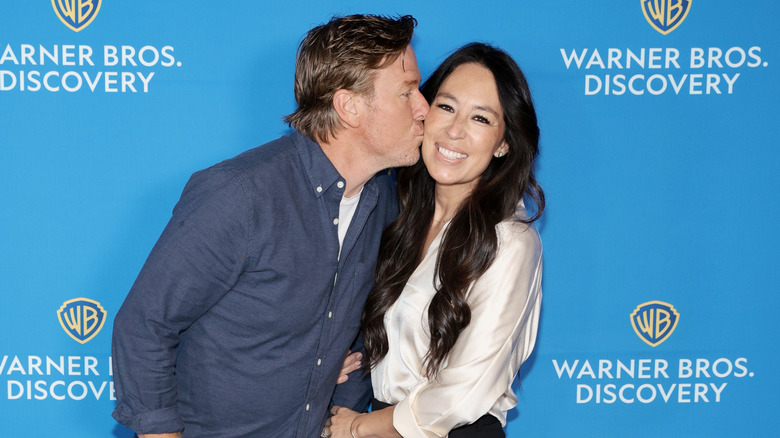 Dimitrios Kambouris/Getty Images
There's no proof that confirms whether Joanna Gaines, does in fact drink alcohol, however, there is some evidence that points to the contrary. For one, there is no alcohol served at the Gaines's restaurant, Magnolia Table. In the beverages section of the "dine-in menu," drinks, coffee, and juice are all listed. But no alcohol. Similarly, after launching their bakery, Silos Baking Co., back in 2017, the Gaines's also began a summer movie series (via Delish). One of the guidelines in place for every movie night? No alcohol allowed. While this does not confirm the theory that Joanna completely abstains from alcohol, it does hint at the fact that maybe she isn't the biggest drinker.
While it's unclear whether or not his wife drinks, Chip revealed that he's not a teetotaler in a series of Twitter posts. In his first humorous tweet, Chip revealed that "I don't drink often but . . . y'all I need a beer." The photo showcased a home in complete disrepair on the set of "Fixer Upper." In another funny tweet, Chip wrote, "If anyone wonders what I do when @joannagaines is out of town for a week . . . #ThisSumsItUp." Included in the post was a video of a man drinking a beer and flinging himself onto the lawn. So maybe Chip only indulges in a beer or two when his wife has flown the coop!
The former Fixer Upper host likes to treat herself with chocolate
Joanna Gaines is such a force of nature that this powerhouse doesn't even need to rely on truckloads of coffee to get through her busy days. "I more like to hold it than drink it," the reality TV star revealed to Country Living. "I'm a very slow sipper. Chip's always like, 'Jo you don't even drink coffee. You're a faker.'"
While Joanna may not heavily rely on coffee to wake up or on alcohol to unwind, the author does have her indulgence of choice: sweet treats. "Typically with sweets, I got all out," Joanna shared with Reader's Digest. "If you're gonna make the cake, just make the cake." The Texas resident always likes to have a bar of chocolate, like a Snicker's, on hand if she needs some afternoon sugar (via Country Living).
Among the things that you don't know about Joanna Gaines? While Chip may be the love of her life, Joanna shares another great love . . . with chocolate cake. "Every night I always say, 'Does anyone want some chocolate cake?' And it's always just me. I have a sweet tooth," Joanna admitted to Country Living. Now we know — the way to Joanna's heart is through a slice of cake!