The Real Reason Meghan Markle Reportedly Wants Prince Harry To Avoid Visiting The U.K.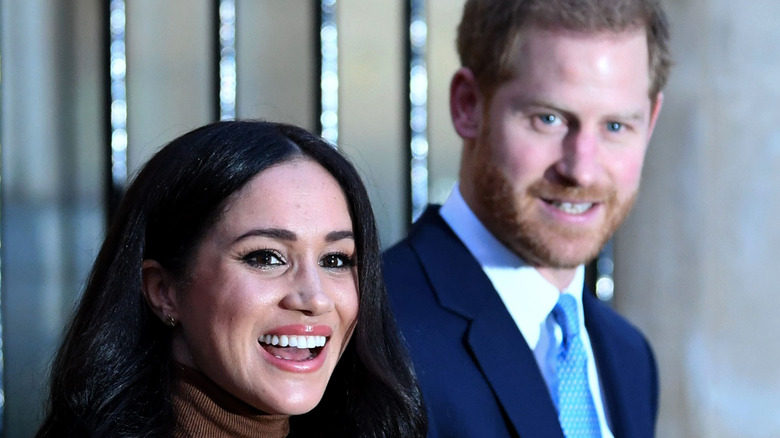 Wpa Pool/Getty Images
The Duke and Duchess of Sussex's new careers and their last visit to the U.K. for the Queen's Platinum Jubilee show that the pair have kept themselves busy, and now it seems that Meghan Markle and Prince Harry are planning another visit to the United Kingdom.
Although he was born, raised, and lived in England until the age of 35, Prince Harry has had a rocky relationship with the U.K. ever since he moved to California. This bad relationship is more specifically with the U.K. press, with the Duke of Sussex bringing several suits against the press and, more recently, the British Home Office (via Harper's Bazaar).
With the animosity Prince Harry holds for the U.K. press, it isn't difficult to see why he might prefer to stay stateside with his wife and children rather than get tangled up in the press cycle again. However, new reports seem to suggest that any planned upcoming visits to the U.K. may not be received well by the pair. Surprisingly, this isn't because of Prince Harry's feelings, but instead, those of the Duchess of Sussex, who is seemingly concerned about the potential impact visiting the U.K. may have on her husband.
The Duchess of Sussex reportedly feels torn about Prince Harry returning to the U.K.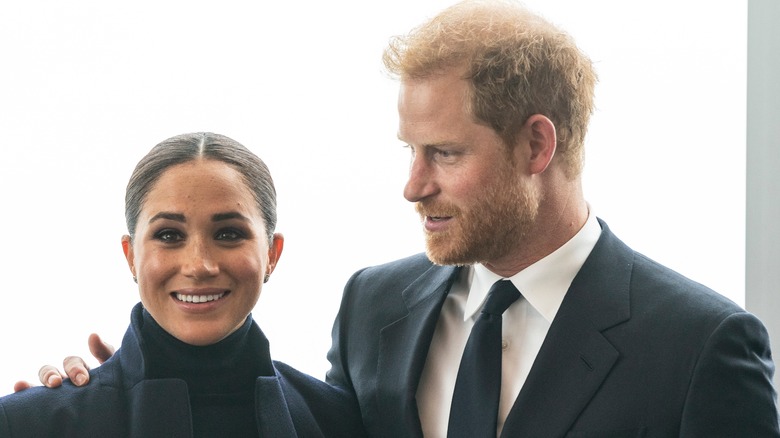 lev radin/Shutterstock
A source spoke to OK! (via Marie Claire) about Meghan Markle's "bittersweet" feelings regarding Prince Harry's visits to England. These feelings could rise again soon, as a visit to the Scottish royal family estate Balmoral is pinned to take place later this year. The purpose of the visit is so the Duke and Duchess of Sussex and their two children can spend some quality time with Queen Elizabeth. 
The outlet reports that the Duchess knows her husband wants to continue living in the U.S., so her main concern is that Prince Harry's visits to the U.K. "may pull at his heartstrings." Still, it seems that the source has an idea of what Prince Harry is missing about England, stating that the Duke would like nothing more than "enjoy(ing) a pint in a British pub and spend(ing) time with his family in the countryside." 
Marie Claire additionally notes that the end of August marks 25 years since the death of Prince Harry's mother, Princess Diana. He and his brother Prince William were at Balmoral when they learned of the news, which could add extra significance to the Duke of Sussex's trip and what seeing his grandmother might mean to him.