Here's What Millie Bobby Brown Looks Like Going Makeup Free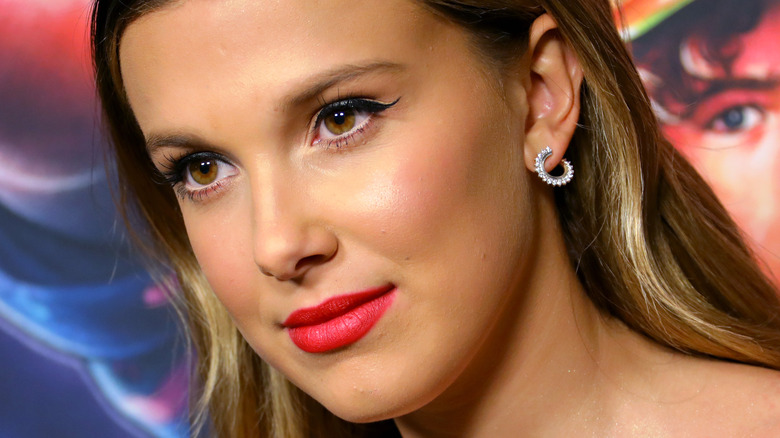 Jc Olivera/Getty Images
Millie Bobby Brown has grown up in front of our eyes as part of the ensemble cast of Netflix's mega-hit "Stranger Things." As telekinetically gifted teen Eleven, Brown has impressed with her range, leading to more grown-up roles in blockbusters "Godzilla: King of the Monsters" and sequel "Godzilla vs. Kong," while she also led the charge as Sherlock Holmes's plucky kid sister in Netflix's own "Enola Holmes." Suffice to say, the British actor is just getting started with her Hollywood tenure. 
It hasn't always been easy, though, with Brown admitting to MTV News in 2021 that she was considerably more "carefree" in her younger years. Acknowledging she struggles with anxiety, the "Stranger Things" breakout argued it's tough to navigate the pitfalls of the industry, especially as a teenager, when there's no room for error and no forgiveness or compassion when Brown does mess up, even slightly. "I am a normal girl and I'm figuring everything out for myself," she said. 
Her fans might find it tough to empathize with Brown's struggles, but if there's one thing she can definitely get on a level with them about, it's skincare. In fact, the actor is so open about her breakouts, she even memorably named a pimple after co-star Sadie Sink, per Teen Vogue, in a moment of hilariously self-effacing honesty. Clearly, Brown has no qualms about sharing her teenage troubles with the world — especially if it can help others.  
Millie Bobby Brown showed off her normal teenage skin
Ever since entering her late teens and delving into the more glamorous side of the industry, "Stranger Things" star Millie Bobby Brown has been sharing some fun, how-to makeup looks with fans on Instagram. In one such video, she appeared completely bare-faced to start, giving viewers a look at her relatable, natural skin, which wasn't nearly as clear as it appears on the red carpet. Brown posts plenty of glamorous shots on social media too, but she's definitely not beyond posing in little to no makeup. 
Skincare has been a lifelong passion, and often a struggle, for the "Enola Holmes" lead. As Brown told Elle, "I'm definitely a victim of my skin," particularly due to the kind of work she does. "I would go to the red carpets and come out wondering, 'Why did this pimple suddenly appear?' and 'Why is my skin not liking this foundation that these people are putting on me?'" Even though the actor was tempted to cover it up, she gradually learned to just let her skin breathe and "listen" to it more, achieving better results. 
The Stranger Things star has built her own beauty empire
Millie Bobby Brown's skincare line gave her an opportunity to take more control. As Elle notes, in 2022, she expanded her Florence by Mills beauty brand — which the actor launched around the age of just 14, per Allure — with a brand-new "acne-fighting 'Clear the Way' collection," which includes a face wash and deep-conditioning mud mask. The "Stranger Things" star spent most of the year researching the biggest and best new skincare trends, revealing, "I have been looking for a skincare and beauty company that will curate ingredients and products that are fitting for my skin." 
Eventually, she simply had to do it herself, explaining it's not just about ensuring the cleanest, cruelty-free ingredients are used but also focusing on how using the products affects how the consumer feels. One of the biggest things Brown has learned thus far, in her journey, is washing your face before bed is non-negotiable. As she told Glamour UK, it's all about cleansing, moisturizing, and then paying special attention to any dodgy patches because, "Otherwise, you'll be seeing the repercussions in the morning." 
Brown may still be figuring things out, but she's got skincare down.