The Unlikely Trump Family Member Who Alerted Everyone About The FBI Raid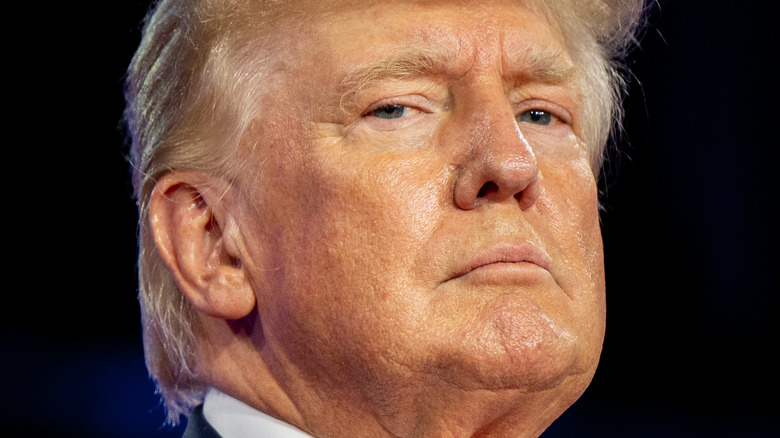 Brandon Bell/Getty Images
The FBI raid of former President Donald Trump's Mar-a-Lago residence is likely tied to classified information he allegedly took when he left the White House, per NBC News. According to Reuters, the U.S. Presidential Records Act "requires the preservation of memos, letters, notes, emails, faxes and other written communications related to a president's official duties." The outlet noted that the Mar-a-Lago raid required law enforcement to show "probable cause" the search was justified, and a judge must sign off on the search. Since Trump is a former president, the FBI's raid on Mar-a-Lago was probably approved by Attorney General Merrick Garland and Trump-appointed FBI Director Christoper Wray.
The Washington Post reported that the classified documents Trump took with him to Florida are highly sensitive. Some top-secret materials taken "are so sensitive they may not be able to be described" in an unclassified way. As many Trump allies melted down on Twitter about the FBI Mar-a-Lago search, some tried to shut down conspiracy theorists. Legal expert Laurence Tribe tweeted: "To authorize a surprise break-in and search of Mara Lago, the judge would've had to find a high risk that Trump would've destroyed evidence of a federal crime had he been notified in advance!"
But the facts didn't stop Republican House Leader Kevin McCarthy from threatening to investigate AG Garland. McCarthy tweeted the FBI raid was an "intolerable state of weaponized politicization." But there's an interesting back story about the Mar-a-Lago raid and the unlikely Trump family member who alerted everyone.
Eric Trump signaled Donald Trump about FBI raid at Mar-a-Lago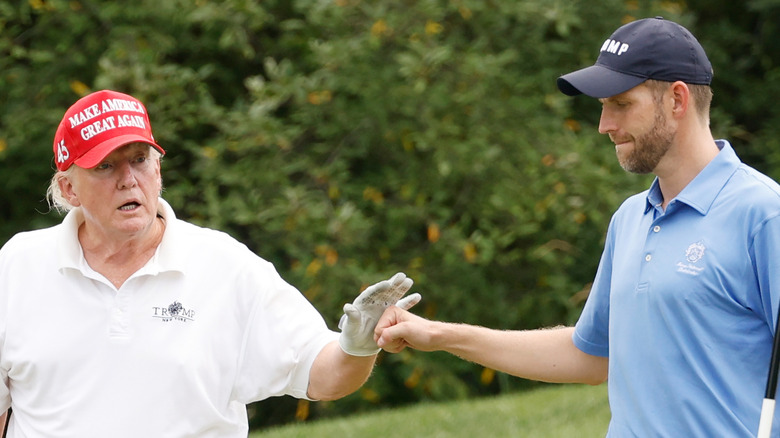 Cliff Hawkins/Getty Images
Eric Trump signaled to his father, Donald Trump, about the FBI raid of Mar-a-Lago. The New York Post reported that Eric claimed FBI agents "ransacked" the former president's office and "broke into a safe" at the estate. During an August 8 interview with Fox News's Sean Hannity (via New York Post), Eric said, "I was the guy that got the call this morning. And I called my father and let him know that it happened." The youngest son of the former president and the late Ivana Trump confirmed to Hannity the FBI's unannounced search of the Florida residence was related to confidential documents taken from the White House.
"To have 30 FBI agents — actually more than that — descend on Mar-a-Lago, give absolutely, you know, no notice, go through the gates, start ransacking an office, ransacking a closet," Eric complained to Hannity. "You know, they broke into a safe. He didn't even have anything in the safe."
Trump is already utilizing the FBI's unannounced search of Mar-a-Lago to raise money. Reuters reported that the former president sent out a fund-raising email on August 9 that stated, "They are trying to stop the Republican Party and me once more . . . The lawlessness, political persecution, and Witch Hunt, must be exposed and stopped."