Here's How Donald Trump Reportedly Feels About His Future Following The FBI Raid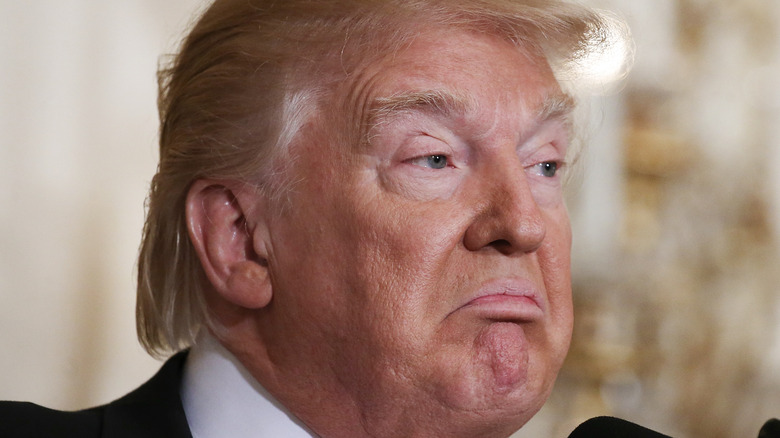 Mario Tama/Getty Images
The FBI raid of Donald Trump's Mar-A-Lago residence has left supporters and those in the former president's orbit shocked. He and wife Melania Trump relocated to his Florida home after leaving the White House. 
According to CNN, federal agents searched the property for classified information and presidential documents as part of an investigation into the alleged mishandling of both. Donald, who was at Trump Tower in New York at the time, denounced it in a statement soon afterward. "My beautiful home, Mar-A-Lago in Palm Beach, Florida, is currently under siege, raided, and occupied by a large group of FBI agents," he complained. 
According to sources familiar with the situation, the raid mainly focused on Trump's personal living quarters as well as his office, with the New York Post confirming that officers even went through Melania's wardrobe. The timing couldn't be worse since the former president is expected to announce his presidential bid for 2024 in the coming months.
However, Donald may now be reconsidering his options — if an insider is to be believed.
The former president's confidence has been rocked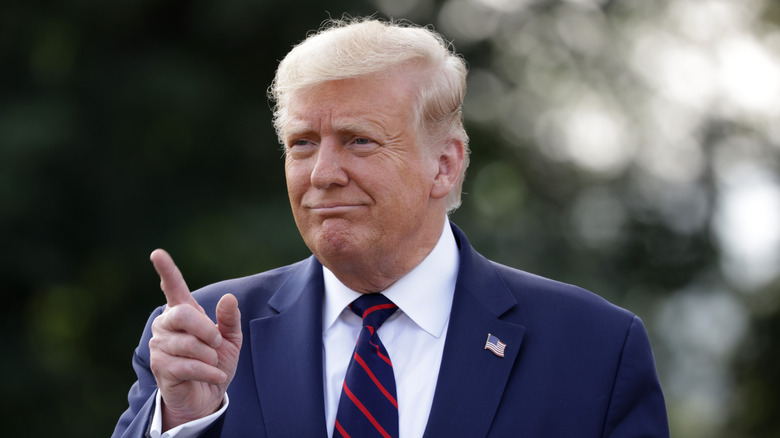 Alex Wong/Getty Images
A source close to Donald Trump claims that, despite waving to onlookers as he was entering Trump Tower in photos obtained by the Daily Mail, the former president is panicking behind closed doors. "Donald is furious yet scared," an insider revealed to People. "He feels victimized and is calling everyone he trusts to give him advice and reassure him that this is a witch hunt. He is buoyed by the Republican support [after the] invasion of privacy." 
There are currently two active investigations concerning Trump, both of which are being spearheaded by the Justice Department. The FBI raid centered on the alleged mishandling of presidential records, while the other review has to do with the former president's potential role in the Capitol insurrection. Although Trump has felt untouchable for a while, the Mar-A-Lago raid has shaken him. It may even affect whether he chooses to run again in 2024. 
If that's his plan, of course. "He has a good life now and is enjoying it," the source confirmed. "He is definitely making the moves to run but, in the end, I don't think he will unless he is convinced criminal charges are coming." If Trump does decide to go for it, he could also use the FBI raid to his advantage by claiming that the DOJ is actively working against him for political reasons.
Is Donald Trump actually planning to run again in 2024?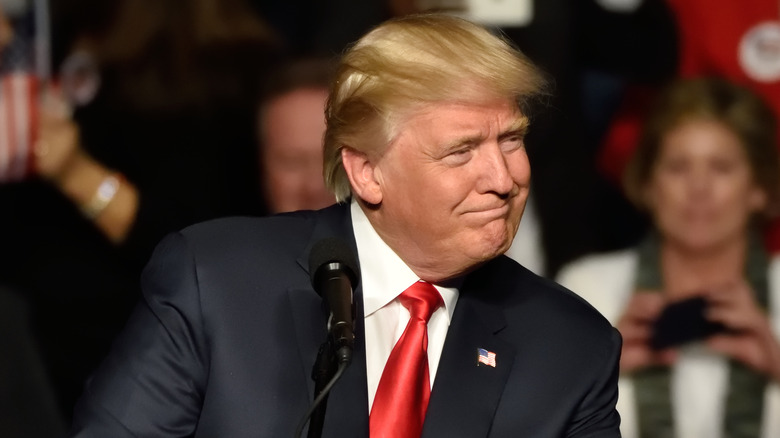 Evan El-Amin/Shutterstock
The source's comments are especially striking considering that, just last month, Donald Trump made a bold statement about his 2024 presidential run. After months of waffling, the former occupant of 1600 Pennsylvania Avenue told New York Magazine in no uncertain terms that he's "already made that decision, so nothing factors in anymore." 
Trump then confirmed he was considering whether it would be better to make the big announcement before the upcoming midterm elections or after. That statement echoes his previous comments to Fox News about waiting until the midterms are over.
Trump's 2024 motivations are more sinister than you may think, however, with Rolling Stone reporting that the controversial politician intends to avoid being subjected to further criminal investigations if he wins again. 
An insider shared how Trump has "spoken about how when you are the president of the United States, it is tough for politically motivated prosecutors to 'get to you.'" Moreover, "He says when [not if] he is president again, a new Republican administration will put a stop to the [Justice Department] investigation that he views as the Biden administration working to hit him with criminal charges."
It stands to reason, then, that running would actually be in his best interests — if Trump is willing to give up his cushy life to do so.