How Rami Malek Was Really Able To Transform Into Freddie Mercury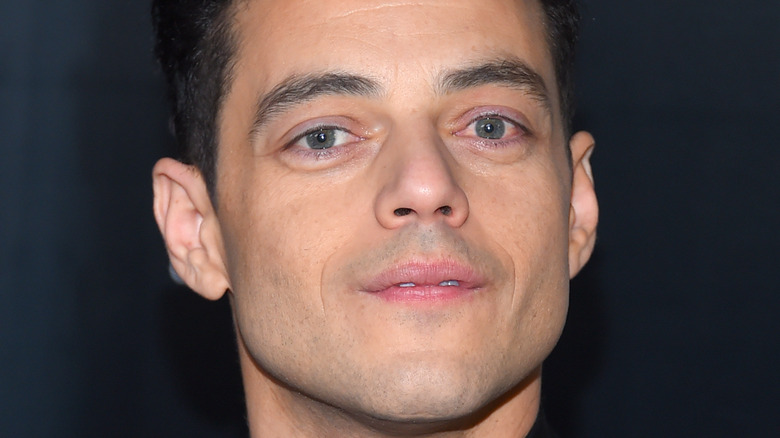 DFree/Shutterstock
As one of the world's most influential musicians, Freddie Mercury's legacy lives on long after his death in 1991 (via Billboard). Jason King, associate professor at New York University's Clive Davis Institute of Music, described him to NBC News as a man living in "four different closets" where he would hide certain aspects of his life, like his ancestry, culture, sexuality, and health. "Even though he existed in these four different closets, he was able to produce works out of these closets because he valued a certain kind of privacy and mystery," King explained.
That's not to say that Mercury didn't give interviews; he was just creative about how he would avoid revealing certain aspects about himself. He would regularly cover aspects with humor as seen by these interview highlights on YouTube. The singer's complex persona was a challenge for Rami Malek, who was cast as Mercury in 2019's "Bohemian Rhapsody." "I'm dealing with a man's life, right? And a legacy like no other," Malek told SBS The Feed. "A person people revere as not only as a legend but a deity. He's a rock God. I just jumped all in."
So how exactly did Malek get in the zone? And how did he transform so effortlessly into the rock star?
Rami Malek wore fake teeth and a prosthetic nose to become Freddie Mercury
Rami Malek had a daunting task ahead of him but was "eager" to get started. "You don't want to mimic Freddie; you want to be able to understand why he did what he did," he said in a featurette on Queen's YouTube channel. The actor studied Freddie Mercury's moves, realizing he needed more than a choreographer. That's where movement coach Polly Bennett came in. 
"I spent a lot of time with Rami trying to work out little mannerisms and tricks," she explained. "Every eye look, every turn, every flick of the microphone." They didn't just study Mercury. Malek and Bennett looked at the singer's influences, including David Bowie, Jimi Hendrix, and Liza Minelli (via People). Malek also had the help of a dialect coach to study Mercury's speech pattern. "I was aware of the immense gravity of the man I was playing and the responsibility I had to honor him."
That included getting used to prosthetics like a fake nose and teeth. "I wore [the teeth] every night, almost, for a year to get used to them," Malek told Screen Daily. The actor revealed during an interview on "The Tonight Show Starring Jimmy Fallon" that he felt "incredibly insecure" when he first wore them. "And then I found myself compensating. I just started sitting up straight and being more elegant," he explained. "You start to think, 'Oh, these are the reasons he is who he is.'"
The actor won an Oscar for his portrayal of Freddie Mercury
Aside from movement, speech, and looks, Rami Malek told The Feed that he took piano and singing lessons to fully transform into Freddie Mercury. "I watched everything I could on the man," he said. Through his research, Malek found even more respect for the legend, which made his goal to "honor this man and do him justice" ever more present, as he told Screen Daily. "I had put so much effort into doing just that, day in day out," he added. "I'm very, very proud of the way I conducted myself."
That effort culminated with the ultimate reward — winning the Oscar for best actor in 2019 (via The Guardian). After dedicating the award to his family, the actor expressed his gratitude to Queen — specifically Brian May and Roger Taylor, who were in the audience — and his girlfriend Lucy Boynton — who played Mary Austin in "Bohemian Rhapsody." 
"Thank you guys for allowing me to be the tiniest part of your phenomenal, extraordinary legacy," Malek said in his acceptance speech (via YouTube). "We made a film about a gay man, an immigrant, who lived his life unapologetically himself," he continued. "And the fact that I'm celebrating him and this story with you tonight is proof that we're longing for stories like this."