Everything Lisa Rinna Has Said About Her Struggles With Postpartum Depression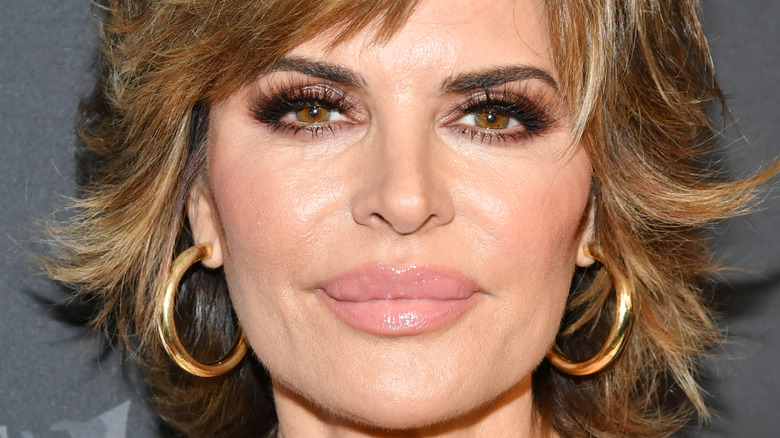 Amy Sussman/Getty Images
Lisa Rinna, first and foremost, is an actor with decades of experience under her belt including roles in "Days of Our Lives," "Melrose Place," and "Veronica Mars," in which she played real-life husband Harry Hamlin's onscreen wife. But, in recent years, her stint as one of "The Real Housewives of Beverly Hills" has enamored Rinna and her famous lips to a multitude of new fans. In fact, BuzzFeed News even argued that she saved the long-running reality show from becoming a total write-off.
As the Rinna Beauty founder explained to the New York Post, she's playing a role on the show based on what the situation requires. "Right now, in my life, I'm really very free. I'm not self-conscious, I'll do anything. And that makes it easy," she admitted, adding, "I don't care if I look silly, and it's super freeing." Further, Rinna clarified, "The person that's on the show is a version of me for when people are, like, throwing s*** at me. I do things on the show that I would never do in real life."
In fact, it may shock "RHOBH" viewers to learn that her "real life is very lovely and calm." Whether you're a fan of the reality star or not, there's no denying Rinna is unflinchingly true to herself, flaws and all. In fact, the queen of owning it even opened up about what it was like to live with postpartum depression in an effort to destigmatize the condition for other parents.
The RHOBH star actively hid what she was going through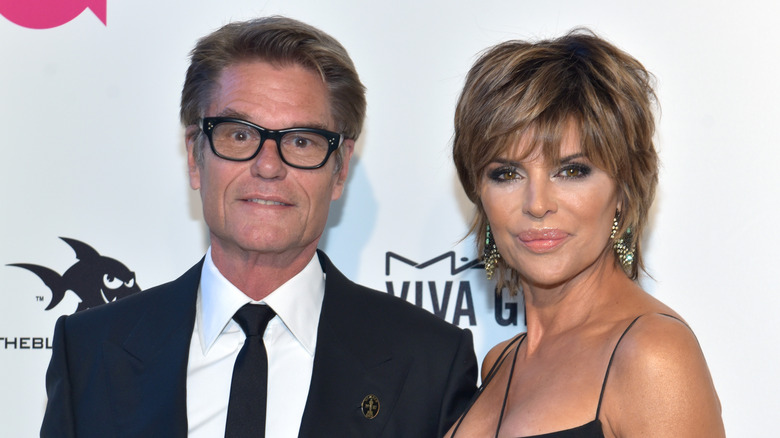 Rodin Eckenroth/Getty Images
Us Weekly reports that characteristically frank reality star Lisa Rinna shared her experience with postpartum depression in her book "Rinnivation," which was released in 2009. "I had visions of knives and guns," the "Days of Our Lives" star revealed. "I made [my husband], Harry, hide all the sharp knives and take the gun out of the house because I had visions of killing everybody." Rinna confirmed she wanted to open up about it because "women are so shamed by this and feel so horrible."
Thankfully, the "Real Housewives" star got the help she needed to work through it. According to Women's Health, Rinna confessed during an interview with Dr. Drew that, initially, she didn't tell Hamlin what was going on following the birth of daughter Delilah. He was distraught, unsure what triggered her behavior. "I was so hopeless and felt so lost," Rinna explained. "Ten months later, [I] opened up to him and told him how worthless I felt. My self-esteem was gone. I didn't want to have sex."
Looking back, the soap star understands that finally sharing how she was feeling was the best thing she could've done. "I suffered silently and I don't want any woman to ever have to do that again. You have to talk about it," Rinna said (via YouTube). 
Lisa Rinna was more prepared the second time around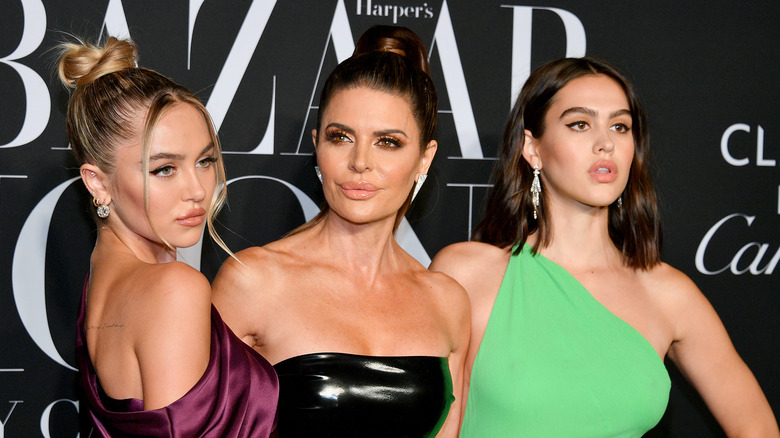 Dia Dipasupil/Getty Images
Lisa Rinna and beloved, long-time husband Harry Hamlin welcomed daughter Delilah Belle Hamlin in 1998, followed by her sister, Amelia Gray Hamlin, in 2001 — both of whom are now in-demand models, in a similar vein to fellow "RHOBH" kids Bella and Gigi Hadid — per Us Weekly. Although she experienced extreme postpartum depression after her first pregnancy, when it came time to do it all again, Rinna was ready. As she told CNN, there's immense pressure on mothers, particularly in Hollywood, to "bounce back" quickly.
However, "We all know it takes time to lose the weight," she added. "You don't feel good about yourself when you're heavy. ... When all you're doing is breast-feeding 12 times a day, you just don't feel good about yourself." Thus, when Rinna was pregnant with Amelia, she worked out extensively and kept a regular journal of her feelings. She also took medication to combat the after-effects, once her second child was born. "It saved my life," Rinna admitted. "Because this second time [postpartum depression] felt even stronger."
The "Real Housewives" star wasn't warned about the effects of the condition, hence why she's been so open about her own experience with it. As Rinna asserted, "[Postpartum depression] is still so hush-hush. There's such a stigma behind it ... And I say, 'Why?' Let's bust it out. Let's make it real and talk about it."
If you or someone you know needs help with mental health, please contact the Crisis Text Line by texting HOME to 741741, call the National Alliance on Mental Illness helpline at 1-800-950-NAMI (6264), or visit the National Institute of Mental Health website.