The Truth About Demi Lovato's Sexuality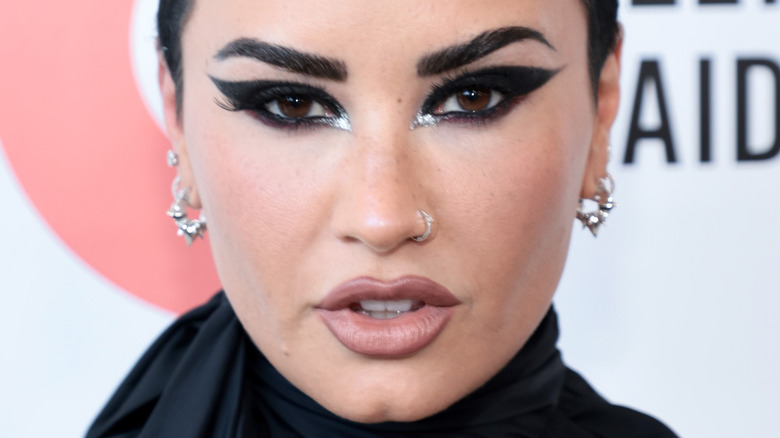 Jamie Mccarthy/Getty Images
This article contains content about sexual assault and drug addiction.
Singer Demi Lovato has had a complex personal history. The "Sober" singer has been linked to other A-listers like Joe Jonas and "That '70s Show" actor Wilmer Valderrama (via Cosmopolitan). But those relationships and her success as an actor and singer overshadowed more serious health and addiction problems. The Disney star turned pop sensation experienced a horrifying near-death overdose in 2018. Lovato, who uses both she/her and they/them pronouns, shared that she was sexually assaulted the night of her overdose in the YouTube original docuseries "Demi Lovato: Dancing With The Devil."
Lovato has opened up about their gender identity multiple times, coming out as non-binary on Instagram in 2021. "Every day we wake up, we are given another opportunity and chance to be who we want and wish to be," they wrote. "Please keep living in your truths." Lovato has continued to live their truth, openly sharing details about her sexuality (via BuzzFeed). 
If you or someone you know needs help with mental health, please contact the Crisis Text Line by texting HOME to 741741, call the National Alliance on Mental Illness helpline at 1-800-950-NAMI (6264), or visit the National Institute of Mental Health website.
I'm so fluid, Demi Lovato said, coming out as pansexual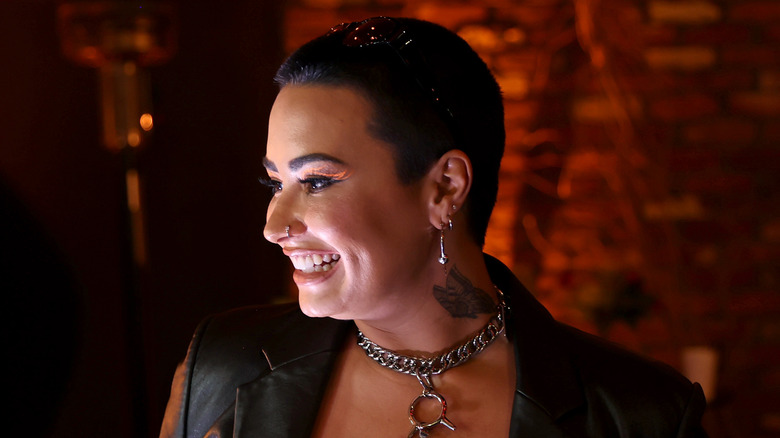 Amy Sussman/Getty Images
Demi Lovato shared details about her sexuality in an interview for "The Joe Rogan Experience" in March 2021. She came out as pansexual, explaining that she was sexually fluid. "I'm so fluid now, and a part of the reason why I am so fluid is because I was, like, super closeted off," Lovato said, per Today. Joe Rogan asked, "You mean sexually fluid? You like girls? You like boys?"
"Yeah, anything, really," Lovato said. "What do they call that? Like pansexual or something like that?" Rogan asked. "Yeah, pansexual," she answered.
The pop singer had already begun opening up about their sexuality in 2021. Earlier that month, Lovato told Glamour magazine that they identified as "really queer." "I know who I am and what I am, but I'm just waiting until a specific timeline to come out to the world as what I am," they said.
That fluidity bled into other parts of Demi Lovato's life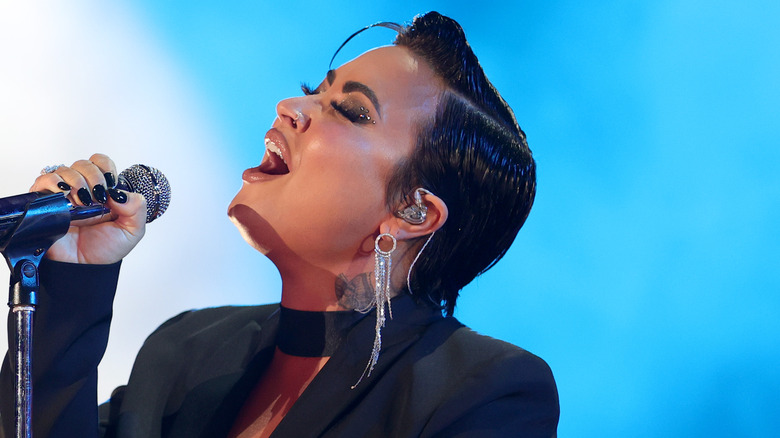 Rich Fury/Getty Images
In the docuseries "Dancing With The Devil," Demi Lovato said that she believes she is "too queer to marry a man." The former Disney Channel star notably ended her engagement with Max Ehrich, calling the relationship "false advertising," according to Insider. "I want to allow myself to live my life in the most authentic form possible, which I just haven't done because of my past," Lovato said (via Us Weekly).
Lovato announced that they would be using she/her pronouns again in August 2022, per CNN. According to Lovato's Instagram, they use both they/them and she/her pronouns. On the "Spout" podcast, Lovato said they have "been feeling more feminine." Still, Lovato continues to celebrate their fluidity in so many other aspects of their life. "I'm such a fluid person when it comes to my gender, my sexuality, my music, my creativity," Lovato shared.