Here's What Katie Holmes Looks Like Going Makeup Free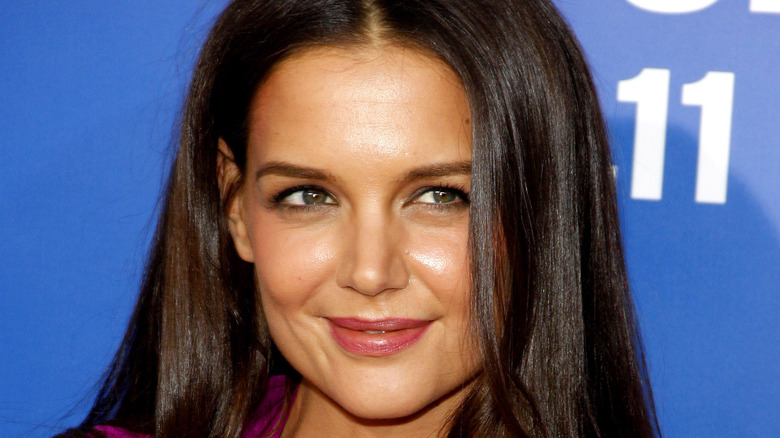 Tinseltown/Shutterstock
Katie Holmes became the star who climbed ladders, gave shy glances, and stole hearts with her girl-next-door looks when she was cast in the television series "Dawson's Creek" at 19 years old. Holmes portrayed Joey Potter in the hit teen drama from 1998-2003 (via IMDb).
Holmes continued her acting success on both the big screen and the little screen. She starred as Jackie Kennedy in two mini-series, "The Kennedys," and "The Kennedys After Camelot," and played the role of Paige Finney in the series "Ray Donovan" in 2015. Some of her more well-known film roles include Rachel in "Disturbing Behavior," Leigh Ann in "Teaching Mrs. Tingle," Hannah in "Wonder Boys," Samantha in "First Daughter," and Rachel Dawes in "Batman Begins," according to IMDb.
Not content with just being in front of the camera, Holmes has also stepped behind the scenes. She was both the writer and director for the films "Alone Together" in 2022 and the soon-to-be-released "Rare Objects," according to Variety. "I'm trying to make artistic movies that are relevant to today's world and that speak to something deep within all of us."
Katie Holmes embraces her age happily and doesn't feel pressure to always have makeup on
Katie Holmes' character in "Dawson's Creek" was somewhat of a tomboy, and her fresh-faced beauty was often captured on-screen with very little makeup. Not afraid to be caught on camera with a bare face, the star has since posted makeup-free photos on Instagram, and was included in People's annual Beautiful Issue in 2021 sans makeup. She told the magazine, "I embrace my age with gratitude and I don't worry about not having makeup on. My joy comes from within."
When she does wear makeup, Holmes shared with Hello! her go-to makeup items include concealer, mascara, and lip gloss. "I make bolder choices on the red carpets — things like smoky eyes or red lips."
She also confessed to Vogue she pays close attention when she's being done up for special occasions, and incorporates expert advice into her own beauty routine. "I use the tips makeup artists have taught me and I try to look my best. Mostly if I do nothing else, I put some blush on. It wakes you and makes you look well-rested and alive."
The star's beauty begins with skin care and kindness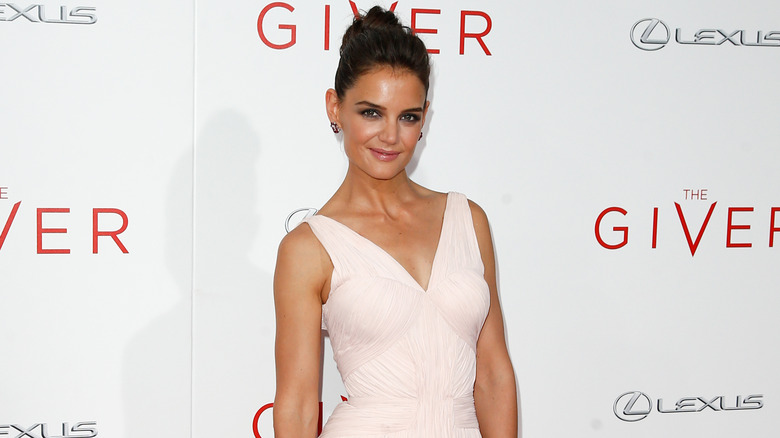 Debby Wong/Shutterstock
"I agree with the philosophy that makeup is really there to enhance beauty rather than to try to change what you look like," Katie Holmes told Redbook. To make sure her own natural beauty shines through, she focuses on her skincare first. "I drink a lot of water and try to eat a lot of vegetables to keep my skin as healthy as possible," she said in an interview with People. "I take care of my skin by cleaning it every morning and evening, [and] wearing a lot of hyaluronic [acid] serum and moisturizer."
Her favorite skincare products include items from the Dr. Barbara Sturm line, including Hyaluronic Serum, Brightening Serum, and Face Cream, the actress revealed to InStyle. In addition, Holmes shared with People she never leaves the house without applying sunscreen.
The star also believes behavior and attitude can go a long way toward a beautiful face. Holmes explained to Vogue, "It's nice when women are nice to each other, and are happy with others' success. I think that's a beauty tip I'd pass on to anyone at any age."