The Audiobook You Never Knew Laura Dern Narrated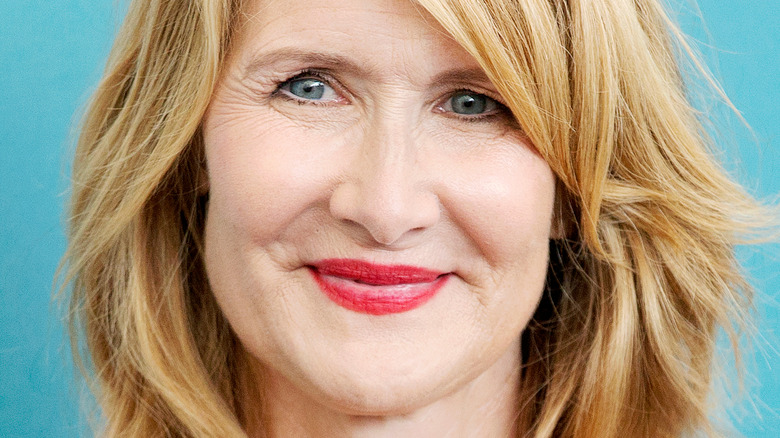 Andrea Raffin/Shutterstock
From starring as a paleobotanist extraordinaire in the "Jurassic Park" franchise (via IMDb) to securing an Academy Award for her turn as Scarlett Johansson's divorce Lawyer in "A Marriage Story," Laura Dern has made a career out of playing powerful women on screen. The actress gained widespread notoriety after appearing in David Lynch's 1986 film, "Blue Velvet," in which she played an amateur detective hoping to solve a gruesome local mystery, per The Guardian. By 1992, she was filming the instant-classic, "Jurassic Park."
As Dern remembers in a 2022 Vogue exclusive, she was personally approached by director Stephen Spielberg to play Dr. Ellie Sattler. According to the actress, "He said, 'I want you to come be the female lead in my movie and watch in awe as I try to bring dinosaurs to life.'" Her character quickly became an icon, and, according to Dern via Time, children would come up to her and say, "You were the first female character I saw onscreen equal to the men." In the 30 years since "Jurassic Park" premiered, Dern has undergone a stunning transformation, recently reviving her role as Dr. Ellie Sattler in "Jurassic World: Dominion" alongside original costars Jeff Goldblum and Sam Neill.
However, the actress' talents expand beyond the world of dinosaurs. In 2019, Laura Dern narrated an audiobook version of a classic American novel.
Laura Dern helped bring the March sisters to life in Little Women
The same year she starred as Marmee in Greta Gerwig's 2019 film adaptation of "Little Women," Laura Dern recorded an audiobook version of the 1868 classic. The novel, written by Louisa May Alcott in two parts — the second of which was published in 1869 — follows the four March sisters as they await their father's return from the American Civil War (via Britannica). Under the watch of their mother, Marmee, the sisters navigate love and loss in their small Massachusetts town. According to Time, Alcott based "Little Women" off of her real-life sisters. 
"Little Women" was an instant success, quickly selling out and even inspiring two sequels (per Britannica). Since its release over 150 years ago, Alcott's "Little Women" has been consistently-adapted for the stage and screen, the most recent example featuring Laura Dern herself. According to the actress, she first became aware of the March Sisters in her early teens, recalling in a 2019 AP News interview, "It was an amazing time for me to read the book," adding, "It was around the time I was deciding to became an actress." 
Now, fans of the story can listen to Dern, along with a small cast of voice actors, perform Alcott's original words. Available to borrow on Audible, the recording has overwhelmingly-positive reviews, with one listener claiming, "Of course, the narration by Laura Dern was top notch."
Laura Dern grew up in a famous family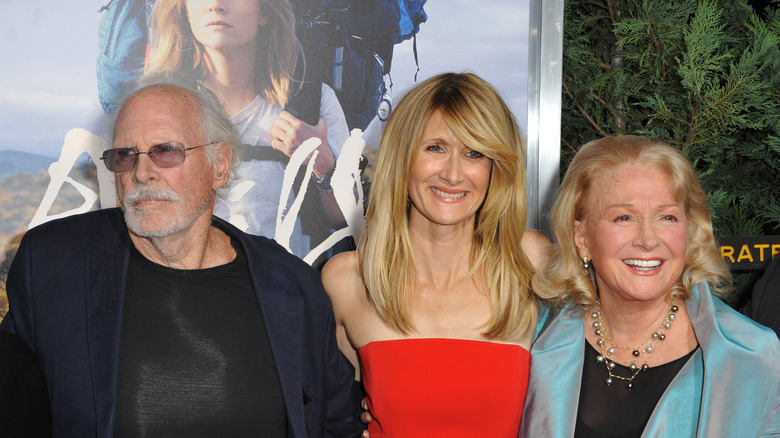 Featureflash Photo Agency/Shutterstock
Laura Dern was born to Hollywood legends Bruce Dern and Diane Ladd, the latter of who raised her after the couple divorced (via Britannica). Ladd, known for films like "Chinatown" and "Wild at Heart," didn't want her daughter to become an actor. In Variety's Actors on Actors series, Dern explained her mother's hesitation to "This is Us" star Sterling K. Brown: "I mean, I think because as a woman in the film industry, she was worried for me, especially as a child." According to Dern, Ladd was, "a protective lioness, which was great to be raised by" and her dad, "assumed [she'd] find something else interesting." However, the "Jurassic Park" star pursued a career despite her parents' misgivings, ultimately learning ​​from "Complicated, amazing, fearless filmmakers who would create insane circumstances or worlds . . ."
In recent years, Laura Dern has expanded her repertoire, working as an executive producer for several projects including the Oscar-winning animated short, "If Anything Happens I Love You" (via IMDb). Outside the film industry, the actress is collaborating on a very special book with her famous mother. Set to publish in 2023, "Honey, Baby, Mine" will be "a collection of deeply personal conversations" between Dern and Ladd, touching upon their ever-evolving mother-daughter relationship, per Grand Central Publishing.