What Not To Say To Someone Having A Gender Reveal Party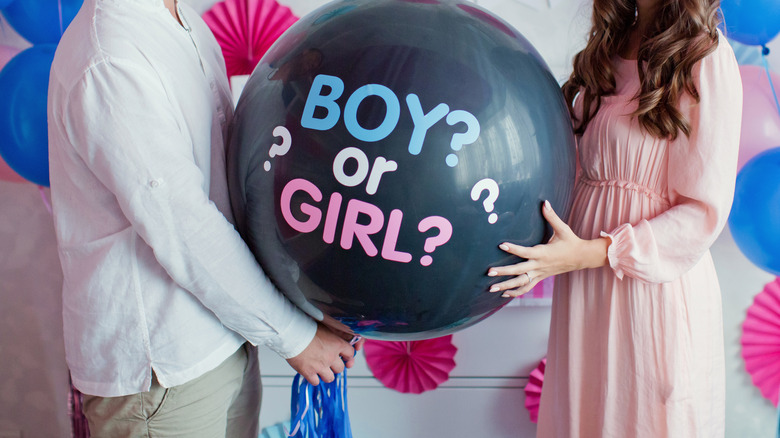 aprilante/Shutterstock
It seems like gender reveal celebrations are all the rage these days. From seeing gender reveal parties gone wrong grace the news to celebrity gender reveals, we've seen the many different options parents-to-be have if they choose to reveal their future baby's sex in an elaborate way (via New York Post). Whether they're popping balloons, cutting into a colorful cake, or even causing some kind of explosion, there's a way to celebrate your incoming baby that fits every unique parent.
With so many parties being thrown, we're all bound to get an invite to one sooner or later if we haven't already. As a result, everyone should know what they should and shouldn't say to the hosts of a gender reveal party (via PNW Doulas). Still, knowing the right thing to say at this kind of event isn't as cut and dry as other events you're likely to get invited to. You want to make sure you're sensitive to the hosts feelings, no matter what their outlook may be or what the day may hold.
What you shouldn't say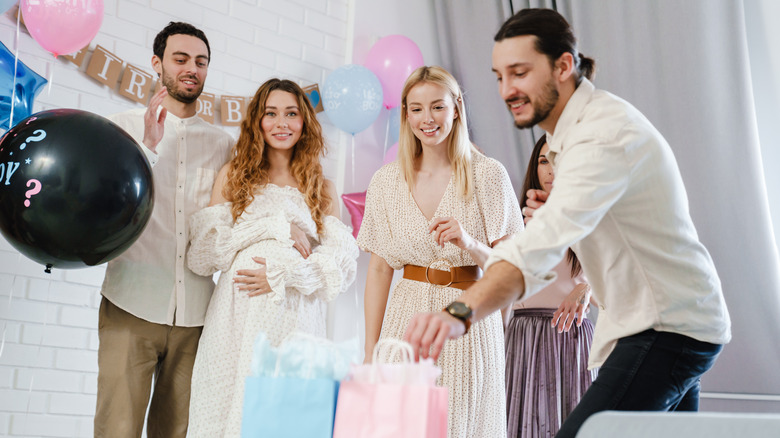 Dean Drobot/Shutterstock
As time passes, many folks believe that gender reveal parties are becoming more and more antiquated and even problematic. Plenty of people are thinking twice about having a gender reveal party, at all. If you agree with this mindset, that's totally understandable. Still, that doesn't mean you're never going to get an invite from someone you care about for a gender reveal party. In the words of BuzzFeed advice columnist, Stephen LaConte, "On the one hand, you can have your personal reservations about gender reveals and the sort of toxic, outdated, limited view of gender that they represent. And then, on the other hand, sometimes people you love decide to do a gender reveal, and they're really excited about it." If you relate to this, make sure not to discuss your distaste for gender reveal parties at the gender reveal party; that's just a buzzkill.
You should also stay away from pointing out any negative gender stereotypes (via PNW Doulas). That means you should steer clear of anything like "girls are more difficult" or "you seem like more of a boy mom." Resist any temptation to ask anyone at the party — especially the baby-to-be's parents or older siblings — what they "want" the results to be. Similarly, don't offer sympathies if you know that the parents wanted a girl and just found out that they're having a boy. If you focus only on the positive, you can't go wrong.
What you should say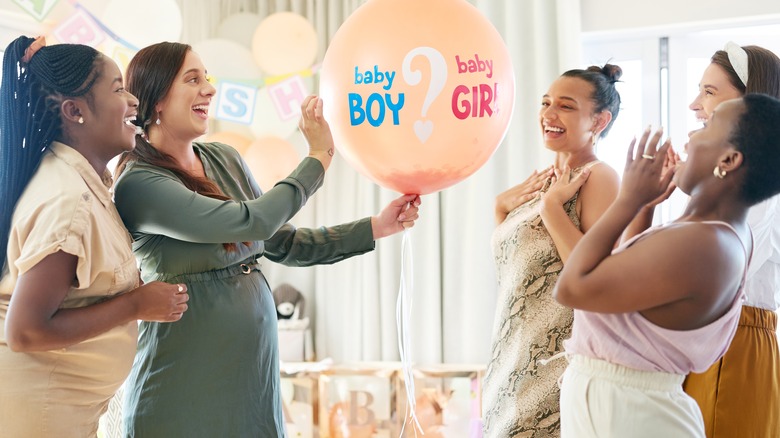 PeopleImages.com - Yuri A/Shutterstock
Whether or not you feel comfortable supporting the ethics around the concept of a gender reveal, anyone can benefit from looking at a gender reveal party more like a plain old baby shower (via BuzzFeed). Even if it's been advertised as a gender reveal party, drawing the focus away from the baby's sex is a great way to avoid any particularly difficult social moments. 
A great way to stay engaged with the parents-to-be is asking them about names (via PNW Doulas). Talking about baby names can be fun for everyone at the party and encourage the hosts and their guests to share their favorites. By the same token, you can ask about the baby's nursery — like if they'll be getting new furniture for the baby or if they've picked a color or theme.
If there are siblings involved, it's great to get them feeling included in the party. Don't be afraid to ask them what they're excited about when it comes to meeting their new little sibling, and let them know what a great older sib you think they're going to be. If all else fails, make sure you let the hosts know that they're going to be amazing parents and that you are so excited to meet their new little one.