Why People Are Buzzing About Rand Paul's Espionage Act Tweet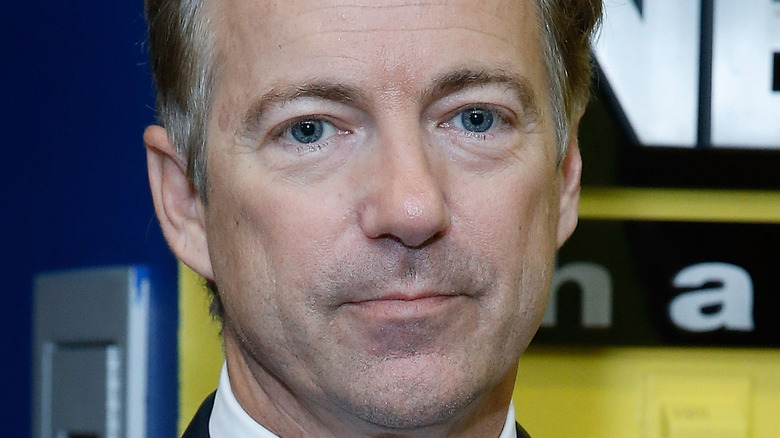 John Lamparski/Getty Images
Senator Rand Paul is one of the U.S. Senate's most controversial members. The senator from Kentucky has a knack for being a contrarian, voting against or holding up bills with bipartisan support. The Washington Post reported in May that Paul delayed a bipartisan bill to give much-needed aid to Ukraine. The Post revealed Paul's remarks on the Senate floor noted that America "cannot continue to spend money we don't have" because it would threaten national security. While his contrarian views may be tiring to some voters and other senators, the Kentucky senator also once irritated his neighbor. In 2017, GQ reported that Paul's next-door neighbor beat him up.
The Kentucky senator even feuds with Dr. Anthony Fauci, one of the world's top infectious disease experts. Paul has attacked Fauci since the pandemic's start, even accusing the doctor of helping create the coronavirus. Fauci is one of America's most respected scientists, with 50 years of experience as a top advisor to seven presidents, according to Politico. The normally quiet Fauci hit back at the Kentucky senator in a January senate hearing. Fauci said, "You personally attacked me with absolutely not a shred of evidence of anything you say, so I would like to make something clear to the committee, he's doing this for political reasons." The scientist added, "He was accusing me of being responsible for the death of four to five million people, which is really irresponsible."
The senator from Kentucky likes to stir the pot. So, why are people upset with Paul's most recent Espionage Act tweet?
Some say Rand Paul has Russian reasons for opposing Espionage Act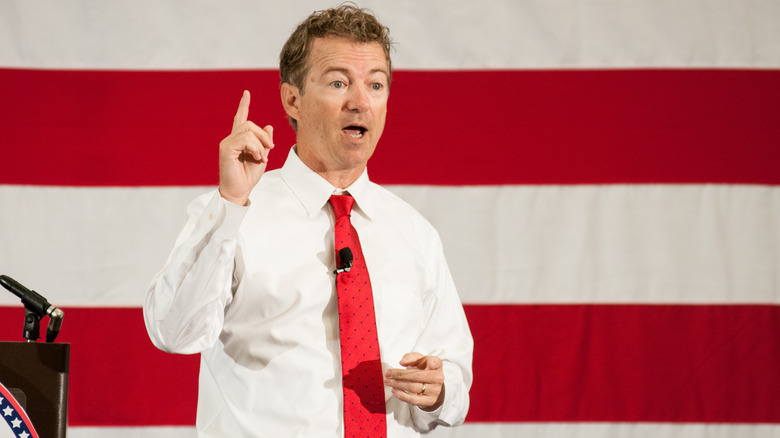 Andrew Cline/Shutterstock
On August 13, Senator Rand Paul tweeted his opposition to the Espionage Act. The senator from Kentucky tweeted: "The Espionage Act was abused from the beginning to jail dissenters of WWI. It is long past time to repeal this egregious affront to the 1st Amendment." Paul's tweet linked to a website for The Future of Freedom Foundation, a right-wing organization. 
Twitter's reaction to Paul's tweet was fast and furious. Political strategist Adam Parkhomenko responded by posting a video and tweeting: "Rand Paul wants to get rid of the Espionage Act. Here is literally a reminder from Senator John McCain that Rand Paul works for Vladimir Putin." Parkhomenko shared a video of the late John McCain saying, "The Senator from Kentucky is now working for Vladimir Putin." Another Twitter user tweeted: "We have a sitting GOP Senator actively trying to repeal the Espionage Act. Rand Paul (R-Moscow)."
One Twitter user pointed out some facts about Paul by tweeting: "Rand Paul went on Fox News and said the FBI may have planted stuff in the boxes to 'entrap' Trump. Rand said it with a straight face — and without any evidence to support his lie. Two weeks ago, Ukraine listed Rand Paul as an official Russian propagandist. It all makes sense now." The Kentucky senator's ties to Russia are not hysterical. NPR reported on Paul's 2018 visit to Russia, noting the Kentucky senator hand-delivered a note from President Trump to Vladimir Putin on the trip.