How Operation London Bridge Will Be Upended If The Queen Dies At Balmoral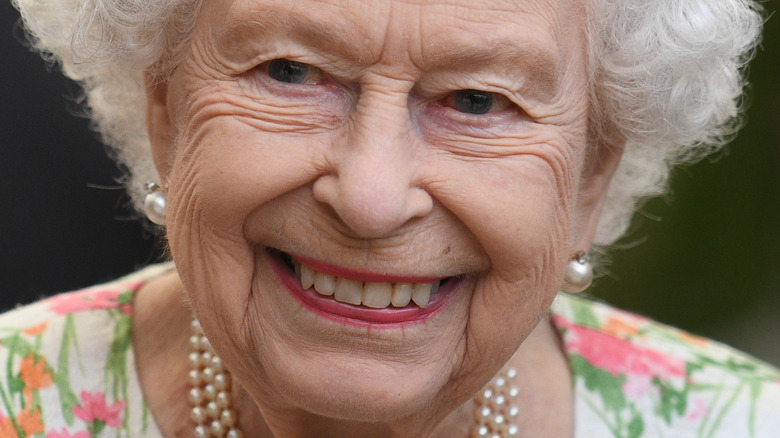 Wpa Pool/Getty Images
Although it is sad to think about the passing of Queen Elizabeth II, as she gets older and her health continues to suffer, royal fans are starting to look into what protocols would go into place when the time comes.
The biggest concern is who will take her place following her passing. Of course, Prince Charles is next in line for the throne, but royal fans have been speculating for years that he might hand over his title to his eldest son, Prince William — author and former Vanity Fair editor Tina Brown disagrees (via Geo News). "Why anybody thinks that . . . I mean, Charles is so desperate for this freaking job. I mean, you know, he's waited 50 years for this. I mean, there's just no way." Regardless, the Duke of Cambridge is more popular with the British public, especially following the controversy surrounding his father's relationship with Camilla Parker Bowles while still married to the much-adored Princess Diana.
Prince Charles will likely take his dedicated spot on the throne, though some fans are holding out hope for Prince William's reign to come earlier than expected. However, it's not only who will carry on the royal title that will change. According to Insider, there are a lot of everyday occurrences that will change abruptly following the queen's passing. Many of the changes will depend on where the queen passes away.
There is a strict protocol to follow when the queen passes away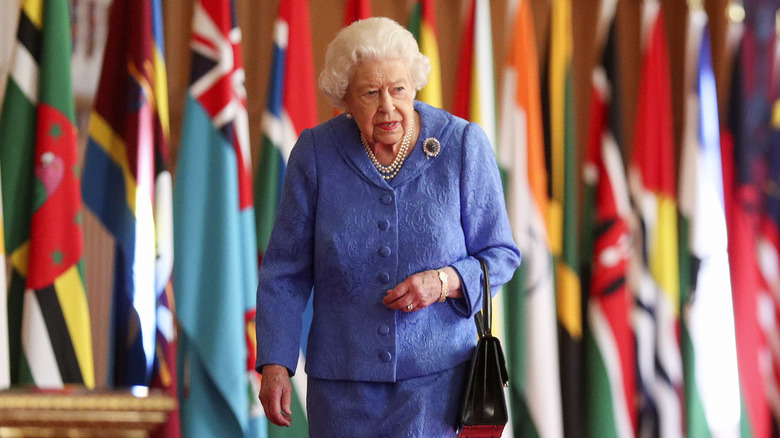 Wpa Pool/Getty Images
Recently, Politico acquired papers from the British government that detail what exactly will unfold when Queen Elizabeth II passes away. They have the day planned extensively, with word that the prime minister will be alerted of the queen's passing with a call that states, "London Bridge is down," followed by a breaking news wire through the Press Association.
After the formal announcement is made, members of the royal family will announce plans for Queen Elizabeth's funeral. It's likely that the event will take place ten days after her death, which is standard practice in the monarchy. The prime minister will be the first member of the British government to make an official statement.
This is the official protocol you can expect when that tragic day comes. However, it seems the most complicated situation will be if the queen dies at her home in Scotland instead of at Buckingham Palace (via Reader's Digest).
The process will be much more complicated if she passes in Scotland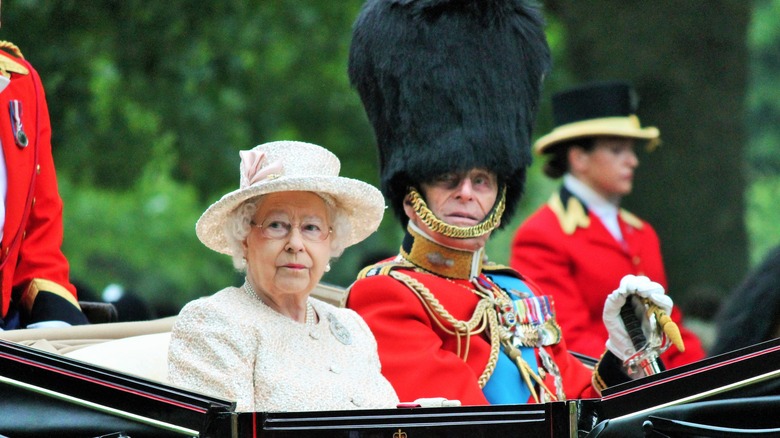 Lorna Roberts/Shutterstock
The British government has a detailed plan for the day that Queen Elizabeth II passes away. The day of her death will be referred to as D-Day with the following days called D+1, D+2, et cetera (via Politico). However, if the queen dies at Balmoral Castle, the situation will be a bit more complicated, it seems.
According to Reader's Digest, if the queen passes away outside of London, her body will be transported in a coffin via air. However, there will be some roadblocks if D-Day takes place while Queen Elizabeth is at Balmoral Castle in Scotland.
The queen spends every summer at her home in Scotland. If the tragic events occur while she is there, her body would have to be moved to Holyroodhouse in Edinburgh. There, she would be carried up the Royal Mile to St. Giles Cathedral, where a service would have to be performed before she could be returned to London. Then, she would be placed on the royal train, where her adoring public would likely follow the route throwing flowers at the vehicle. As Reader's Digest notes, there will be a reception in London upon the arrival of the queen's body.