Everything Chrissy Teigen And John Legend Have Said About Their Fertility Journey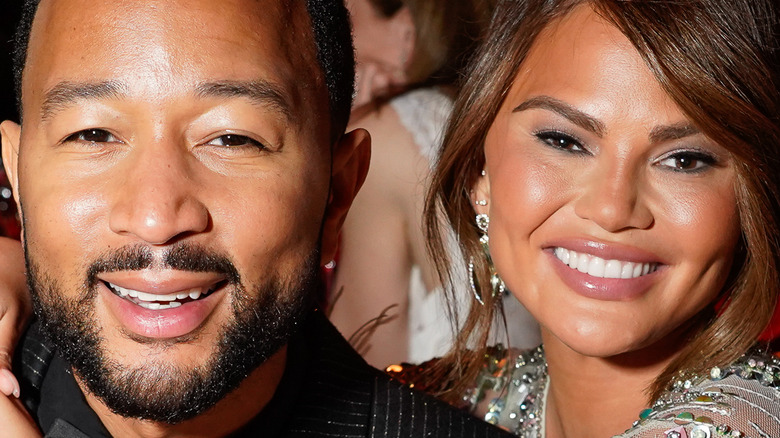 Jared Siskin/Getty Images
Chrissy Teigen and John Legend are one of the shining Hollywood couples who we just can't seem to get enough of. Whether it's Teigen's quick quips on social media or the EGOT winner's heartfelt music, the public has gotten its fair share of insights into the couple's life. But after Teigen suffered a heartbreaking pregnancy loss in September 2020, fans poured out their support for the A-listers.
The model, author, and TV host has been candid about her and John Legend's experience with fertility. The parents of two announced that they were expecting another baby this month. Teigen shared on Instagram: "The last few years have been a blur of emotions to say the least, but joy has filled our home and hearts again," she wrote. From their touching tributes to their lost third child to Teigen's hilarious behind-the-scenes of pregnancy, the couple has let us see snippets of those last few years of building a family.
From the darkest of days to a hopeful new beginning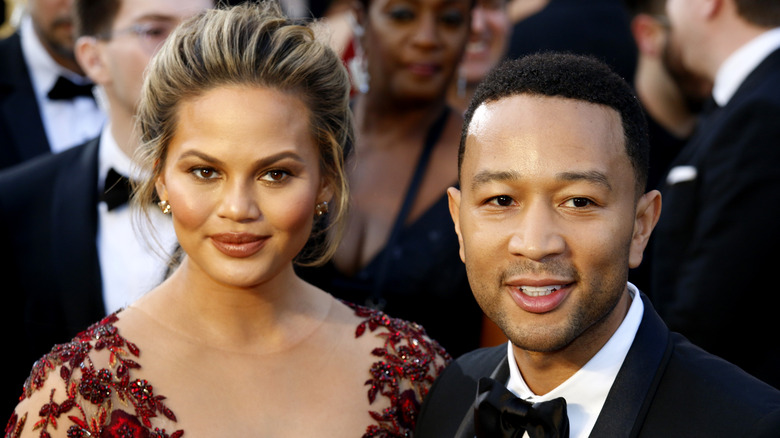 Tinseltown/Shutterstock
Chrissy Teigen took a hiatus from social media following the shocking loss of her and John Legend's third child, Jack. It was during that break that the singer-songwriter dedicated his 2020 Billboard Music Awards performance to his wife. "This is for Chrissy," Legend wrote in a tweet linking a video to his performance. "We have experienced the highest highs and lowest lows together. Watching you carry our children has been so moving and humbling."
Teigen went on to open up about their struggles after the loss of their son. She partnered with Resolve: The National Infertility Association and Ferring Pharmaceuticals, according to Refinery29. Together, they created Fertility Out Loud, which connects people struggling with fertility to specialists, treatments, and other resources.
​​Teigen was told that she would be unable to have more children, according to her 2021 interview with Refinery29. "I believe my body's in a better place than it was. And it's hard to be told that you shouldn't when you genuinely believe that you could. It's hard to come to terms with and something that I talk about, honestly, twice a week still." Teigen would prove to be right about her unfinished fertility journey.
The couple is destigmatizing infertility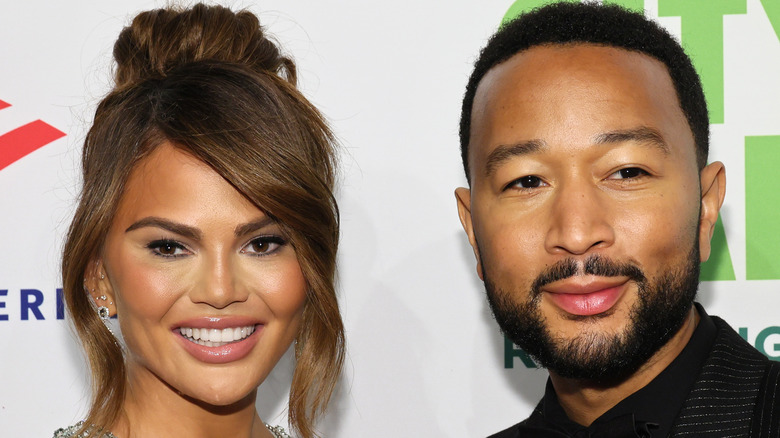 Dia Dipasupil/Getty Images
John Legend and Chrissy Teigen are doing what they can to show others who are experiencing fertility issues that they are not alone. "To be alone and isolated in that feeling is the worst," Teigen told Glamour in April 2021. "And I don't want any woman to have to go through that feeling alone, ever."
In March 2022, Legend told People how proud he was of his wife's commitment to destigmatizing infertility. "I think Chrissy's done a good job of destigmatizing some of these things that so many people go through in silence," he said.
Teigen got candid in February about her IVF journey on her Instagram. "I honestly don't mind the shots . . . they make me feel like a doctor/chemist," she said. "[B]ut the bloating is a b****, so I humbly beg you to stop asking if I'm pregnant because while I know it's said with excited, good intentions, it just kind of sucks to hear because I am the opposite of pregnant!"
That IVF journey has culminated in the good news Teigen announced earlier this month. "I don't think I'll ever walk out of an appointment with more excitement than nerves but so far, everything is perfect and beautiful and I'm feeling hopeful and amazing," she said in her pregnancy announcement on Instagram.