Donald Trump Offers A Grim Warning In First Interview Since Mar-A-Lago Raid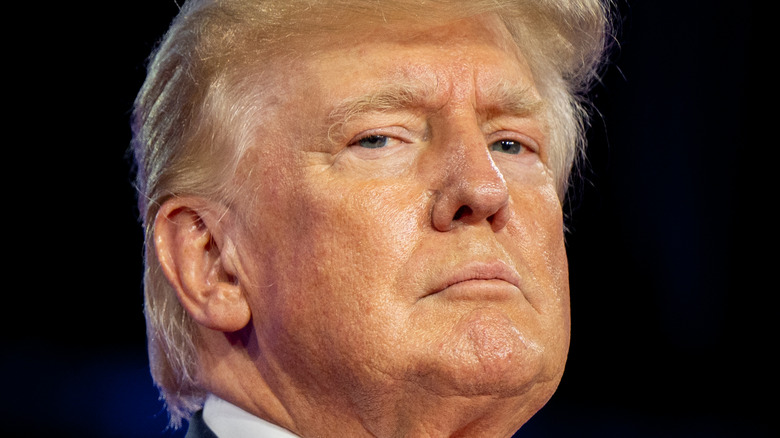 Brandon Bell/Getty Images
It's been a hectic few weeks for former president Donald Trump. He was required to attend a deposition in New York City due to the criminal case lodged against his family's business and its chief financial officer, Allen H. Weisselberg (via The New York Times). Though Trump attempted to have the case dismissed, a judge ruled against his pleas and a trial will likely begin soon.
The case in question is centered around tax trouble. "Over the course of the period charged in the indictment, Weisselberg evaded payment of taxes on a total of $1.7 million in income," read a court memo. "Such illegal conduct is regularly prosecuted and this office would have been remiss not to have done so here."
The deposition and the alarming case are far from the only legal woes Trump is facing as of late. The FBI raided his Mar-a-Lago resort home in Florida on August 8, searching for classified documents illegally held there from his time in the White House. According to CNBC, top-secret documents were removed from the former president's home.
Other than posting on his social media platform, Truth Social, Trump remained relatively quiet about the raid. Now, he's speaking out and giving shocking warnings to his loyal fan base.
Trump made alarming comments to Fox News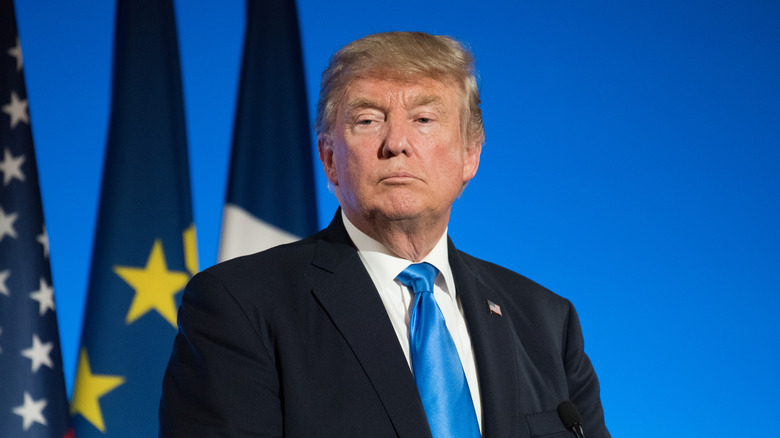 Frederic Legrand - COMEO/Shutterstock
Former president Donald Trump recently spoke out about his ongoing legal troubles with Fox News. Speaking on the raid, he told the outlet, "The country is in a very dangerous position. There is tremendous anger, like I've never seen before, over all of the scams, and this new one — years of scams and witch hunts, and now this," adding, "People are so angry at what is taking place. Whatever we can do to help — because the temperature has to be brought down in the country. If it isn't, terrible things are going to happen."
Trump then referred to the FBI raid as a "sneak attack," and said he and his people are going to do whatever it takes to remedy the situation going on. He added, "There has never been a time like this where law enforcement has been used to break into the house of a former president of the United States, and there is tremendous anger in the country — at a level that has never been seen before, other than during very perilous times."
Trump's response to the raid has brought forward conspiracy theories and calls for the FBI to be punished by his group of devoted fans (via Vox). The former president himself called the reasons behind the FBI raid a hoax on Truth Social, leading to further division on the issue.