Here's Why You Should Never Store Food In Your Hotel Mini-Fridge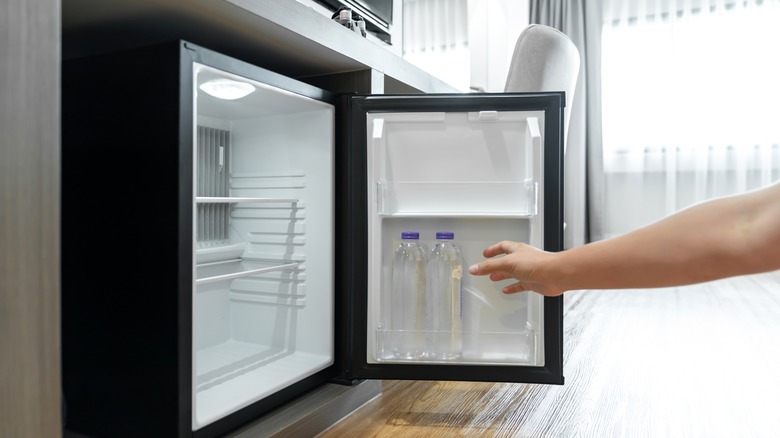 Surachet Jo/Shutterstock
You and your fellow vacationers are bound to enjoy a meal out or two during a fun vacation. ValuePenguin estimates that the average amount of money that a person spends on food on a four-night domestic trip is $132. No one wants to throw away good leftovers, so most people will take what's left of their meal back to the hotel with them. You stow your food away in the hotel's mini-fridge with plans to eat it the next day, if you don't get distracted by another fancy restaurant. But what if the food you put in there might not be as safe to eat now as you think it is?
Many people are beginning to worry about their food's condition once it's stored in a hotel mini-fridge. In a forum called DC Urban Moms and Dads, some hotel frequenters expressed their concerns about a guest room mini-fridge's temperature being too high. "Are they primarily meant for drinks instead of actual food that needs to be kept cold to prevent spoiling?" one user wondered. So now we ask: Is it safe to leave food in your hotel room's mini-fridge?
What temperature should a fridge be at?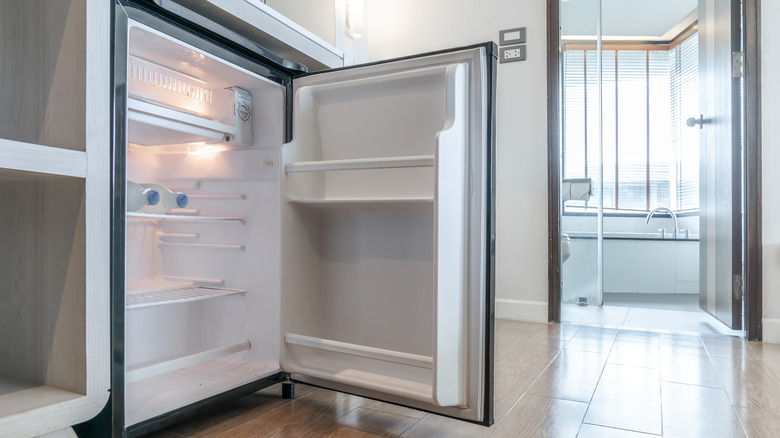 Surachet Jo/Shutterstock
Maybe it's something that you haven't noticed. On a vacation, sometimes that mini-fridge in your hotel room doesn't get used much — but if you're counting on it to keep your frozen vegetables cold or your medication at its specified storage temp, knowing how cold the fridge gets is pertinent information.
The U.S. Food and Drug Administration recommends that you keep your fridge at or below 40°F (4°C). They recommend your freezer temperature be at 0°F (-18°C). These aren't just suggestions you should think about following — food is less likely to spoil and build harmful bacteria at these temperatures. This includes leftovers and "doggie bags" that you take home from restaurants.
Temperatures higher than those advised by the FDA put your food at risk of being in the "danger zone." According to the U.S. Department of Agriculture, the "danger zone" is a range of temperatures between 40°F and 140°F. These are prime temperatures for bacteria to grow and multiply at their fastest.
Your hotel fridge might be a drink fridge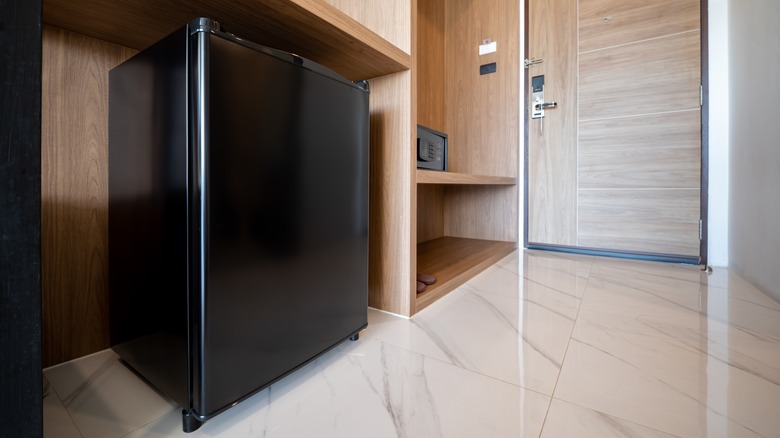 Surachet Jo/Shutterstock
Whether or not hotel mini-fridges are meeting the aforementioned temperature standards is a matter that's currently being debated. Over on TripAdvisor, one customer wondered why some of the reviews for a particular hotel said the mini-fridges don't get very cold. The management team of the hotel responded with the following. "In the rooms are coolers and not fridges. [T]he temperature is low enough to keep drinks cool. Should you have any medicine which needs a lower temperature for example, kindly contact our front desk who will be able to keep your items in a separate refrigerator."
Hearing management say your fridge is more suited to keep a beer cool than keep your food cold might make you think twice about trying to hold onto leftovers. Hotels might opt for "drink fridges" instead of actual refrigerators because of money and noise. Walt Strasser, EVP at Minibar Systems Worldwide, tells HotelManagement.net that the optimal temperature for guest room fridges is 41°F. Some hotels are concerned that larger and colder refrigerators are often noisier than smaller, less cool refrigerators. This isn't the set rule for every hotel, so you should be sure to check your fridge's temperature before storing your food or medications in it.