Donald Trump Claps Back At Norah O'Donnell Over Reports About The FBI Raid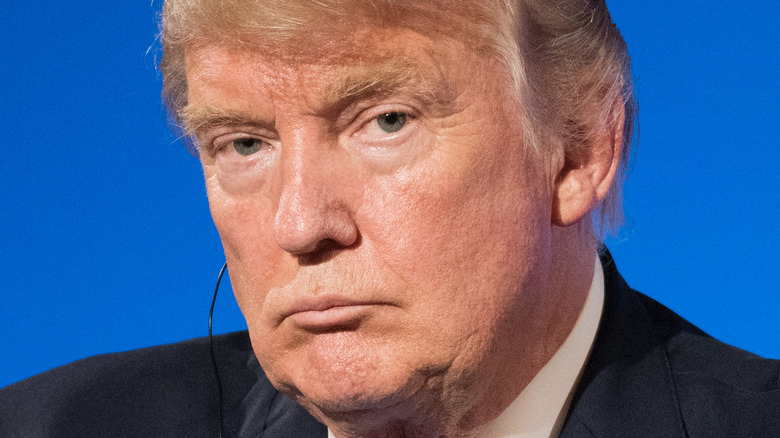 Frederic Legrand - COMEO/Shutterstock
Last week, former President Donald Trump's Florida resort home, Mar-a-Lago, was raided by the FBI. According to The New York Times, the investigation bureau was looking for classified documents that Trump may have brought with him when he relocated from the White House to Florida. However, legal experts believe this raid is unrelated to the January 6 Capitol riots, a new issue for the former president entirely.
He claims that the search was unannounced and was instantly firing back at the FBI via his social media platform, Truth Social (via Insider). As a result, his loyal fan base was outside of his home, protesting in support of Trump. As Trump and his devoted followers were posting on social media about how they believed the raid was unjust, members of the media were poking fun at the former president, especially the late-night hosts (per Rolling Stone).
It's no surprise that hosts like Trevor Noah and Jimmy Fallon had some fun at the expense of Trump. However, out of all members of the media covering the raid, Trump chose to clap back at a "CBS Evening News" host.
Trump fired back at the news anchor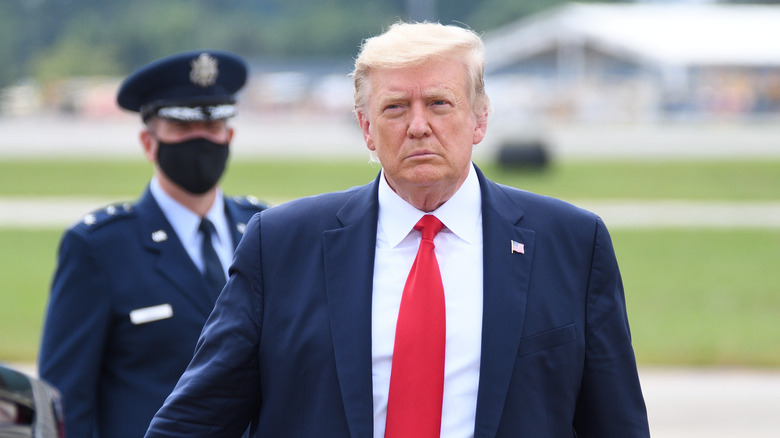 Evan El-Amin/Shutterstock
Former President Donald Trump has made various claims about what was taken by the FBI during the raid of his Mar-a-Lago home. He was adamant that a few passports were taken in the process (via the New York Post).
"CBS Evening News" anchor, Norah O'Donnell reported that the FBI did not take passports belonging to the former president during their raid. However, Trump and his team were consistently stating that they did. Now, he's clapping back at the reporter.
Since Trump himself is banned from Twitter, his spokesman, Taylor Budowich, took to the platform to fire back at O'Donnell. He wrote, "This is how Fake News works, folks. Biden admin actively feeds half truths & lies that the media willingly amplifies — advancing a partisan narrative to attack Trump," adding a screenshot of an alleged email from the FBI stating the passports were taken and available for pickup that day (via the Daily Mail).
However, O'Donnell did share that if anything was wrongfully taken during the raid, it would be returned, which seems to be what unfolded with the passports.