Joanna Gaines' New Memoir Will Show Her In A Different Light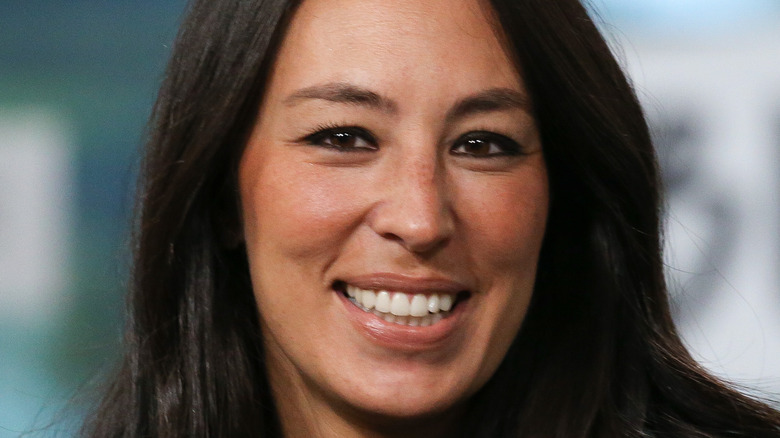 Rob Kim/Getty Images
We may receive a commission on purchases made from links.
While it might be hard to believe, Chip and Joanna Gaines had a whole other life before fame. "I remember when we first got married the only money we had was what was in Chip's pocket," the TV personality shared with People. "He always had a wad of cash, but we were broke." But when the first episode of "Fixer Upper" aired, the Waco, Texas natives' lives — and net worth — changed forever (here's how much Chip and Joanna Gaines are really worth). Now the HGTV stars manage numerous business ventures including the Magnolia restaurant and Magnolia Market at the Silos, various rental properties, a furniture line, a magazine, and a home design line for Target, among other projects (via Wonderwall).
When it comes to accomplishments and achievements, Joanna has got a lot to write home about. At 44 years young, there's no sign of the mother of five slowing down anytime soon. Unsurprisingly, Joanna has an exciting new project up her sleeve, but it's a little different from all the rest. The business woman has been working on a new memoir, and it might just be her most personal project yet (via Magnolia). 
Joanna Gaines is sharing her messy life story with the world
Joanna Gaines is no stranger to the publishing world. The TV personality has written cookbooks, lifestyle books, and even a children's book titled "Who You Were Made to Be." But now, she is venturing into the world of memoirs with "The Stories We Tell." According to the Magnolia website, Joanna's mission with her new novel is to share who she really is with the world. "We all have a story to tell. This happens to be mine — every chapter a window into who I am, the journey I'm on, and the season I'm in right now," the design guru writes. "Because this is my story, maybe you won't always relate, or maybe it will feel like you're looking in a mirror."
In an Instagram post, the Magnolia star revealed how it all started. "Earlier this year I started jotting down memories and stories from my past, journaling about things I was still, years later, trying to work through," she shared. It wasn't until a while later that she had a major realization: these notes and musings were her life story. "It was messy and winding and beautiful, and it graciously revealed about a million wonders," Joanna wrote. 
According to an Instagram announcement, the pub date for Joanna's memoir is November 8. While the reality star is feeling mixed emotions about sharing her story with the world, she is "mostly hopeful."