Haircuts You'll Be Asking For In 2018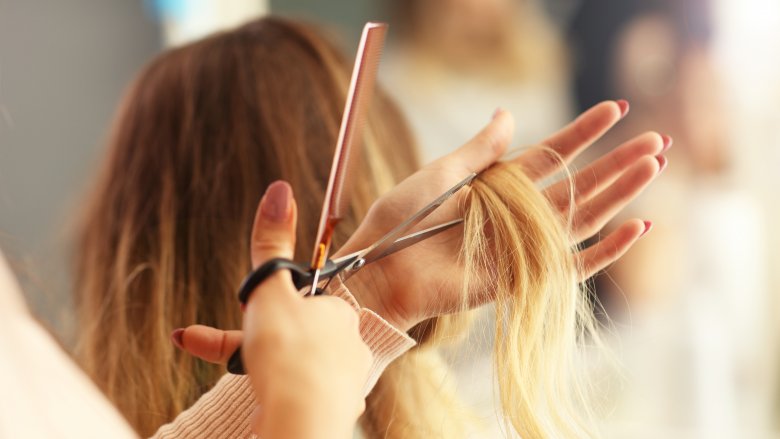 Shutterstock
We may receive a commission on purchases made from links.
If 2017 was anything for the hair world, it was the year of multi-colored unicorn hair and loose, delightfully lazy lobs, courtesy of the awesome advancements in color technology, as well as the prominent desire to have a fun, not-quite-short, not-quite-long style. Braids were also everywhere, as were pixie cuts adopted by usually long-haired celeb lovelies like Cara Delevingne, Kristen Stewart, and Katie Holmes. To put it simply, 2017 was the year of bold change.
But those looks are all in the rearview. What's on deck for hair in 2018? What picture will you be ripping out of a fashion mag or saving to your phone while browsing Pinterest or Instagram so that you can show it to your stylist at the salon and say "Give me that!" next time you sit in their chair? What hues, textures, and lengths will reign supreme over the next 365 days? Here are the haircuts you'll be asking for in 2018.
Shoulder lengths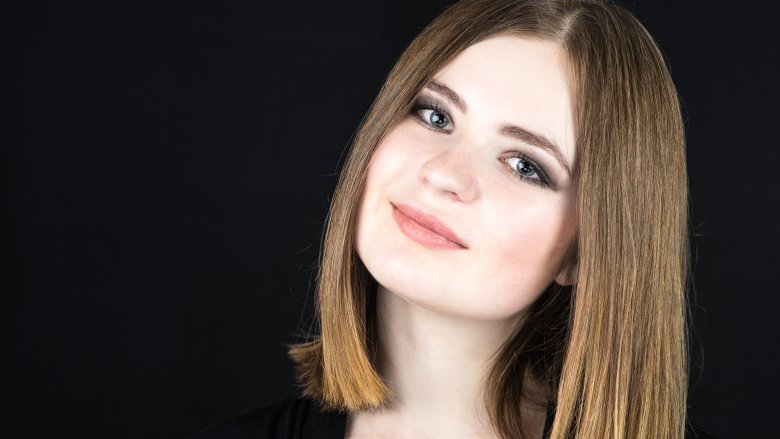 Shutterstock
Short hair, don't care! Michael Canalé, a sought-after Hollywood colorist who has worked with the always well-coiffed Jennifer Aniston forever and who is the creator of the Canalé hair care line, tells me that damaged hair is ready for a rest. If your hair is looking a bit worse for the wear, this is the look for you. In order to achieve a clean, sleek look, women will be going shorter in order to get rid of those fried 'n' frazzled follicles. 
"Due to the more aggressive color techniques over the past four years, such as ombre and balayage, hair is brittle and damaged with over-bleached ends," he said. "You'll start to see a lot of chin and shoulder-length styles." 
However, if you are not quite ready to snip, snip, and snip some more, the colorist suggests trying extensions to nurse your hair back to a healthier state, along with taking vitamins.
Undercurrents and more natural looks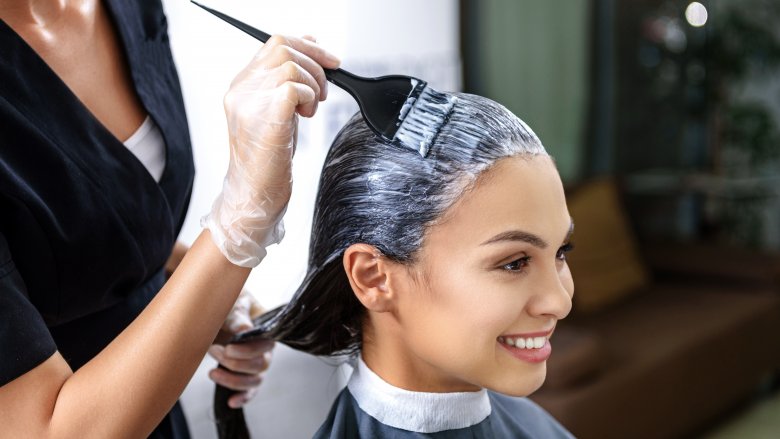 Shutterstock
According to Canalé, a more natural look will eclipse the aforementioned wild, crazy, and ultimately daring styles and hues that defined 2017. "The trends for 2018 will focus on enhancing natural beauty," he predicted. "As we move away from aggressive hair colors, you will see more natural blending, using paper-thin highlights to create a gradual blonde, instead of sun-drenched blonde." 
Wild colors may fall by the wayside in favor of the natural looks that were described by Canalé, but also for something known as "undercurrents." Steve Lococo, master stylist and co-owner of B2V Salon in West Hollywood, told me, "Surprisingly, clients want to tone it down with multi-dimensional colors woven throughout their hair." It's surprisingly easy to get this depth of color, so hair "moves" beautifully and bouncily!
Lococo continued, "Remember that honey blonde with highlights that you liked? Infuse that blonde with some copper, blush pink, or soft mint. We call these tones 'undercurrents.' They help move the overall haircut and hair color." A cut and color being in synch is important for a pulled together coif in 2018.
The shaggy bob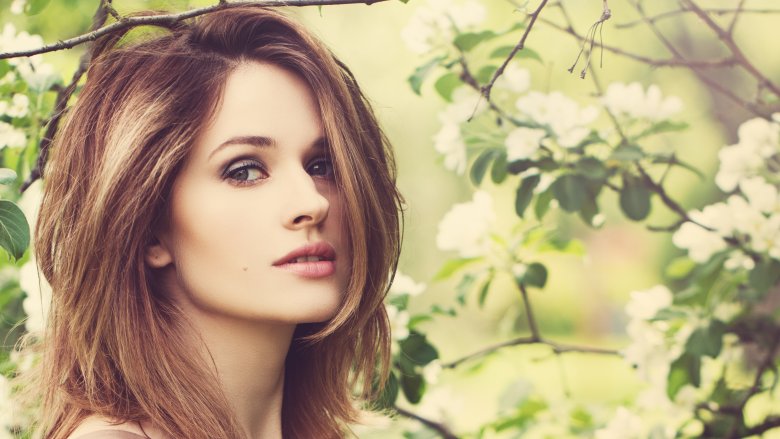 Shutterstock
Brandon Martinez, who has styled celebs like Rosario Dawson, Elle Macpherson, and Diane Kruger, and who penned Sex, Hair and Billionaires: Adventures of a Celebrity Hairstylist, predicts the short pixie of 2017, which is a classic cut that is always "in," will be transformed into "a longer, shaggier bob for the spring." 
Martinez told me, "Haircuts will have grown out from the short, severe shapes into a sophisticated bob that can be worn straight and sleek, or shaggy and messy." He also nods to the "the versatility that a longer bobs can have," affirming that this cut "can still be pulled back and styled in many different ways." 
Heron also thinks that a pixie with a fuller top and bangs will be another major cut of 2018, especially during the usually awkward "growing it out" phase. You can make the most of that growth period with this suggestion. 
"If you currently have a pixie cut, growing out the top — just a little— will give you a new 2018 hair cut," Heron explained. "This little bit of length will allow you flexibility with your hairstyle, adding volume." You can also add some texture with a styling tool or some volume with product. 
Visible ombre roots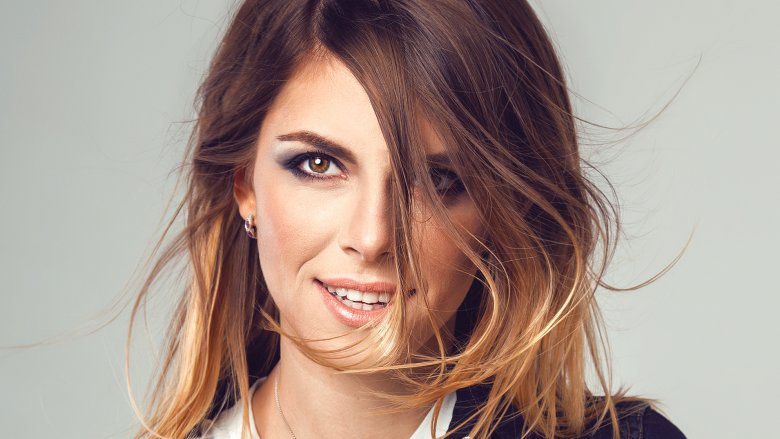 Shutterstock
While visible, contrasted, or graying roots are often the main reason that you book an appointment with your colorist, don't be so hasty to cover up those babies up in 2018. That's right, roots are in! Be honest, this is the trend we've been waiting for our entire adult lives.
Martinez foresees the once-popular white and gray trend, which was rocked by everyone from Rihanna to Kylie Jenner, giving way to "a more natural ombre look, as roots are making a comeback."
So go ahead and let those roots show, especially if they are part of an overall ombre look where hair color gets progressively lighter as you go down the shaft. As an added bonus, you won't have to book hair appointments as frequently, which means more money staying in your wallet and more time to do things other than sit in your colorist's chair for hours on end. Win-win!
French girl chic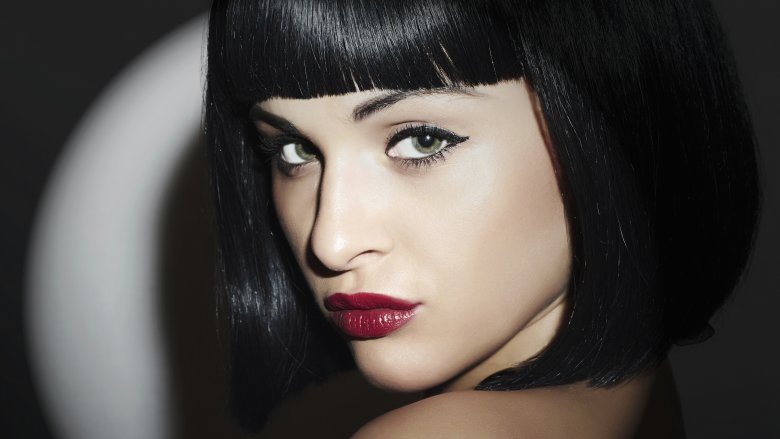 Shutterstock
Sorry to all of the beach-wave loving ladies out there, but there's a new style in town! Fred Connors, owner of FRED.nyc, located on Manhattan's Lower East Side, told me that flowing, California Girl waves are going to be less requested by clients next year. "The biggest trend in the salon and on the street is 'French Girl Chic,'" Connors said. "Clients are moving away from beachy blonde lobs and opting for darker-hued, edgier cuts."
A specific cut he speaks of is a bob with bangs. Connors continued, "The ubiquitous hairstyle of the last few seasons (and the most popular style on Pinterest) is being traded in for a sleek bob paired with blunt bangs. French girls have been rocking these looks for decades, and every now and then, they become popular again in the U.S."
A bob with bangs is tres sophisto and allows you to enjoy a dose of instant glam.
Geometric bowl cuts and asymmetry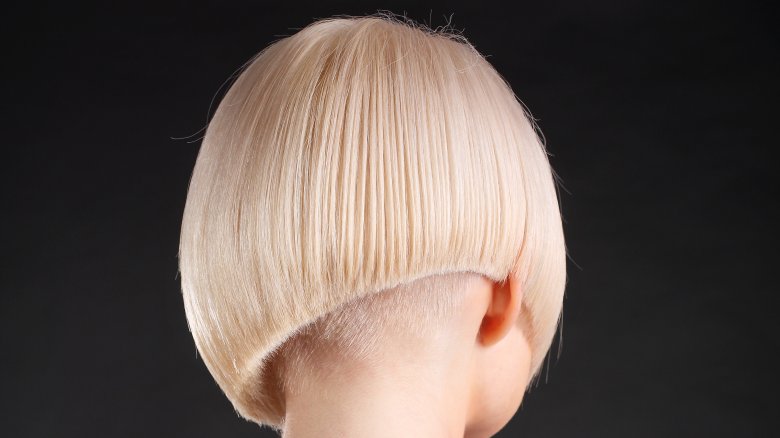 Shutterstock
Shaun SureThing, co-owner and lead stylist at Seagull hair salon in NYC's West Village, told me, "2018 will be the year of cutting it all off. Bowl haircuts and strong geometry will dominate styles, as we trend out of the retro-1990s looks that have been making the hair scene for the last few years." 
A geometric cut with an unusual shape is super sexy but it can be high maintenance, since you can't simply toss it into a ponytail on lazy Sundays and when you don't have time to deal with doing your hair. Quiles and Fishman also told me that these "modern, geometric haircuts wear like wigs," which also contributes to the commitment factor and having to maintain the cut on the regular.
Shannon Combs, owner/operator of Acorn Hill Salon and Spa, further revealed that "asymmetrical styles with many vivid colors" are also going to make a play for dominance in 2018. An asymmetrical cut is long on one side, shorter on the other and when paired with a bright shade, it's really one of the most beautiful things you can do with your strands. 
But know this: Like the geometric cuts, an asymmetrical cut is one that requires commitment and maintenance, so go into it with that in mind and ready to invest the necessary time to keep it in tip-top shape.
Androgynous mullets, shags, and short 'dos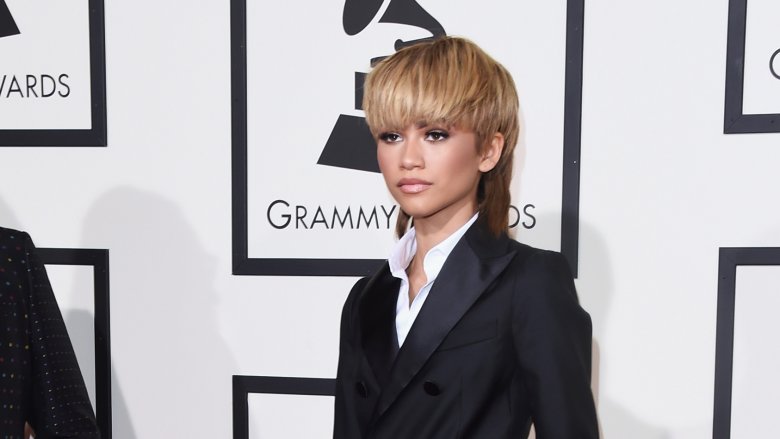 Getty Images
Gender fluidity has become such a powerful, amazing cultural and societal construct in 2018. It will further assert itself in the hairstyles that come to prominence in the next year. SureThing suggests that "styles venturing into mullet territory will be hot for the androgynous set, moving away from barber-inspired and even militaristic-looking cuts." 
You heard it here first, friends, the mullet may be making a comeback! If a mullet isn't quite your thing, or you aren't willing to take that plunge just yet, have no fear. Other androgynous looks are also on the horizon.
These gender-less looks will have both a '60s and an international vibe, as well. "Think soldiers coming home to the 'Summer of Love' and deconstructed mod looks from swinging London," SureThing said. 
Daring, short cuts will also be back for those who are willing to show off their features. "For short haircuts, if the ladies are willing, [there will be] a real return to sturdy pageboy haircuts. Calling all gamines front and center," said Patty Mocarski, hairstylist and owner of Little Space Salon in NYC and one of Allure magazine's top hair professionals. The pageboy calls attention to one's eyes and jawline, as well as the curves of the neck. It's a revealing 'do, but in all the right ways.
Color, color, color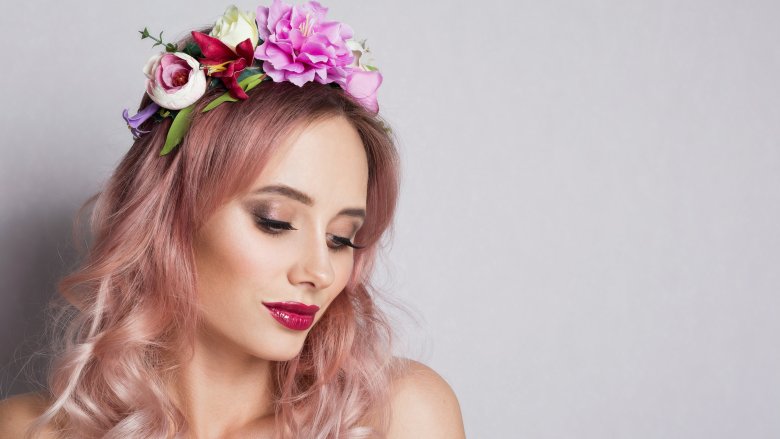 Shutterstock
Not everyone thinks bold colors will be relegated to the back burner in 2018. Pastel hair emerged in 2017 and this look is one whose popularity will continue to grow in 2018, according to Global Redken Artist Lindsey Olson.
"There is a common misconception that you have to be platinum blonde in order to pull off the pastel look," Olson told me. "However, it looks just as gorgeous when done subtly on a brunette. We'll be seeing a lot of pinks and blues in 2018. What's best is that we'll be seeing it on people of all ages!"
If you have dark locks and have been wanting to play with blue and pink, now is your chance thanks to lots of advancements in the chemistry of hair color. That said, color in general will be big in 2018, no matter the cut or the shape. "To incorporate the color with haircuts, it can be from short texture haircut all the way to have a beautiful long hair with layers, creating a perfect sexy Victoria's Secret model look," Celso Enrique, Senior Designer at Salon Eva Michelle, told me. 
This includes multi-tones in highlights, such as neutral blondes mixing light brown with golden blonde flourishes. Medium brown paired with pale blonde, as well as a red base with blonde highlights, also make for a stunning end result.
Unfussy and textured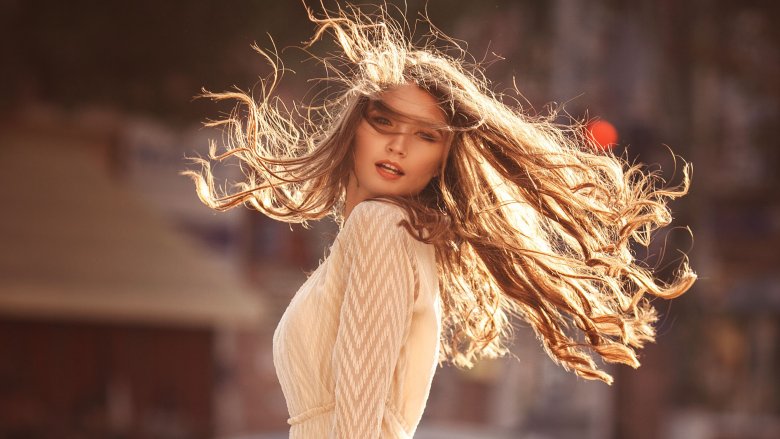 Shutterstock
Based on looks that graced fashion runways, unfussy and textured hair, both long and mid-length, will be a 2018 "go to" with follicles. 
Mocarski told me, "We'll see a real return to longer lengths, but nothing fussy. Think easy, loose, and flowy textures. Overall, there will be a lot of plays on texture, no matter the length or color. Slicked back, tousled, or loose will definitely be a go to in 2018." Lococo agreed, saying, "Mid-length locks will be the hit this year — right below the shoulder, with long, choppy texturizing. This will allow the most styling versatility."
Jodi Dery, owner of Florida-based Cloud 10 Blow Dry Bar and Beauty Salon, echoed the mid-length prediction. "Natural and tousled hair, featuring soft waves achieved by a wand iron, will result in an effortless look," explained Dery. "We are seeing women embrace their natural texture and hair versus trying to change it." She suggests that mid-lengths that are messy and longer lengths with volume and flow are your best bets.
Dramatic bangs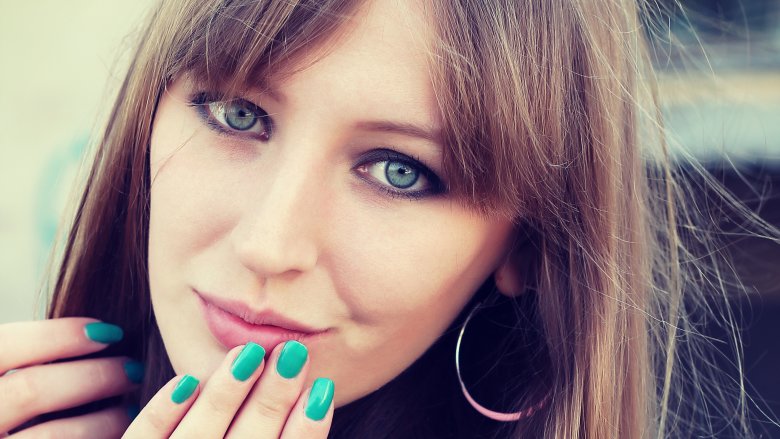 Shutterstock
Side swept bangs, as well as blunt, short bangs, are also in the rearview in favor of drama and length. "Long, soft bangs, where they're past the stage of growing out by the cheekbone, will make a real statement in 2018," said Lococo. So stop tucking your bangs behind your ears and let those gorgeous locks say center stage.
Don't despair or worry about your bangs becoming annoying by grazing your eyes, making it hard to see. Lococo suggests you can part them in the middle for the "curtain bangs" look, which is very "right now" and prevents you from having to constantly blow them out of your eyes. 
The "curtain" styling also allows a longer, more dramatic bang to be more versatile, so you can change up your look daily without having to go under the scissors. Plus, you'll be able to pull off a mysterious look whenever you want.
Tapered Afro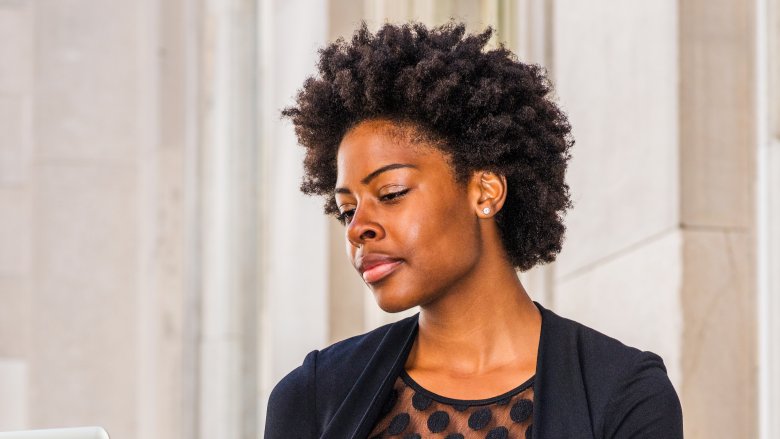 Shutterstock
The Tapered Afro trend has, according to the experts I spoke with, been "creeping in all year," but is about to become more prominent for those of you who have loads of natural texture. 
De L'isle, Head Mixtress of color recipes at Happy Curls, Happy Girls, told me that 2018 "will definitely belong to the TWA/Tapered Afro for those with kinky, curly tresses, [which] allows you to enjoy all the volume and glory of curly hair without too much of the hassle." Not only that, but De Li'sle also shared that its versatility is nearly unmatched.
A Tapered Afro will never be boring, since, as De L'isle says, you can go with "an undercut with graphic design, lots of length on top or a shorter finish, marked edges, or a natural finish!" The options are endless and experimental, since "they definitely add a touch of fun and personality to your everyday look." Go for it!
The Vidal Sassoon bob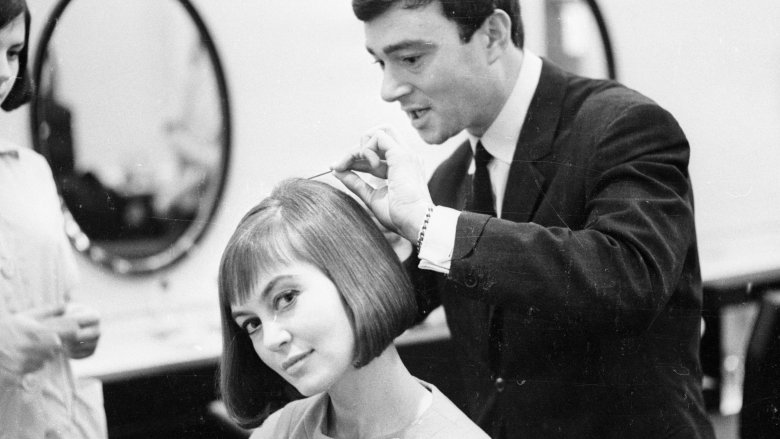 Getty Images
Celebrity hairstylist Keka Heron, who has worked with Diddy, Jasmine Sullivan, and Jessica White, is calling it — the classic Vidal Sassoon bob will once again assert itself in salons as it did years ago. She tells me, "The return of the 'Vidal Sassoon' — the clean, blunt bob. It's a chic haircut that looks great on all hair textures, face shapes, and ages." This style can be worn with or without bangs, as well. If worn with bangs, well, it drifts right into the French girl chic territory, as previously mentioned.
Heron points out that you can wear this 'do straight or switch it up by adding add some waves or sweeping it into a messy updo. You can also play with the location of the part. The VS bob may be short and structured, but it avails itself of so many styling possibilities. That's why it has long endured and always comes back into play.
Long layers
Getty Images
Not everyone wants to go the route of cutting it all off (or half of it if we're talking asymmetry), and that's okay! If you view your hair as a curtain and vehemently nix going short, you can get some additional texture, volume, and playfulness with long layers, Heron told me. 
"Women are going to be asking for longer layers for 2018," Heron said. "The shortest layer starts at your chin. The layers will allow for great fullness and texture to long hair."
It's not exactly a new concept, but for those who want to play it safe and stick with the tried and true standbys, nothing else works quite as well as this look to keep you looking fresh without going too dramatic for your liking. The long layers and face-framing angles will prevent hair from falling flat or looking dated. Think of quintessential Jennifer Aniston long hair. It's a look that never gets old.