How Megan Fox's Style Changed When She Started Dating Machine Gun Kelly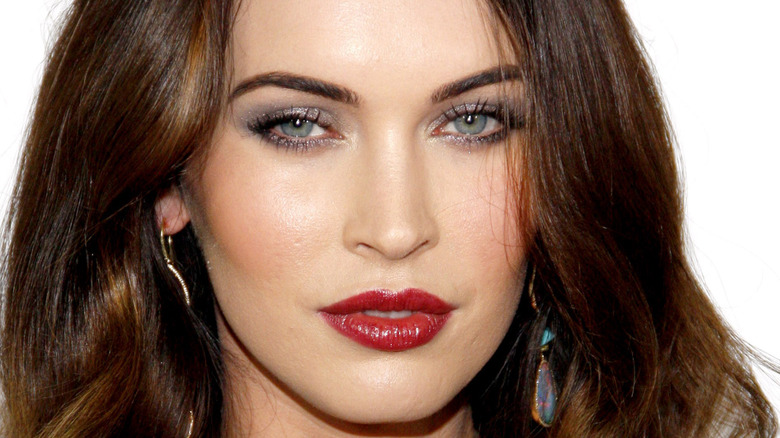 Tinseltown/Shutterstock
If you're even a little up to speed on pop culture and entertainment these days, chances are you have heard of Megan Fox. Known for her countless credits on the big screen and elsewhere, it's safe to say that the "Transformers" star (per IMDb) has made quite the name for herself in Hollywood. What may have truly sealed the deal on her superstardom, though, is her current relationship with musician Machine Gun Kelly. When it comes to iconic celebrity couples, Megan Fox and MGK have certainly created a unique and noteworthy legacy with their love.
After they began dating in the summer of 2020 (via Billboard), the internet was abuzz with plenty of excitement and commentary about the pair. After all, they've openly shared plenty about their relationship with the world — everything from their astrological compatibility, to the fact that they've even drank each other's blood (per Vanity Fair). Love them or hate them, there's no denying that Megan Fox and MGK's relationship has become a super hot topic in the media. So much so, that there's even been talk surrounding how Megan Fox's style changed when she started dating Machine Gun Kelly.
Megan Fox has always been a style icon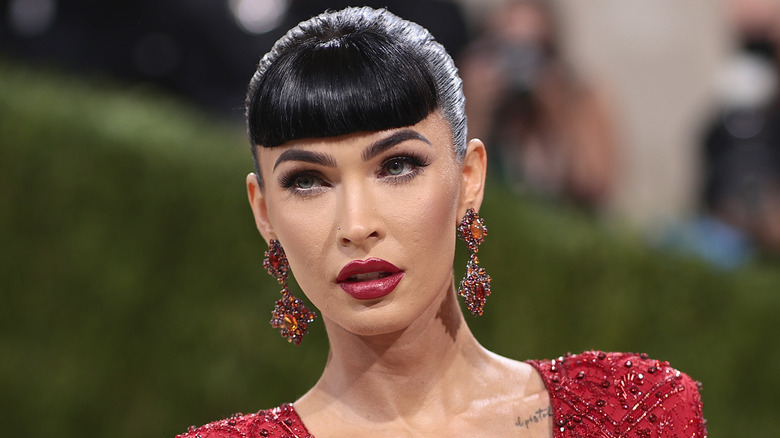 Dimitrios Kambouris/Getty Images
For the decades spanning her acting career, Megan Fox has positioned herself as a real fashionista — especially on the red carpet. The "Jennifer's Body" actor has worn some truly unforgettable looks over the years, at plenty of events, parties, and premieres. One of Fox's first notable ensembles was the pink tulle minidress by Zac Posen she wore to the 2008 MTV Movie Awards, a fun and feminine choice that she accompanied with flirty peep-toe heels (via Elle). She has also rocked outfits like a black floor-length gown by Kaufman Franco, which she wore to the "Transformers: Revenge Of The Fallen" premiere in 2009 — the year in which her style seemed to transition into more chic and glam looks.
Fox has become known for some of her recurring fashion choices, like the all-black ensemble consisting of a black blazer, black leather pants, and black strappy heels she wore in Mexico at a press conference, per Elle. This fashion "formula," as InStyle reported, has become a staple for the actor's wardrobe in recent years, as she has continued to incorporate the color black with mixed fabrics and elements. A far cry from her days of feminine and youthful red carpet dresses and relaxed looks donned at different premieres, this trend of sleek and striking outfits continued to develop once Fox linked up with rocker Machine Gun Kelly.
Dating MGK has had a major influence on her fashion sense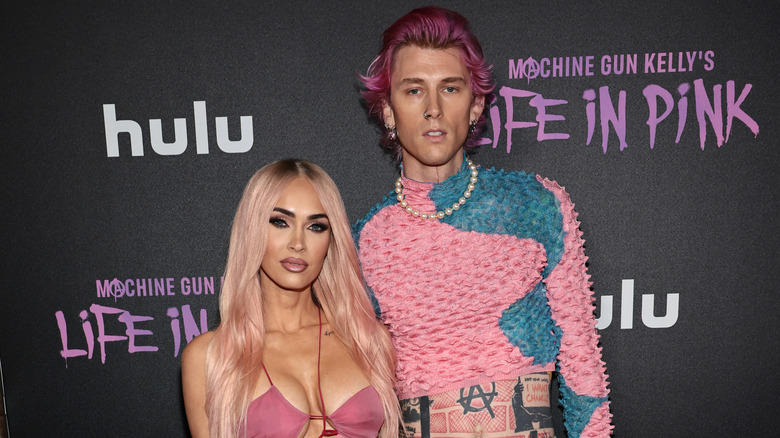 Jamie Mccarthy/Getty Images
Whether they be a fan or simply an observer of the pair, anyone can admit that Megan Fox and Machine Gun Kelly really turn heads together on the red carpet. As outspoken as the two have been about their very unique relationship (per Us Weekly), it can be argued that what they wear when spotted out together speaks even louder than words. Fox has been no stranger to the spotlight nor the fashion news outlets, but with MGK in her life, her fashion game has been taken to the next level.
Aside from the "Twin Flame" singer's unmistakable sound, MGK has also created a name for himself in the fashion world. Described by Vogue as a "full-blown peacock when it comes to clothes and music," the pop-punk musician has fully embraced daring statement ensembles and essentially perfected them down to a science. Once he and his "twin flame" — Fox — came together, her style began to fall under his influence as well. According to Daily Mail, Fox's tendency to show off a youthful, girly aesthetic began to transform to match MGK's more gothic style. StyleCaster also mused that, while the "Jennifer's Body" actor has always donned both chic and sexy looks on and off the red carpet, with MGK, her outfits have become more "elevated." Especially with the couple's pending nuptials (per People), there's no doubt some even more exciting ensembles are to come in the future.