Here's What Kim Kardashian Looks Like Going Makeup Free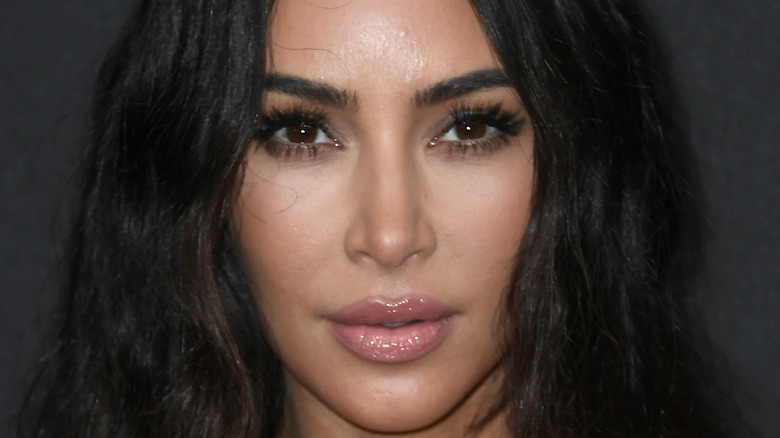 Frazer Harrison/Getty Images
Kim Kardashian is one of the most photographed women on the planet, so it stands to reason that she wants to look her best at all times. As Kardashian memorably told Allure, "I care. I really, genuinely care about looking good. I probably care more than 90 percent of the people on this planet." 
Notably, the SKIMS founder also acknowledged, "It's not easy when you're a mom and you're exhausted at the end of the day or you're in school, and I'm all of the above." In fact, Kardashian even copped to carrying out various beauty treatments once her children are asleep. 
The reality star, who shocked everybody by reinventing herself as a lawyer, has dodged accusations of extensive plastic surgery for her entire career. In 2019, the mother of four clarified, yet again, that she hadn't gotten a nose job, per People. Kardashian even pointed out that her kids have the same nose as her.
There's no denying that she's consistently glammed up to the nines, though, so it was pretty incredible when Kardashian appeared on "The Kardashians" with what looked like a totally clean face.
She appeared on The Kardashians without makeup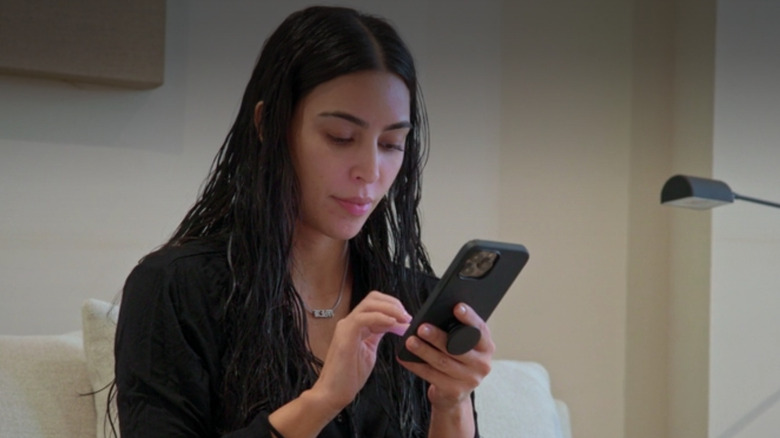 Hulu
As Page Six reported at the time, Kim Kardashian appeared in a couple different scenes of her family's new Hulu reality show, "The Kardashians," without any visible makeup on. 
The first saw her greeting sister Khloé Kardashian and baby daddy Tristan Thompson upon arrival at her home, where the duo planned to work out. Kim has her hair tied back, a clean face, and is wearing a white bathrobe to boot (albeit a fabulous one, from her own SKIMS line, naturally). Later in the episode, a stressed-out Kim scrolls on her phone while sitting in bed with wet hair, again seemingly without a stitch of product on. 
Fans on social media were hugely impressed with the move, with one demanding her skincare routine immediately. Helpfully, the SKIMS founder shared her morning exfoliation on Instagram, where fans again cheered her on for showing a more natural look, and several gushed over Kim's natural beauty.
According to Marie Claire Australia, though, Kim uses a ton of products every day to get that glow, so it's only fitting that she looks so good without her glam on.
Kim Kardashian shared her nine-step skincare routine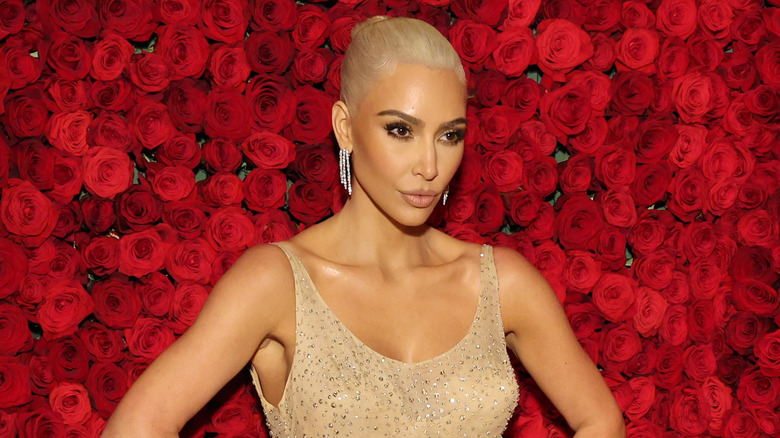 Cindy Ord/mg22/Getty Images
As it turns out, Kim Kardashian looks pretty great underneath all that makeup. And, in a bid to profit off her skincare secrets, the beauty mogul launched her own line of products, SKKN, in 2022. 
On the inspiration for the brand, she told People, "I wanted it to be as authentic as possible." The mogul even revealed her own nine-step routine for perfect skin. "It's very rare that I don't stick to it, because if you want a result, you have to put in the effort," she said.
During an appearance on "Today," Kardashian elaborated, "This is exactly what I use. It's a nine-step system but you only use eight products at the same time, one's a day and one's a night oil." 
She acknowledged that there were plenty of higher-ups who just wanted her to launch a few products and call it a day. "But at my age, there's a lot that goes into making sure my skin is well taken care of and I wanted to share exactly what I use," she said.
Even when she's tired, Kardashian doesn't neglect her skincare routine, arguing that it doesn't that long to complete, so there's really no excuse.