Proof That Prince Harry Is A Feminist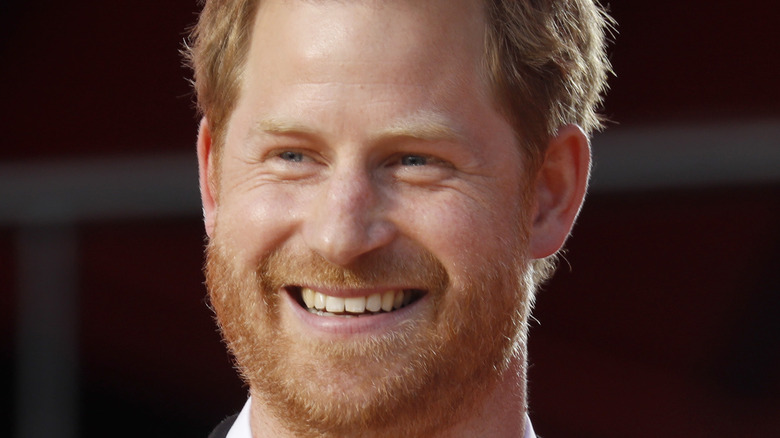 John Lamparski/Getty Images
Prince Harry is being praised by fans for how he's managing life outside the royal family, but it hasn't been an easy road for him, with the Duke of Sussex consistently criticized for his relationship with now-wife Meghan Markle essentially ever since it began. Per Stylist, in 2017, Harry made an unprecedented public statement decrying the British tabloid media for its treatment of the former "Suits" star.
Through his spokesperson, the prince argued, "Meghan Markle has been subject to a wave of abuse and harassment. Some of this has been very public — the smear on the front page of a national newspaper; the racial undertones of comment pieces; and the outright sexism and racism of social media trolls and web article comments." In fact, Harper's Bazaar argued the press was largely to blame for the couple defecting to California. 
The duke himself confirmed as such during their Oprah Winfrey interview, acknowledging "it was a large part" of why he and Meghan ultimately made the decision to leave the royal family (via BBC News). Harry has consistently earned praise for how he protected his wife, and indeed their family, during her darkest moments. 
And, as it turns out, he's got no issue making his feelings on female empowerment clear at any given opportunity.
The Duke of Sussex is a vocal proponent of women's rights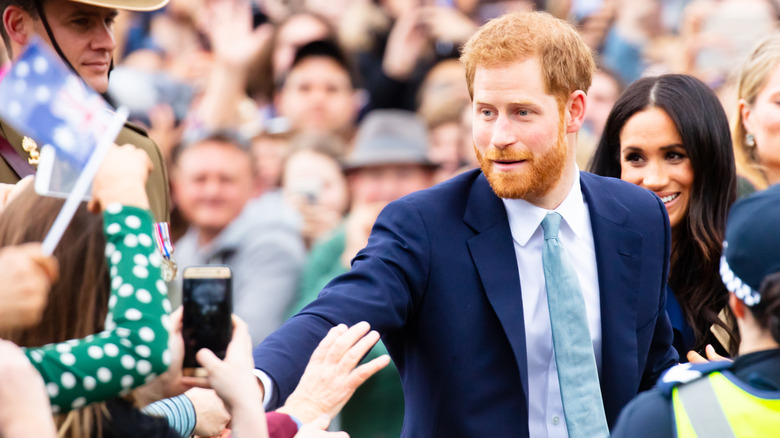 FiledIMAGE/Shutterstock
Vogue reports that, during a 2016 visit to Nepal, Prince Harry made an impassioned and staunchly feminist speech in support of young women at the Nepal Girl Summit. 
"While the unique challenges faced by girls is not a topic I have spoken much about in the past, I think it's important to acknowledge something that has become obvious to me and is already known to everyone in this room," he said. "There are way too many obstacles between girls and the opportunities they deserve. So many countries are failing to protect the opportunities of young women and girls in the way they do for boys."
Moreover, the Duke of Sussex argued that it's the responsibility of men like him to speak up for women, rather than simply relying on them to advocate for themselves, mentioning the likes of former First Lady Michelle Obama as an inspiration to us all. As CNBC points out, Meghan Markle has been a devoted activist for women's rights, in particular, since the age of 11, so it's likely her husband learned a lot from her. 
Likewise, one of the main tenets of the Sussexes' charitable foundation, Archewell, is supporting the rights of women and young girls. Over the years, they've partnered with organizations including Girls, Inc., and the National Women's Law Center, among others. 
Prince Harry has consistently defended his wife against public attacks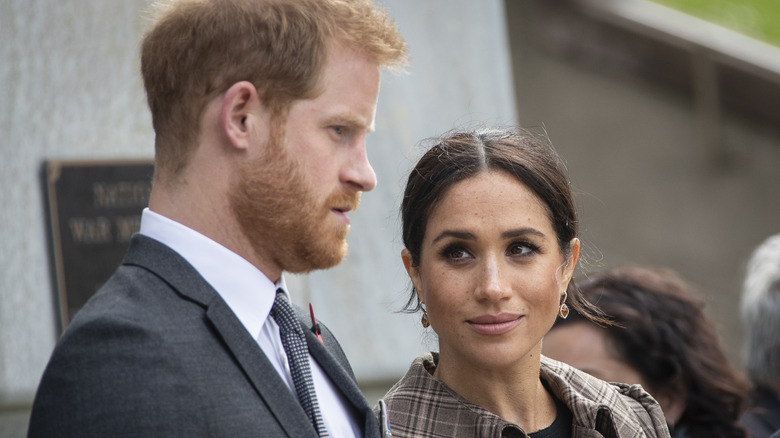 Pool/Getty Images
Although Meghan Markle and Prince Harry have run into unexpected problems with their new careers, the couple doesn't regret giving up their positions as senior working royals. However, the Duke of Sussex takes issue with how their decision has been represented by the media. 
According to The Guardian, while speaking on a panel entitled "The Internet Lie Machine," which was conducted in partnership with tech magazine Wired, Harry clarified, "The term Megxit was or is a misogynistic term, and it was created by a troll, amplified by royal correspondents, and it grew and grew and grew into mainstream media. But it began with a troll." 
It was discovered, in October 2021, that just 83 Twitter accounts were churning out a whopping 70% of the vitriolic and falsified information aimed at smearing the Sussexes. As Harry pointed out, "Perhaps the most disturbing part of this was the number of British journalists who were interacting with them and amplifying the lies. But they regurgitate these lies as truth." 
In particular, he's concerned that Meghan may succumb to the same forces that led to the untimely death of Harry's beloved mother, Princess Diana. This fear also contributed to their decision to relocate to California, as he told Oprah Winfrey (via the Independent). Considering that Harry has been defending her ever since they first started dating, it makes sense the duke is tired of it by now.