Fan-Favorite Contestants From Love Is Blind Season 2 Share Sad Relationship News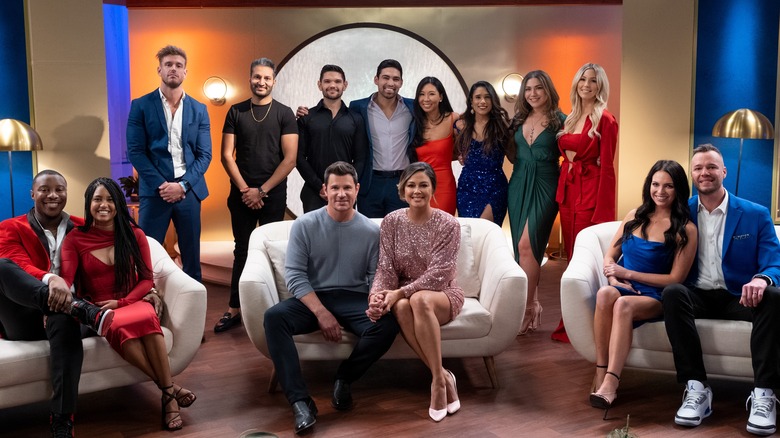 Adam Rose/Netflix
Like its first season, "Love is Blind" Season 2 came with plenty of drama, romance, and heartbreak, but viewers held onto contestants' connections and faith in the process — that is, chatting in pods until they fell in love. Hosted by Nick and Vanessa Lachey, the Netflix hit has spawned memes, celebrity shout outs, and plenty of online opinions. But for the couples who completed the central challenge of "Love is Blind" — a.k.a. got married and started their lives together — things seemed smooth sailing in the show's post-weddings reunion episode. Per E! News' roundup in March 2022, two of the six Season 2 couples remained happily married.
In a February 2022 interview after the show's reunion, available via E! News, one of the married contestants Iyanna McNeely — now Iyanna Jones according to her Instagram — reflected on the series' premise. "I believe love can be blind," she shared. "I think both people have to be completely committed to the experience and really just learn to accept their person for all that they are. But I think that it definitely can be. At least it was in my case."
McNeely ended the season married to Jarrette Jones, a contestant who was initially torn between her and Mallory Zapata. In his post-reunion interview, Jones said, "After doing this show, I think I can be a testament to someone, and say that love is definitely, truly blind." But now, the couple are sharing sad relationship news.  
This dreamy couple is calling it quits
Sadly for "Love is Blind" fans, Iyanna McNeely and Jarrette Jones' fairytale romance is coming to an end after their wedding in June 2021 — both former contestants took to Instagram to break the news, sharing identical statements captioned, "We love you all!" 
The couple wrote, "After much thought, we're saddened to share that we have separated and will begin the process of divorcing." They also explained the reason behind the split. "While we have love for each other, our lives are going in different directions, and that's okay. Coming to this decision was far from easy and we will always wish each other the absolute best," they surmised. 
The post included gratitude for their loved ones and those who have supported their experience. "To the 'Love is Blind' family and Netflix, thank you for this unforgettable opportunity and support. Each of you have brought overwhelming love and joy into our lives," they expressed. 
The couple seem to be taking everything in stride and shared that they are still thankful for their time together. For the show's part, the "Love is Blind" Twitter account also rang in their support for the Season 2 stars, posting a photo of the pair. "Jarrette and Iyanna — As you start the next chapters of your lives, thank you for opening your hearts to the 'Love is Blind' experience and sharing your journey with all of us," a post dedicated to the couple read.