Ron DeSantis's Unusual Solution To The Teacher Shortage Has Twitter In A Tizzy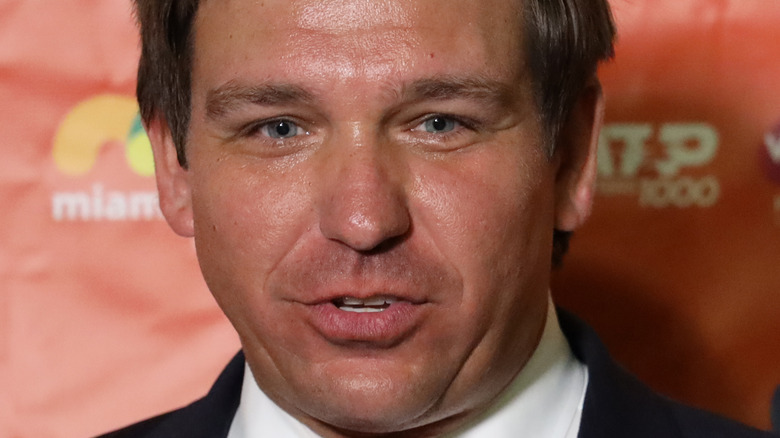 Leonard Zhukovsky/Shutterstock
Ron DeSantis is proud of his efforts to make Florida "the state where woke goes to die," as he put it in a recent news conference (via Fox News). The Republican governor has a particular interest in taking the "wokeness" out of schools, to the delight of supporters and the disgust of opponents. Thanks to DeSantis, Florida schools were banned from mandating masks indoors during the COVID-19 pandemic, and made to adhere to the so-called "Don't Say Gay" bill (via MSNBC). For his newsmaking legislation, DeSantis made the TIME 100 List of influential people in 2021 — and his latest initiative might just land him in this year's roundup, as well.
The new school year finds the Sunshine State scrambling to find teachers. As of June 2022, there were nearly 6,000 teaching vacancies, a 53% increase from the previous year (via WFTV). Particularly needed are educators certified in core areas such as English, general science, math, and special education (per the Florida Department of Education). The state has increased starting salaries in an attempt to attract more applicants, but the situation is still dire. DeSantis thinks he has the solution: hiring military veterans.
Calling Florida "the most veteran- and military-friendly state in the country" (via his press release), DeSantis just announced the new Military Veterans Certification Pathway, a study plan program that puts service members into the classroom to fill the teacher gap. "Florida wants you to teach in our classrooms!" he tweeted.
Many Floridians are retorting, "No, we don't."
Twitter users say Ron DeSantis's plan is an insult to teachers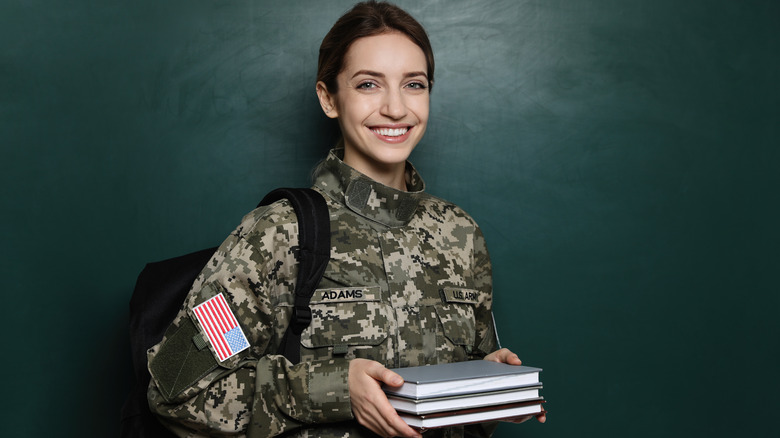 New Africa/Shutterstock
The only requirements for Govenor Ron DeSantis's new teacher certification pathway for veterans are four years of military service, 60 college credits, and a passing grade in a subject skills test. Vets will be given a temporary certificate while studying for their undergraduate degree. In a recent news conference (via WFLA), DeSantis denounced traditional schools of education for making teachers "a cog in the indoctrination machine," adding that it's often better just to learn on the job. (DeSantis himself graduated from Harvard Law School).
Naturally, the topic exploded on DeSantis's Twitter feed. Though a few thought the initiative was brilliant, many more critics argued that a classroom of crying preschoolers or sullen middle-schoolers is a very different kind of combat zone. One critic retorted, "We want qualified, certified, well educated teachers. If a vet meets that basic criteria, then great. But not until then." 
The self-described daughter of two teachers agreed: "I'm telling you that if you have no experience or education degree, the kids will suffer and lack necessary skills. Teaching is not a 'plug in and play' profession." And a former service member called the pathway offensive and retorted, "You are flushing your own state down the toilet. How many teachers quit or left Florida?"
Others objected to veterans being tossed into an environment of overcrowded classrooms, poor pay, and a state where the "Don't Say Gay" and "Stop WOKE" acts dictate what a teacher can say about gender identity and racism. As a follower noted, "Why would anyone want to be forced to teach fake history?"