The Truth About Holland Taylor's Sexuality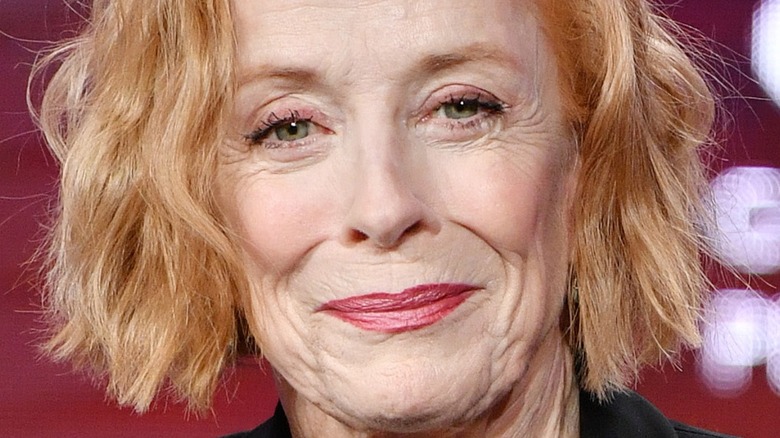 Amy Sussman/Getty Images
Holland Taylor has been an icon of the stage and screen for decades. Even if you don't know her name offhand, you'll likely know one of her countless roles. Among others, Taylor played Professor Stromwell in "Legally Blonde." She also featured in "The Morning Show" and "Two and a Half Men," on TV, as well as in movies including "The Wedding Date" and "The Truman Show." Suffice to say, Taylor has done it all and shows no signs of slowing down.
One of her most notable roles was in the seminal queer show "The L Word." When Vogue asked whether Taylor realized at the time she had a large gay fanbase, thanks to her character, Peggy Peabody, the actor admitted, "It was probably around then. You know, I have a very hard time remembering the sequence of things in life because they're always hooked to a job, right? My life is so inconsistent, I think . . . when I did that job, I must have been 37."
She did acknowledge, however, "Peggy Peabody was such a great character, and it was such a groundbreaking show." In fact, Taylor told Cosmopolitan that if her fan-favorite character didn't return in the "L Word" reboot, "It'll be a crime against nature and god." And, when it comes to her own sexuality, the outspoken star is similarly upfront.
The Hollywood stalwart never felt the need to come out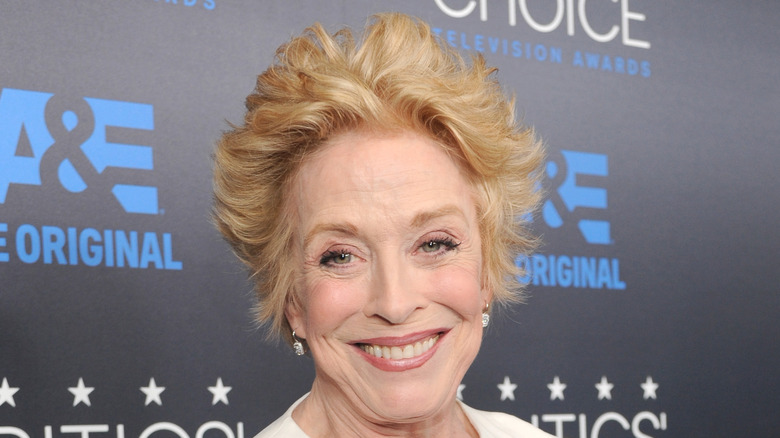 Stefanie Keenan/Getty Images
She may have played a legendary queer character in "The L Word," but there's been some confusion about Holland Taylor's sexuality over the course of her career. The esteemed actor doesn't understand it, explaining succinctly, during an interview on WNYC, "I haven't come out because I am out. I live out" (via Yahoo!). Moreover, when asked how she felt about marriage, on "Death, Sex & Money," the star admitted it had never occurred to her because she'd only ever had relationships with women.
Taylor's girlfriend was interested in the idea but, if they went ahead, the actor clarified, "It would be a very private thing. I would not do that publicly" (per Yahoo.) She was open to it, however, acknowledging, "As a symbol, as a pledge, as a plighting one's troth I would see it, that it would be a wonderful thing to do." Taylor explained to The Advocate that she hadn't purposely been avoiding discussing her personal life in interviews early on, it just wasn't the done thing.
"I'm more free talking about my personal life now because people do speak very personally in interviews. But when I was younger, I didn't have a big public marriage or relationship with children and a big public life. I just lived my life normally. I wasn't behind closed doors," the actress clarified to The Advocate.
Holland Taylor and Sarah Paulson are total couple goals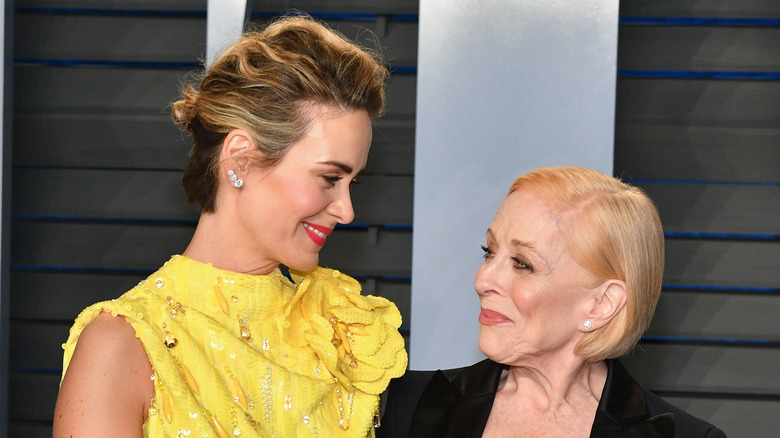 Dia Dipasupil/Getty Images
In keeping with her newfound desire to speak more candidly, Sarah Paulson and Holland Taylor's relationship has increasingly come to the fore as both actors offer glimpses into their home life together. Taylor opened up to Diva about how the happy couple was quarantined during the COVID-19 pandemic, including taking regular walks with Paulson's dog. As for what she loves about the "American Horror Story" star, Taylor was effusive.
"She's filled with tremendous variety. She's full of feeling, which is another reason why she's such an amazing actress, and she's full of fun and a very positive person with enormous goodwill," she gushed. "So these are very lovely qualities to be around and to be inspired by. And we have a puppy" (via Diva) As for why they decided to go public with their relationship, Taylor reasoned to The Advocate that it simply made sense as their profiles grew. 
Besides, she felt no need to hide the fact she was in love. Paulson and Taylor began dating in 2015, per The Guardian, and it's safe to say they're catnip for social media, who coos over them and desperately wishes to replicate what the couple has. As Paulson rationalized, "If it allows for more freedom, in terms of the way people think about what's possible for them, then I'm all for the fandom of it and the excitement around it and the interest in it."