Why Queen Elizabeth's Stunt Double Was Just Sent To Prison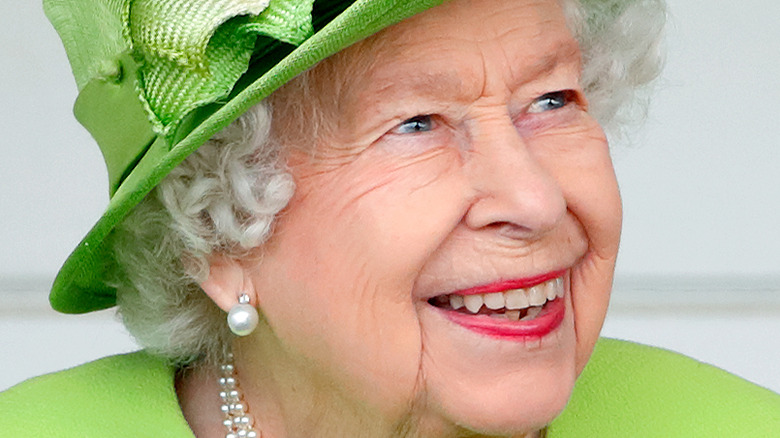 Max Mumby/indigo/Getty Images
It's no secret that Queen Elizabeth II has been having a tough year dealing with ongoing health concerns. This year alone, the queen has been diagnosed with COVID-19, as well as struggling with mobility issues that have kept her from some of her favorite annual events, and even part of her Platinum Jubilee celebrations (via Us Weekly). Fortunately, she has been able to make do with her inability to attend some events in person. After the COVID-19 pandemic lockdown, the queen has become seasoned in attending events virtually, something she has had to continue to utilize even as life goes back to normal.
So, when news broke that the queen's stunt double was arrested, some fans may have assumed she had a double filling in for her when her health concerns were too much to ignore. That is far from the case, however.
The stunt double in question is actually a man named Gary Connery. According to CNN, he played the queen in a skit for the 2012 Olympic Games, which took place in London. The skit included a performance by the actual queen, where she starred alongside Daniel Craig as James Bond. It ended with "the queen" jumping from a plane.
Of course, the elderly Queen Elizabeth couldn't perform that stunt herself, so the help of a double was enlisted. Now, that man has found himself involved in a severe and shocking legal case.
Connery was arrested on serious charges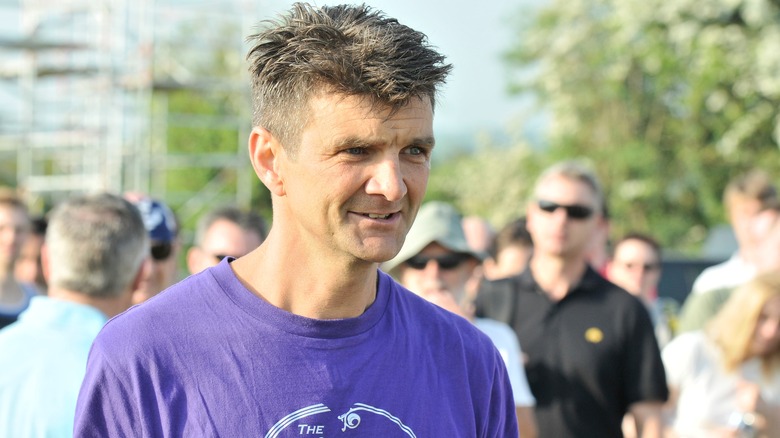 Gary Connery Archive/Getty Images
According to CNN, Gary Connery was arrested for domestic violence charges after a startling attack on his girlfriend. The violent attack, in which Connery threw his girlfriend down a flight of stairs, resulting in her shoulder shattering, took place in October of 2020. 
Connery was convicted of grievous bodily harm without intent at Oxford Crown Court this week. Tanya Brass, the victim of the violence, spoke in court, stating, "I just want Gary to take responsibility for what he has done and how he has impacted my family." She added, "The impact on every aspect of my life has been enormous" (per the BBC). 
Judge Nigel Daly ruled in favor of Brass, stating to Connery in court, "You show no remorse for what happened, and you do not seem to accept any fault on your behalf." He added that he does not see rehabilitation as an option for Connery and imposed a restraining order.
"Throwing somebody down the stairs, as I am quite satisfied you did, can result in extremely serious injuries. In this case, it resulted in injuries which were serious," Daly added. Connery had no prior convictions. 
Gary Connery is not the only double Queen Elizabeth has had
Believe it or not, Gary Connery is not the only person to double as Queen Elizabeth II. According to Marie Claire UK, the queen has had a body double for the last 30 years. That double is a woman named Ella Slack, who came into the equation while she was employed at the BBC. Slack told the YouTube channel, "Great Big Story," about her time as a body double for the queen. It started when the BBC got footage of the queen, but the sun was in her eyes, and she hoped the broadcasting company could do something about it. In came Slack.
Slack recalls saying to the producers, "'Would you like me to come and stand in the position for you?' because all the stage managers were six-foot men!"
However, she made it clear that she is not doing more than standing in. "I've probably been a 'stand-in' Queen more than fifty times. A stand-in not a lookalike — I don't look like the Queen — but I'm the same sort of stature and height."
Slack has ridden in the royal carriage, but that's about where it ends for the double. She's never sat on the throne, nor has she attended any events in place of the queen. She does, however, occasionally fill in for the queen at rehearsals for big events!