Are Melania And Donald Trump Compatible Based On Their Zodiac Signs?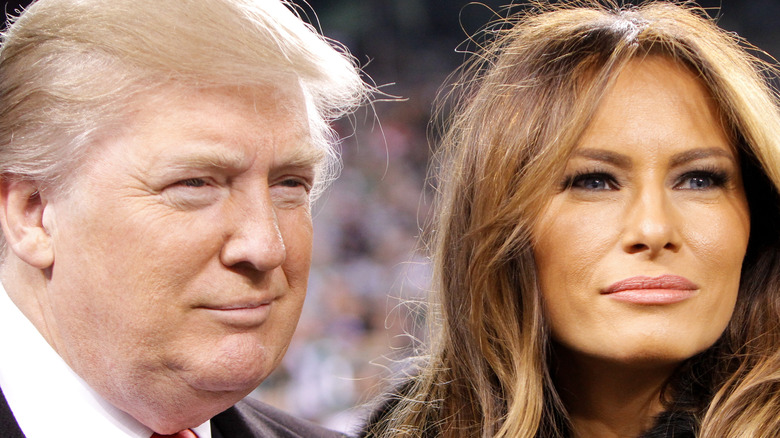 Debby Wong/Shutterstock
Donald Trump made headlines for his marriages to women like the late Ivana Trump and Marla Maples, but it was his relationship with model Melania Knauss that really had people talking. Donald first met the young model during New York Fashion Week in 1998 when he was 52 years old and she was just 28. The future President was said to be so taken with the model that he gave her the phone numbers to all of his homes and offices, per Biography.
The first year of their relationship was reportedly a rocky one, and the duo broke up and got back together many times. However, the two eventually worked through their issues, and in 2001 Melania moved into Trump Tower with Donald after officially becoming an American citizen.
In 2004, Donald proposed to Melania at the Met Gala with a lavish $1.5 million ring (via Cosmopolitan). The following year the couple tied the knot in Florida in front of a plethora of guests, making Melania the stepmother to Donald's children, Ivanka, Eric, Donald Jr., and Tiffany. In 2006, the couple welcomed their own child together, son Baron. In 2015, Donald announced his run for President. The following year, he won the election and Melania became the First Lady. Their relationship was under more scrutiny than ever at that point, and everyone seemed to take notice.
Over the years, there have been many rumors about the state of the couple's marriage, and some fans want to know if the pair are compatible on a zodiac level.
Donald is a Gemini and Melania is a Taurus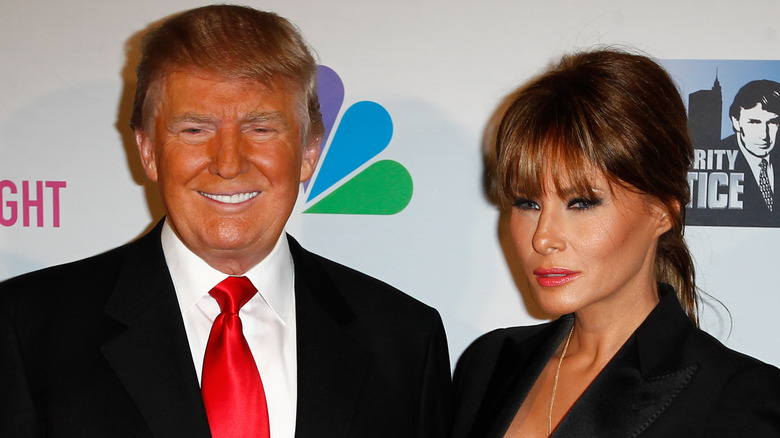 Debby Wong/Shutterstock
Donald Trump was born on June 14, 1946, which makes him a Gemini sun sign (via Astro Charts). According to Thought Catalog, Gemini men are very outgoing and love to keep things exciting in their lives. The air sign is known for being very competitive and multi-tasking, which appears to describe Donald very well. Male Geminis are also said to be great communicators, but can also be good liars. Astroyogi notes that Gemini men may also be fickle in their romantic relationships and can move from one partner to another quickly. They can also be highly emotional and even have a reputation for being the least trustworthy people in the zodiac world.
Meanwhile, Melania Trump's birthday is April 26, 1970, making her a Taurus (via Astro-Seek). Taurus women are known for being beautiful and having a taste for a lavish lifestyle (via Astrology.com). They also had to have impeccable taste when it comes to material things and has a reputation for being very determined and goal-oriented. The earth sign can also be hard working but needs to have downtime to relax. Mom Junction notes that female Taurians have a calm and patient nature while also being known for their planning and organizing skills. In addition, they can be scared of the future and change.
While Donald and Melania both seem to live up to their sun signs, does this make them a good romantic match?
Donald and Melania Trump aren't an ideal match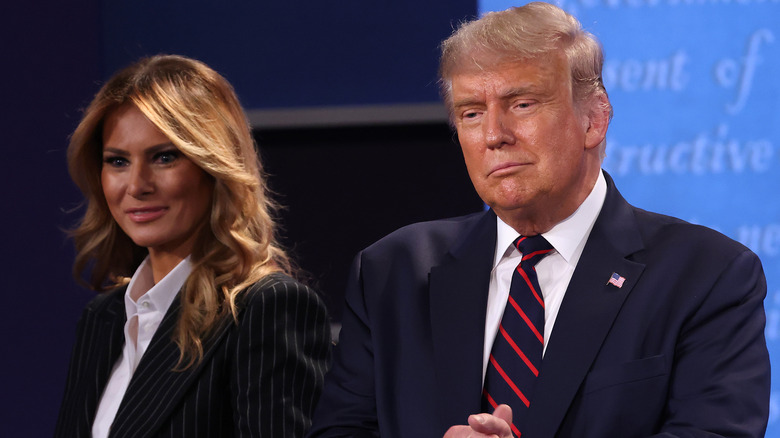 Win Mcnamee/Getty Images
According to Popular Astrology, the pairing between a Gemini man and a Taurus woman like Donald and Melania Trump could prove to be a great match in business. The outlet notes that the two would likely work well together whether they are in a board room or simply teaming up for a home renovation. However, the pair may find themselves getting argumentative, which could lead to some big problems in the relationship. My Today's Horoscope reveals that Taurus women can often be a bit too clingy for a Gemini man, which can leave them feeling that there's too much pressure on the relationship. The two signs are very different, but for Donald and Melania, their birth charts could offer some insight into how their relationship works.
Elite Daily notes that Donald and Melania's sun signs make them a bit of a mismatched pair. However, the outlet suggests that their Venus signs — Donald is a Cancer and Melania is a Taurus — could mean that they do have the power to make it through the long haul and get through any strange twists and turns that life throws at them. The pair's Mars signs also seem to hint that Donald keeps Melania's life interesting and is an escape from boredom during dull moments.
So, it appears that Donald and Melania may not be a perfect zodiac match, but they seem to keep their relationship together.