Which Hairbrush Is Best To Prevent Breakage?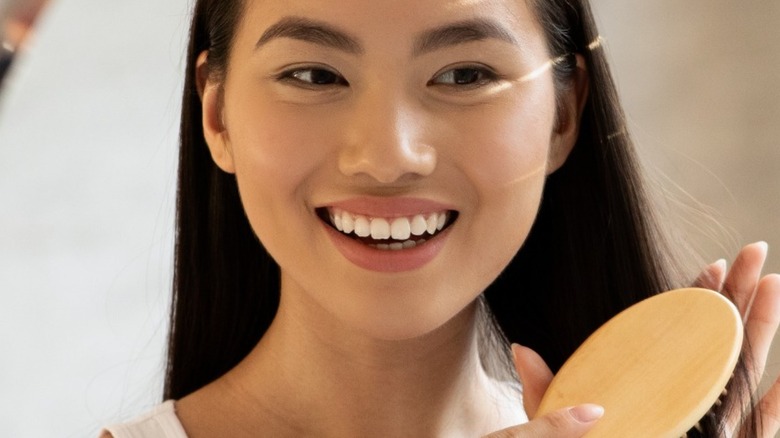 Prostock-studio/Shutterstock
Snap! There goes another hair strand, breaking right in the middle and causing you heartbreak over more wispy, uneven lengths in your crown of glory. If your locks are dry or damaged, the scales on your hair strands — which are normally smooth and straight — go a little haywire, "resulting in frizz, brittle texture, and eventually breakage," L'Oréal Paris noted.
The good news is, hair breakage can be minimized. Stress, nutrition, and certain medical conditions can all lead to damaged hair, as Allure reported, and can be managed with help from your doctor. Dermatologist Corey L. Hartman, M.D., FAAD, told Allure that extra breakage may be happening due to your natural hair texture. "Breakage is a huge problem especially for those with curlier, coarser hair textures."
Everyday styling can also contribute to hair breakage, according to Fekkai. The heat from blow-dryers, curling irons, and flat irons can wreak havoc, as can hairstyles that pull on the hair strands, like ponytails and braids. The brush you use may also have an impact on your hair's health.
Use the right brush to detangle your hair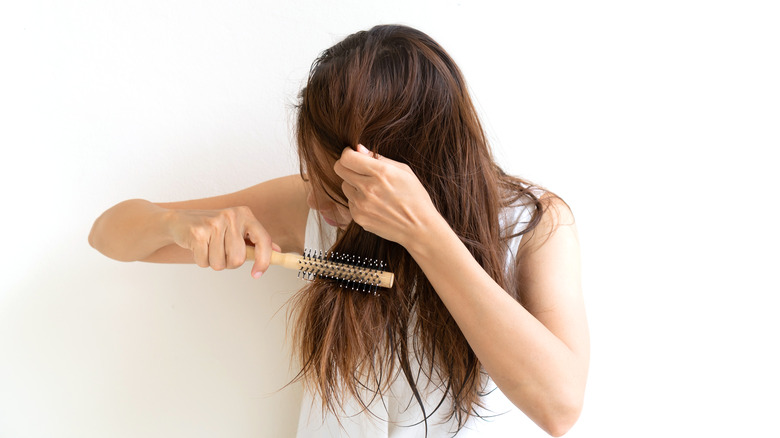 Opat Suvi/Shutterstock
Before you start to curl, twirl, or straighten, detangling your hair is an important step in preventing mane breakage. Garnier suggests being gentle, working in sections, and starting from the ends of your hair, gradually working your way up to the crown. All, of course, while using the right brush.
According to the American Academy of Dermatology Association, your hair will break more easily if you brush it while it's wet, so extra care is required if you're detangling it right after shampooing. "To detangle wet hair after a shower, choose a brush with widely spaced, synthetic bristles for gentle brushing," advises Good Housekeeping Beauty Lab Analyst Chiara Butler. The outlet recommends the Kareco Tangle Buster Styler, a paddle brush that has a combination of nylon and boar bristles, as the "Best Hair Brush to Prevent Breakage."
To detangle wet or dry hair, hairstylist to the stars Gabrielle Corney — via  Harper's Bazaar — recommended Denman brushes. "Denman brushes are among the best detangling brushes for a majority of hair types and textures. They have many styles and sizes to choose from to suit just about anyone's needs," she said If you have curly hair, celebrity stylist Clayton Hawkins vouches for the Tangle Teezer Naturally Curly Detangling Brush. "The brush's long, firmer teeth specifically designed for naturally curly and coily hair speed up the detangling and flex seamlessly over tangles," he shared with CNN Underscored.
Styling brushes to prevent hair breakage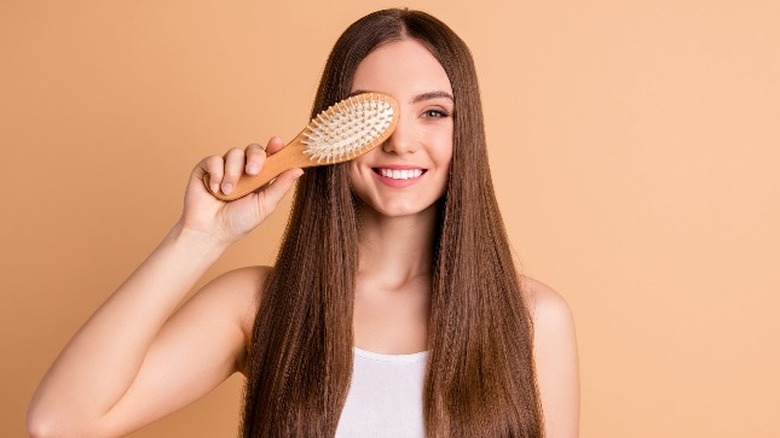 Roman Samborskyi/Shutterstock
Once your hair is detangled, you can proceed with the styling process. "I highly recommend the use of multiple hairbrushes for different styling needs," hairstylist Ro Morgan told CNN Underscored. Real Simple suggests styling with the Conair Performers All-Purpose Brush with boar bristles. This brush is great for people who have more sensitive scalps and finer hair.
Hair expert Stephen Knoll chimed in, "With fine hair you should use a brush that has more bristles because it will move through the hair more easily," (via CNN Underscored). Morgan recommended the Felicia Leatherwood Detangler Brush for any hair type, but especially for styling curly hair. "The flexible bristles are spaced wide enough to prevent breakage and help give curl definition," he said.
There are also brushes that may do more harm than good. "Stay away from really spiky nylon brushes that are pointy in different lengths because they could cause breakage," notes celebrity hair guru Garren via Bustle. And Knoll told CNN Underscored that people should "avoid brushes that have rounded tips . . . because those little bulbous caps get caught and they snap and break the hair."