General Hospital Spoilers Have Fans Guessing Who Starts A New Reign Of Terror In Port Charles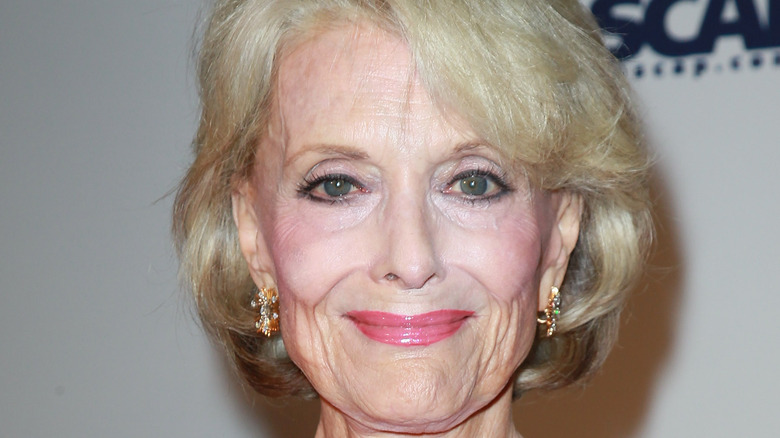 David Livingston/Getty Images
"General Hospital" has had a lot of characters you'd hate to know in real life. That includes some amazing villains throughout the years including Cesar Faison (Anders Hove), Jerry Jacks (Sebastian Roche), and Helena Cassadine (Constance Towers) among others (via Celeb Dirty Laundry). This has led to some shocking plot twists, such as Cesar's creepy obsession with Anna Devane (Finola Hughes), which led him to torture her for decades, and the time Helena Cassadine cursed Luke and Laura Spencer (Anthony Geary and Genie Francis) and spread her evil for ages.
The San Francisco News commented in 2021 that "GH" had two great villains in the past with Helena and Cesar, but new villains worthy of their predecessors were on the canvas — Peter August (Wes Ramsey) and Cyrus Renault (Jeff Kober). According to Soap Opera Network, Peter was killed after a conflict with Felicia Scorpio (Kristina Wagner). Meanwhile, Cyrus was shot and captured by police commissioner Jordan Ashford (Tanisha Harper), per Soaps in Depth.
As Soaps in Depth also explains, deranged serial killer Ryan Chamberlain (Jon Lindstrom) — who started his killing spree in the 1990s and was presumed dead for several years — returned to the canvas in 2018. He is currently faking locked-in syndrome while serving time in Spring Ridge, a minimum security prison (via Celebrating the Soaps). Per Michael Fairman TV, Ryan is also father to the evil Esme Prince (Avery Pohl) so the apple doesn't fall too far from the tree.
While most of the "GH" villains are incarcerated or dead, it's time for another threat to hit Port Charles, and speculation abounds as to who it could be.
There may be a hidden clue in the trailer as to who the mysterious person is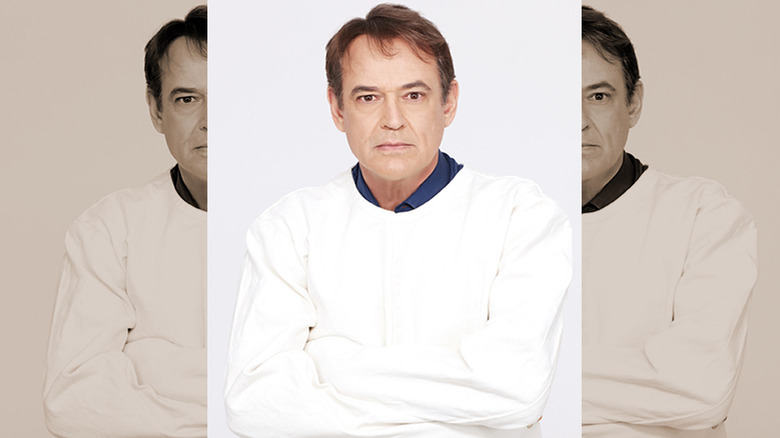 ABC/Craig Sjodin
"General Hospital" released a trailer on Twitter this week advising the viewers to "Prepare to be amazed." The trailer depicts several couples getting romantic, but the tone gets dark with the narration, "...danger looms in the shadows." A gas grill at the Quartermaine boathouse is on fire as a pair of worn leather gloves are taken by someone off camera. A gloved hand then swings a hay hook downward.
Immediate speculation targeted notorious serial killer Ryan Chamberlain with one fan writing on Twitter, "Wonder if Ryan somehow got out of Spring Ridge!" However, the hand wielding the hook is a right hand and Ryan cut off his own right hand to pretend to be dead per Blasting News, ruling him out. Ryan missing his right hand led to the Twitter response, "Hmm why would Ryan need a hook don't he already have one lol."
Wild speculation on the social media site continued, with one person writing, "I hope the horse goes on a rampage and kills Cody..." The dislike of the character Cody Bell (Josh Kelly) went on, with one fan tweeting, "Somebody dies I hope it's cody."
A frame by frame analysis of the trailer shows a possible Easter Egg — the right arm with the hook may have a tattoo on the inside wrist at the glove line.
Whoever this mysterious evildoer may be, "General Hospital" fans are definitely interested to find out.