Dr. Fauci Makes A Huge Announcement About His Future
Paul Morigi/Getty Images
Dr. Anthony Fauci has been the director of the National Institute of Allergy and Infectious Diseases since 1984, leading the country's response to epidemics including HIV/AIDS, the West Nile virus, the anthrax attacks, pandemic influenza, Ebola, Zika, and of course, COVID-19. When the pandemic first rocked the United States in March 2020, Fauci frequently clashed with then-president Donald Trump on how the country should handle the virus and the treatments used. "I would try to, you know, calmly explain that you find out if something works by doing an appropriate clinical trial; you get the information, you give it a peer review," Fauci told The New York Times. "And he'd say, 'Oh, no, no, no, no, no, no, no, this stuff really works.'"
Tensions ran so high that Trump tried to have Fauci fired. The doctor also revealed that he was given security protection after his family received death threats, per CNN. While things calmed down with the election of Joe Biden, Fauci announced in July that he was looking to step down from his government duties before the 2024 presidential election. "What happens between now and then, I have not decided," he told The Hill. "But the one thing I do know is that I have other things that I want to do in a professional way that I want to have the capability — while I still have the energy and the passion — to do them."
And now it appears Fauci has made his decision on when he'll be moving on to his "next chapter."
Dr. Fauci will leave his government job in December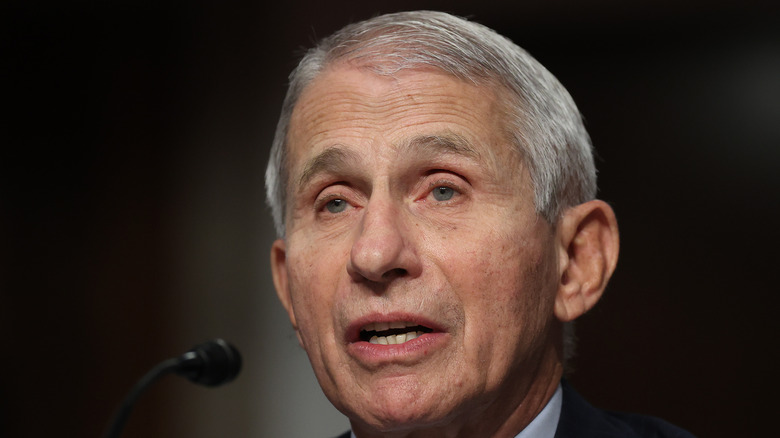 Chip Somodevilla/Getty Images
Dr. Anthony Fauci has announced that he will step down as the director of the National Institute of Allergy and Infectious Diseases (NIAID) and as chief medical officer to President Joe Biden in December 2022, per CNN. "I will be leaving these positions in December of this year to pursue the next chapter of my career," Fauci said.
He hasn't revealed those future plans yet, but Fauci insists that he is not retiring. He has also made it clear that politics — particularly Republicans calling for him to step down during the COVID-19 pandemic — did not impact his decision. "It has nothing to do with pressures, nothing to do with all of the other nonsense that you hear about, all the barbs, the slings and the arrows. That has no influence on me," Fauci said, per CNN.
While the GOP might be happy to see him go, President Biden had nothing but praise for Fauci. In fact, Biden said that when he won the 2020 election, one of his first calls was to Fauci, asking him to extend his time as chief medical advisor to help the country navigate COVID-19. "In that role, I've been able to call him at any hour of the day for his advice as we've tackled this once-in-a-generation pandemic," the president said in a statement. "His commitment to the work is unwavering, and he does it with an unparalleled spirit, energy, and scientific integrity."