Twitter User Tracks Down The Exact Shirt Carmy Wears In The Bear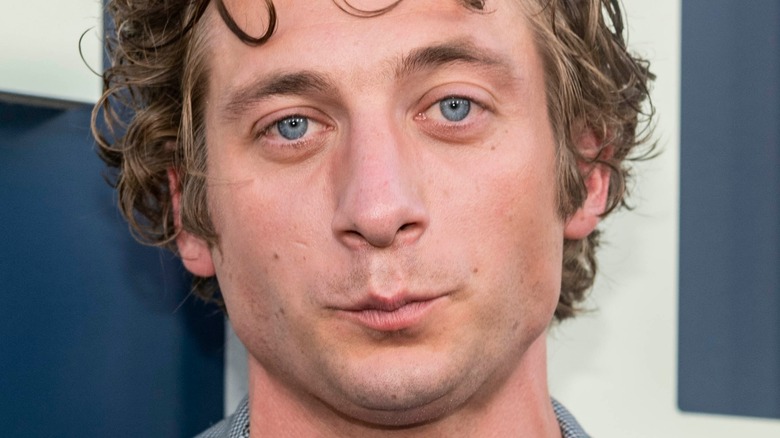 Eugene Powers/Shutterstock
Unless you've been living under a rock this past summer, you've probably heard of the FX/Hulu smash hit "The Bear." Featuring one of the favorite cast members from "Shameless," fans were wondering after the show ended if we would see Jeremy Allen White in another captivating television role. Since the "Shameless" ending, White has been working on another loveably disheveled character. In "The Bear," White plays Carmy, a tormented soul but talented chef who takes over his late-brother's hole-in-the-wall Chicago sandwich shop (via IMDb). Throughout the show, White's character, Carmy, not only grapples with his complex feelings of grief and returning to his blue collar roots, but leading a tight-knit team rough-around-the-edges employees. 
Not only has the show exploded amongst critics, receiving an impressive rating of 100% on Rotten Tomatoes, but the internet's reception of White as a flawed, complicated heartthrob has thousands of people co-signing their love of his relatable character.
One viral tweet accompanied with a photo of White's character reads, "Im too scared to watch The Bear because I'm actively in therapy to stop falling in love with men who look like this." Over the course of the first season's eight episodes, Carmy sports a signature look — a basic fitted white tee that sits underneath his cooking apron. A seemingly distinct part of his character, a Twitter thread about the garment is going viral.
Jeremy Allen White's character on The Bear wears a $90 white tee
While channeling a world fine dining chef that returns to his hometown of Chicago, Jeremy Allen White's character Carmy on "The Bear" makes for an intriguing main character, but one aspect of his rugged look has Twitter users chiming in. One user researched Carmy's uniform t-shirt he wears in every episode of the FX/Hulu series.
"If you're a fan of Menswear like me, and adored The Bear, you were probably wondering what T-shirt Carmy was wearing. I have the answer for you!" the user tweeted. "It's a visibly heavier material, with a sturdy collar, shorter sleeves (for muscle viewing obviously) w/ a [sic] inch shorter hem." In a thread, the user found that Carmy wears two different menswear tees — the first is a Japan-made Whitesville t-shirt, which costs a whopping $90 for a 2-pack. It's the price to pay for the brand's fine cotton material and high stitch count. The second tee is from the German company Merz b. Schwanen, retailed at 74.90 euros (roughly $76).
You may be wondering: why is this gaining so much traction on the internet? The original poster said in the thread about the white t-shirt choice, "The thicker t-shirt material has two benefits: it holds itself away from the body like an architectural piece of suiting and therefore reads as a bit more formal than a lighter fabric t-shirt. It also skims any rolls or softness for a more cut looking figure."
How The Bear challenges the masculine protagonist archetype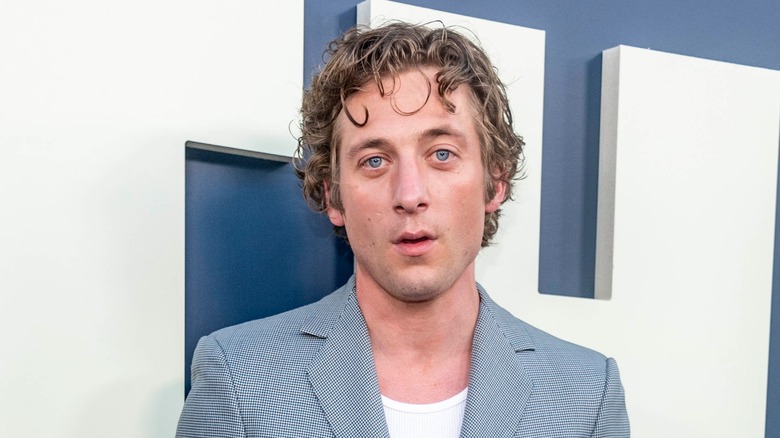 Eugene Powers/Shutterstock
While it's obvious fans can't stop talking about Jeremy Allen White's character, Carmy, on "The Bear," neither can critics. The show, which is an ideal binge-worthy show consisting of approximately 30-minute episodes, was recently renewed for a second season (via Deadline). It has us shaking a leg anticipating to see what will be in store for Carmy, not only a refreshing male television character critics can't stop talking about, but one that is a shift in television culture as we know it.
In an article by The Atlantic entitled, "TV's Best New Show Is a Study of Masculinity in Crisis," writer Sophie Gilbert examines how the male characters challenge masculinity on the silver screen. "Throughout its eight episodes, The Bear is preoccupied with masculinity, and almost anthropological in its analysis of the ways in which men and male-dominated cultures are set up to fail," Gilbert writes. These detailed layers of characters only enrich the show, which is heightened by its fast-paced nature, making the audience feel like they're in the kitchen with the oftentimes sweaty, overworked, and underpaid staff that weather the storm together, creating a family-like unit.
Vulture TV writer Jen Chaney writes: "'Thank you, chef' becomes the catchphrase of the kitchen. It's also what animates all of the principal characters, who are flawed, lovable, and fully, blessedly human."