Why The Internet Is Convinced Armie Hammer Is The Lovechild Of A Popular Soap Star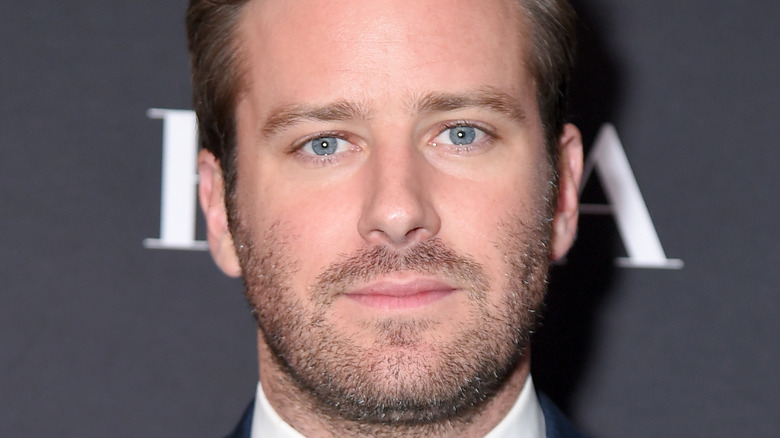 Michael Loccisano/Getty Images
Armie Hammer is worth more than you think primarily because, despite being one of the most bankable stars in the world, he was born into considerable wealth. Entertainment Weekly confirms the actor's great-grandfather was Armand Hammer, the legendary businessman, industrialist, and philanthropist, who ran Occidental Petroleum until his death. Suffice to say, the energy heir was a celebrity even before breaking out in "The Social Network." 
Hammer complained, "My entire life had been this long, pressured conversation about the family I represented" but it certainly hasn't hindered his acting career. What has had a negative impact on Hammer's stratospheric rise are disturbing allegations of sexual abuse and cannibalism, as Complex details, which gained traction in early 2021 after an anonymous Instagram account attempted to expose the Hollywood star for who he allegedly really is.
Moreover, the docuseries "House of Hammer" looks set to uncover the family's deepest, darkest secrets, per the Los Angeles Times, who teased that his sex scandals are just "the tip of the iceberg." Hammer's heritage is also being called into question in an entirely different way by soap opera fans, however, who believe the "Rebecca" star might actually be descended from an entirely different, well, dynasty.
Dynasty's John James looked remarkably like Armie Hammer
Could Armie Hammer be part of another notable Hollywood lineage? As I Heart Hollywood reports, soap opera die-hards have been pointing out the striking resemblance between the "Call Me By Your Name" star and soap icon John James, even suggesting Hammer might be his secret love child. James is an industry stalwart most well-known for playing Jeff Colby in both "Dynasty" and "The Colbys." He also enjoyed recurring roles on "The Love Boat," "All My Children" and "As the World Turns," among many others. 
Hammer, meanwhile, is the hunky star of "The Man From U.N.C.L.E," "The Lone Ranger" and "Death on the Nile." Although their ages make sense for James being Hammer's father, since he was born in 1956 and the younger actor in 1986, it's unlikely they're actually related. James has two kids of his own, while Hammer shares a son and daughter with estranged wife Elizabeth Chambers, who posted a family photo in March 2022, per People. The former couple is doing their best to co-parent amidst Hammer's many scandals. 
We'll have to wait and see whether "House of Hammer" touches on the supposed connection between Hammer and James, but suffice to say, soap fans reckon they know what's really going on with at least one member of the mysterious family.