What Is Cassadee Dunlap From Cheer Doing Now?
For those who watched "Toddlers & Tiaras" while it was airing on TLC, you may vaguely remember "Cheer"s Cassadee Dunalp appearing on the reality show in 2011 (via IMDb) and its spin-off "Cheer Perfection." Dunlap eventually found further success at Navarro College in Texas, participating in the Bulldogs Cheer Team. She joined the cast of Netflix's docu-series "Cheer" soon after in its second season, alongside her best friend, Gillian Rupert (via Netflix Tudum).
In the fourth episode of season 2, "Mining for Tenths," Dunlap spoke of how her time in beauty pageants helped set her up for the world of cheerleading. "I don't think I ever struggled with confidence. Being in pageants growing up, it did help me. It helped me a lot," she said (via Netflix). "When you're on stage by yourself, I'm gonna either win this or I'm gonna lose this. There's no team to pick you up ... pageants definitely teach you how to smile through the pain."
Dunlap's confidence helped her get far during her time at Navarro college. But what's the "Cheer" star up to now?
Cassadee Dunlap is still cheerleading
Cassadee Dunlap initially joined Navarro for the 2019-2020 season and returned for 2020-2021 (via Newsweek). Like many of her "Cheer" teammates, Dunlap also cheered for Cheer Athletics Cheetahs for a while (via Instagram). But as Dunlap said in the final episode of "Cheer" season 2, she was ready to move on to her next adventure. "Cheerleading, it's not everyone's future," the star said (via Netflix). "And so, I decided that I wanted to start my future now where she still wants a shot at that ring," Dunlap concluded, referring to her best friend and roommate, Gillian Rupert.
It seems that Dunlap couldn't keep away from cheerleading for long, as she announced in June 2021 that she "made the decision to continue cheering" for the University of Central Arkansas's cheer squad. She's following in the footsteps of other members like Maddy Brum, who's now cheering for Texas Tech.
And, of course, Dunlap decided to join her Navarro alumni for one last round of "Cheer" related content, taking part in the 2022 Cheer Live tour.
Dunlap recently took part in the Cheer Live 2022 Tour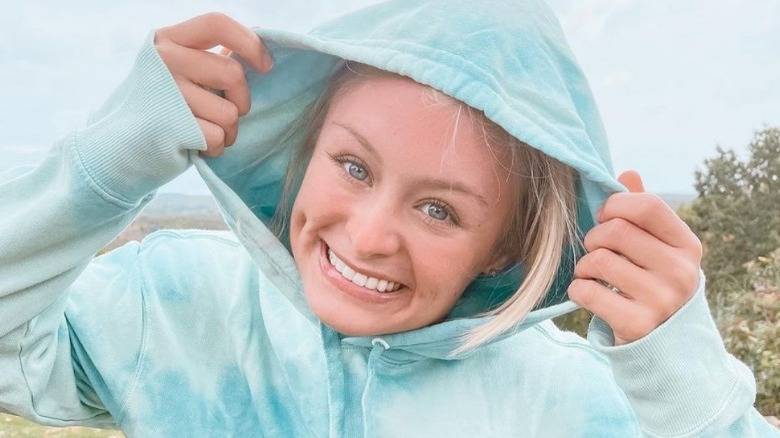 Instagram
Reunited with the likes of Gillian Rupert, Maddy Brum, Gabi Butler, Angel Rice, and Morgan Simianer, Cassadee Dunlap had the time of her life performing for the 2022 Cheer Live tour — as evidenced by the multitude of posts on her Instagram feed. Dunlap obviously enjoyed the time she had with her fellow Navarro teammates, posting a heartfelt goodbye once the tour came to an end in July.
Having been at "a loss for words for a couple of weeks," Dunlap took to Instagram to share her love and appreciation for being part of such a monumental show. "I am so blessed to be a part of something so incredible, unforgettable, inspiring!" she wrote. "The memories created, the friendships made, the experience of being a part of something so much greater than any of would have thought." Dunlap concluded that Cheer live "will forever hold a huge place in my heart."