How A Single Tweet Led To The Conception Of The Newest American Girl Doll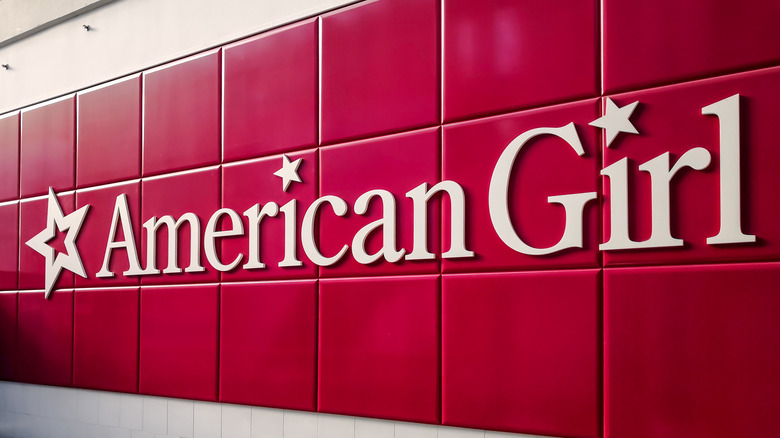 JHVEPhoto/Shutterstock
If we reflect back on our childhood selves, perhaps what comes to mind is a certain clothing item, movie or television show, or toy that brought us some significant joy.
Though it may seem trivial to other events or aspects of our upbringing, the importance of representation — specifically in the way our toys look — isn't to be underestimated. Metro Parent reported that although the 2019 census stated that Black people make up 13.4% of the U.S. population, while Latinos approximately account for 15.3%, not enough diverse representation is reflected on toy shelves. However, brands like Healthy Roots Dolls have tried to combat this disparage by making Black girl dolls with different hair textures, positively impacting the demographic they're catering to.
Other notable name brands are stepping up their game, too. Since its inception 1986, American Girl has provided young girls with not just a doll to play with, but a historical background accompanied with stories and merchandise. Originally, the amount of the original dolls who were girls of color could be counted on one hand (think Addy, whose backstory was focused around her fleeing the South during the Civil War as a slave). Over the years, the company, like Mattel's Barbie, has listened to consumers and diversified their products by providing ones with disabilities, skin tones, hair textures, and more standout features (via Yahoo! Finance).
Now, another American Girl Doll is being added into the company's arsenal, but this one has a particular interesting genesis.
The new American Girl Doll Claudie started off with a tweet
Samantha, Addy, Molly, Felicity, Kit, and now, Claudie. The newest historical fictional character for American Girl Doll has a fascinating backstory, to say the least. In September 2020, The New York Times bestselling author Brit Bennett tweeted, "Give us a Black American Girl doll set in the 90s and please let me write it."
Nearly two years later, that fleeting post has turned into a reality. American Girl took the "The Vanishing Half" author up on the idea, introducing her to the author of the beloved Addy Walker doll, Connie Porter, to help shape and craft the story for Claudie Wells. Though Bennett's original tweet offered a 1990s era for the doll, Claudie hails from the Harlem Renaissance period, a time where Black artists flourished as a result of the Great Migration.
The Claudie doll comes with Bennett's accompanied text "Meet Claudie" and other associated items for purchase. Claudie's launch to the public also comes with excitement expressed via social media, specifically TikTok and Twitter. One user wrote, "Black girl growing up during the Harlem renaissance?? 1920s fashion??? she has a little doggie and a scooter?? HER NAME IS CLAUDIE???? you hit it out of the park with this one American girl i love you."