How Meghan Markle Is Giving Joe Rogan A Run For His Money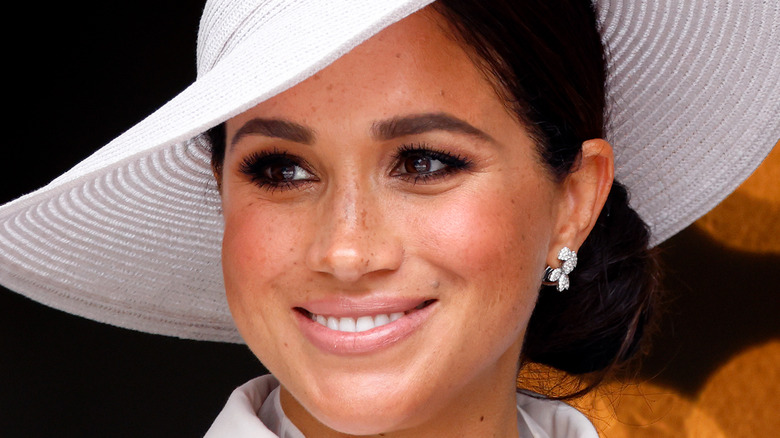 Max Mumby/indigo/Getty Images
In December 2020, Meghan Markle, Duchess of Sussex, and Prince Harry, Duke of Sussex, signed a multimillion-dollar deal with streaming giant Spotify to produce podcasts for the platform (via Page Six). 
For the venture, the royal couple set up the Archewell Audio production company, which is part of their overarching nonprofit organization, Archewell. In addition, they have set up Archewell Production for their Netflix deal and Archewell Foundation for their charitable endeavors.
Archewell itself is a combination of two words: "arche," from the Greek word for "source of action," and "well." The Duke and Duchess of Sussex's overall goal for their organization is to "unleash the power of compassion to drive systemic cultural change."
This is evident in Meghan's new podcast, "Archetypes," which "investigates the labels that try to hold women back," per Spotify. It will consist of "uncensored conversations with women who know all too well" about these stereotypes, with the first episode featuring pro tennis legend Serena Williams (via Spotify). 
Now, it seems that Meghan may be giving media personality Joe Rogan a run for his money.
Meghan Markle's podcast is at the top of the Spotify charts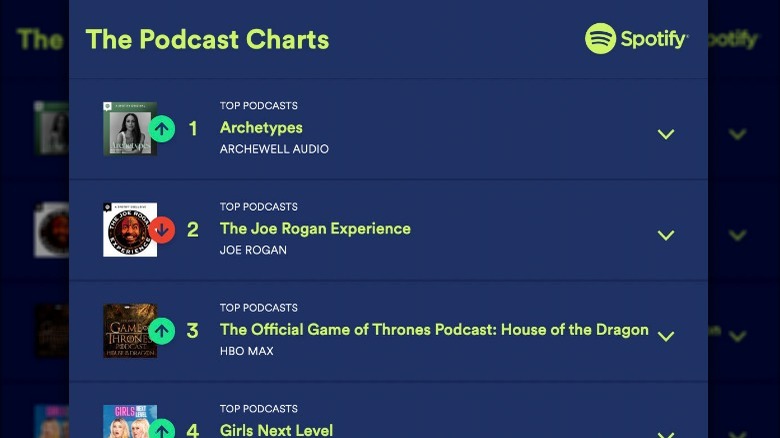 Spotify
It was a given that Meghan Markle's first foray into the podcasting world would be popular. And, while "Archetypes" seems to have taken the British media by surprise — with some critics calling it "entirely preposterous" as well as "toe-curlingly cringey ... but insightful" – it has managed to knock "The Joe Rogan Experience" off its once-unstoppable perch on Spotify podcast charts worldwide.
With the first episode airing on Aug. 23, 2022, "Archetypes" has taken the top spots on Spotify's podcast charts in the United States, United Kingdom, Australia, and Canada.
Mark Borkowski, a reputation management expert, told Inews that there is a clear "generational divide" when it comes to opinions of the podcast. "Older traditionalists don't get Meghan but Gen Z does," he explained. "There are millions of young people across the world who share Meghan's values and they want to hear her unfiltered and her celebrity mates. It's still a potent brand for Spotify."
The Sussexes also have a Netflix documentary in the works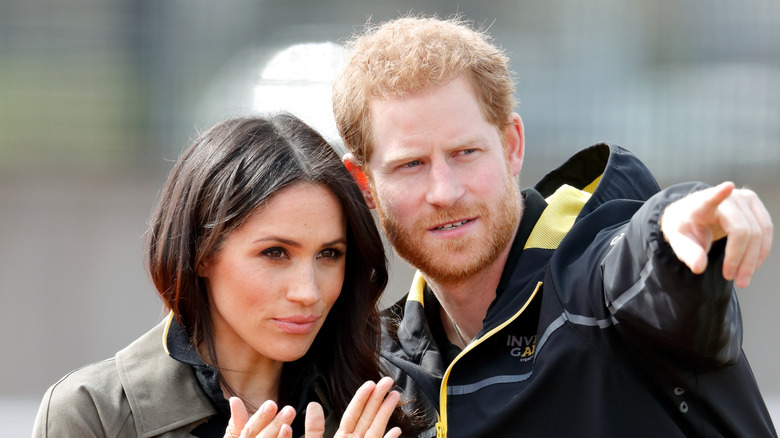 Max Mumby/indigo/Getty Images
Having signed an estimated $15 million to $18 million deal with Spotify in December 2020 (via Yahoo! Finance), the Duke and Duchess of Sussex are likely to be extremely pleased with the chart performance of "Archetypes." It will undoubtedly give them a boost in confidence for their Netflix deal, which is reportedly worth an estimated $100 million, according to Us Weekly. 
An insider also told the outlet that Quibi, the defunct celebrity-backed streaming platform, was the first to give the couple an offer to produce content. "Quibi had a huge offer out to Meghan Markle that was in the tens of thousands," they said. "Netflix swooped in and their production deal is worth over $100 million."
Prince Harry and Meghan's Netflix deal was announced in September 2020, but they have yet to release any content. Archewell Productions will reportedly produce documentary films and series, scripted movies and series, and children's content (via The New York Times). 
One project they currently have in the works is "Heart of Invictus," a docuseries on the Invictus Games (via Twitter), which they were spotted filming in the Netherlands in May 2022 (via Marie Claire).